Behind the Teal Pumpkin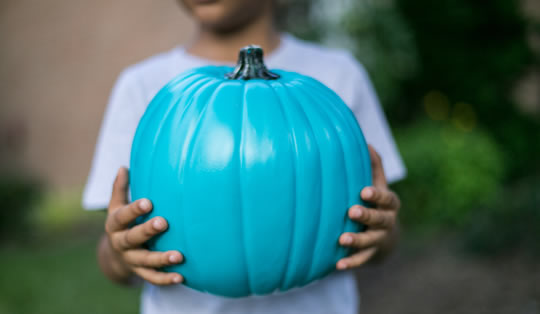 Halloween is a time for celebration, festivities, and most importantly candy. However, this day that many children conventionally look forward to is also a day that many other kids dread. For kids with food allergies, Halloween can be scary due to the constant fear of being allergic to something others may be enjoying.
The Food Allergy Research & Education (FARE) organization's Teal Pumpkin Project aims to enhance food allergy awareness and include all trick-or-treaters. The project began in 2012 with a local food allergy organization in Tennessee before expanding to all 50 states. In a statement, FARE's President & CEO Lisa Gable said, "the number of children with food allergies has risen dramatically over the past 20 years, and the Teal Pumpkin Project brings the community together to ensure a safe and inclusive Halloween for all trick-or-treaters." People who chose to participate in the project place a teal pumpkin outside their home during Halloween and give out "non-food treats" to trick-or-treaters. 
Food allergies are becoming increasingly more common. According to FARE, "one in 13 children [are] living with food allergies." Even with the high rate of allergies, many traditional Halloween candies are full of top food allergens, including milk, eggs, nuts, wheat, and soy. Even the most minuscule amounts of these allergens can cause serious and possibly life-threatening reactions in allergic people. The Teal Pumpkin Project, then, allows kids with food allergies to safely participate in Halloween festivities.  
I've spent my entire life allergic to peanuts and tree nuts, so I am personally familiar with the challenges food-allergic kids experience on Halloween. It's hard to enjoy the holiday when you're always worried about having an allergic reaction. So, when I learned about the Teal Pumpkin Project, I was excited to be a part of something that works to create safe spaces for people like me.
To participate, simply put a teal pumpkin in front of your home. Then be sure to have "non-food treats" such as small bubble containers, festive rings, glow sticks, stickers, or plastic stamps to give to kids with allergies. FARE recommends that if households also decide to hand out traditional Halloween treats, they should also ask each trick-or-treater if they have allergies and allow them to select what they prefer. 
In addition, FARE is trying something new this year. They have partnered with Allergy Insider to encourage families to add their addresses to the Teal Pumpkin Project's map in order to indicate that their house is free of food allergens to local trick-or-treaters.  
After a year's break from the joy that Halloween brings, we should all take some time to celebrate this cheerful holiday. Halloween should be completely inclusive with no individual being left out. So, let's all take the small step towards inclusivity for those with food allergies by placing a teal pumpkin outside our doors this Halloween!