Advancing to the Gold: THS Junior Wins National Fencing Championship
Gia Shin, Co-Editor-in-Chief
November 19, 2021
On October 31, Tenafly High School student Rachael Kim ('23) was in for a real treat: she won the national championships for Cadet Women's Foil at the North American Cup in St. Louis, Missouri.
This achievement marks Kim's second time becoming a national champion, her first being at the 2018 Y12 Women's Foil National Championships. She is currently ranked eighth in the nation at the Cadet level. And as one would expect, the route to claiming her two gold medals hasn't been easy.
Regional and divisional fencing competitions feed into nationals, which is the highest level of competition. According to the Academy of Fencing Masters Blog, "This is the big one in America, where the best fencers in the U.S. come together to test their skill." USA Fencing Nationals, the July Challenge, and the Junior Olympics are all national events that a fencer must qualify for in order to compete. An individual may do so through the previously mentioned regional and divisional competitions. To qualify for the USA Fencing Nationals, a fencer needs to win 110 regional points or place within the top 25% of fencers competing in the Junior Olympics.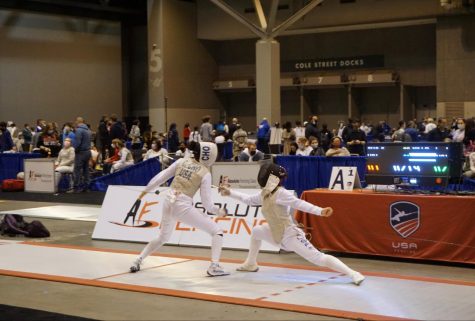 Fencing is a niche sport, one with which not many people are familiar. It is often referred to as "moving chess" because it requires a tremendous amount of stamina and concentration. However, the rules of fencing are not as complicated as you might think. The first round of the tournament is called pools, in which a group of six or seven fencers all take turns to fence each other. At the national level, there are roughly 25 pools. A match in every pool goes up to five touches. Your results from the first round determine who you fence in the second round; for example, if you do better in the first round, you would fence an easier opponent. The second round is a direct elimination in which you are eliminated if you lose and are unable to advance. This round goes up to 15 touches. "Fencing is very uncommon but has been gaining attention over the past couple of years," Kim said. "It's difficult to learn the rules and the system because it's information that you learn over time; it's not something that you can search up and instantly have the answer to. I still learn new things even after over eight years of practice."
Kim discovered her passion for fencing at the age of six. She recalls an early memory of when she first started out fencing: "I was invited to a birthday party, but I was so sad that I couldn't go because I had a fencing tournament that day. I think that's when I realized how seriously I was taking the sport." She has had her own share of ups and downs, though. "Especially in the end of 8th grade and beginning of 9th grade, I was going to practice every day after school until late at night, and it was just really tiring for me and I could never get enough sleep and I didn't know how to manage my time, especially with school," she said. "Overall, even though you would've expected me to do better because I was going to practice every single day, my results got a lot worse because I was burnt out."
Kim has nationals every month, and starting this year, she has the added responsibility of traveling out of the country to fence internationally for the USA National Team. She recently came back from Budapest, Hungary where she participated in the Cadet Women's Foil Individual and Team Competition. The USA National Team made it to the final fencing round, winning second place in the tournament. Her next international destinations include Paris, France, and Rome, Italy.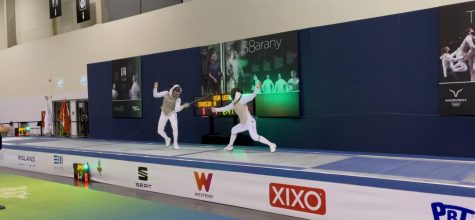 According to Kim, the support of her coach, family, and friends has gotten her to where she is now. "My mom takes so much time out of her day just to drive me to practice four times a week now, and she has to wait until practice ends, which is also a few hours," she said. "My coach helped me through a lot, [too]. [I want to thank] My friends at fencing—and even school friends—for always cheering me on. Whenever I need to rant, I always turn to them first because they understand how I feel because they go through the same things [that] I do."
This year is a crucial time for Kim because her fencing performance and seeding determines where she will go for college. "My future goals are to do better in junior and senior events and take the bigger step to doing better," she said.