Sex and High School Theater: A Spring Awakening Review
The Tenafly High School Theater Department recently concluded performances of its most ambitious show yet, Spring Awakening, sparking discussion of its controversial topics.
Based on the 1906 play of the same name by German playwright Frank Wedekind, the story was transformed into a rock musical written by Steven Slater with music by Duncan Sheik. The original Broadway production of the show in 2006 starred Tenafly's own Lea Michele as Wendla Bergmann. The play has been the cause of much controversy since its inception. Many not only take issue with the show due to its content (which contains sex, homosexuality, sexual and physical abuse, abortion, masturbation, rape, and suicide), but with the fact that mere teenagers are portrayed to be at the center of these issues.
The story takes place in 1891 Germany, where 14 year olds Wendla Bergmann, Melchior Gabor, and their fellow classmates lament the fact that they do not understand their own bodies, let alone what adulthood really means. Due to their lack of knowledge, they are forced to either bottle up their emotions or engage in activities that they cannot grasp. The additional pressure and expectations from their society, particularly from their parents and their religion, add another wretched layer to their adolescent years. The most popular songs from the musical include "Mama Who Bore Me," "The Bitch of Living," "Touch Me," "The Dark I Know Well," "Totally Fucked," and "The Song of Purple Summer." The show explores the effects of the damage that is done when reality is hidden from teenagers.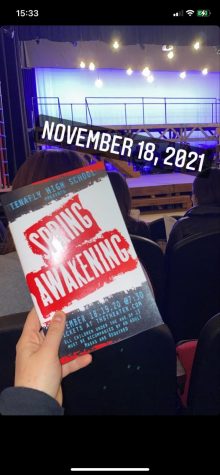 Because of the content, it's no surprise that there are very few high school productions of this show as most directors would much rather choose a more lighthearted and family-friendly piece such as Annie or Mamma Mia!. However, Tenafly's theater director, Mr. Ahn-Cooper (AC), is not like most directors. Mr. AC is known for directing ambitious shows at Tenafly. In the past decade, students have performed in Rent and The Laramie Project, both controversial productions. For Mr. AC, these controversial shows deliver a message, and that's what theater is all about.
"This is one of the best musicals ever written," AC said. "Not only musically, but also the script. I think the messages and the themes within the musical are so important for teenagers to talk about, to discuss, to portray, and to play. I want…adults of any kind to have an open and honest conversation with their kids and with their students about the themes within the musical…without any fear or shame or intimidation. I want students to watch this musical and realize that they are going through a lot of the same things. These are issues that any teenager in the United States of America goes through in their life. I don't think there's any distinction between the characters and the students…Maybe if they're hiding or dealing with something or somebody's not accepting them for who they are to maybe reach out and talk about their issues. This is the right time to do the show." The show's relevancy extends far beyond the date of its publication.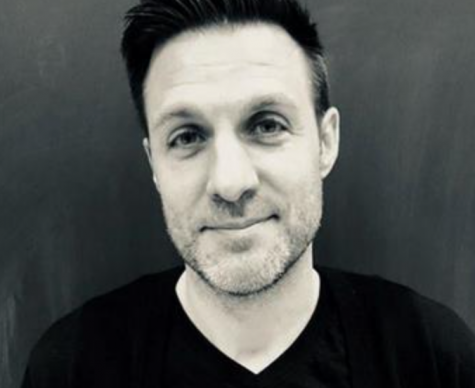 Grace Chung ('24), who played Anna, confirmed these ideas. "This show actually talks about things that I wasn't taught when I was younger…the whole mental health aspect of it and always putting school first is so relatable, but adults don't see how much it affects us," Chung said. Taleen Torosion ('23), the stage manager, spoke about the importance of verbalizing feelings. "I feel like a lot of kids, especially our age, how trouble talking about things that are talked about in this show, and this show shows the effects of what happens when [these things are] not talked about," Torosian said.
Jim Millar, the show's music director, related the shows topics to what THS students learn about in key programs: "This show deals with all of the issues that Teen Pep and Peers are charged with dealing with and teaching other students about. Even though many might consider this show to be inappropriate for high school kids, I disagree, and I think it is completely appropriate for high school kids because…all the characters in the show are high school age. Not to mention, I love the music. It's rock. It's like alt-rock, like alternative rock. My favorite song is probably '[The Song of] Purple of Summer' 'cuz it's gorgeous!" (My personal favorite song is "Mama Who Bore Me," in case anyone was wondering.)
I saw the Thursday night opening performance and was completely blown away. I've been familiar with the show for many years, but I never was able to fully grasp its relevance to today until I saw the high school production. It starred Michela Wallach ('23) as Wendla Bergmann, Ziv Zaifman ('22) as Melchior Gabor, and Kieran Wallach ('22) as Moritz Stiefel. Michela's rendition of "Mama Who Bore Me" was captivating: I thought that it perfectly captured the innocence and ignorance of the teenagers. I even thought that the sex scene was done tastefully as it was shown as shadows through a sheet. You could tell how hard these actors worked to put the show together and how wholeheartedly they believed in its message. Lea Michele would have been proud. 
At the conclusion of our conversation, Mr. Millar told me a mantra that Mr. AC had been repeating: "If this show sparks just one conversation between a parent and a kid about some of these issues, then it will have been worth it." This show is more than just a show; it serves a purpose beyond sheer entertainment. It gives the message that you're not alone.