Holiday Gift Guide 2021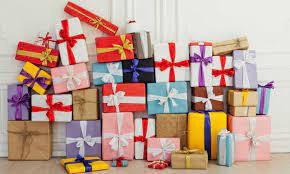 Looking for gift ideas for friends and family, or wondering what to put on your wishlist? Then you have come to the right spot! As we are approaching the holiday season, many question what they should get their loved ones for the holidays. Although there are quite a few worn out and redundant gifts, there are still many new and innovative products on the market that are expected to do well for the holidays. Here are the top ten most creative and savvy gift ideas for this holiday season.
1.Weighted Blankets
These blankets started becoming popular as the pandemic peaked and have since flourished. What makes them special is their thickness, which enables a process of deep pressure stimulation. This stimulation increases the user's amount of melatonin and serotonin levels. They are proven to benefit the sleep cycle and overall sleeping habits. What could be better than a blanket that reduces anxiety and stress?
2. Apple AirTag
Do you find that you or someone you know is constantly losing their wallet, keys, or other valuables? Well, Apple AirTags are a new innovative way to keep track of the whereabouts of these items. You can now track these valuables using the Find My app in your iPhone, so you can always find your things after they have been misplaced. You could even say "Siri, find my keys," and you can follow an alarm to find your item!
3. Shower Speaker
Are you someone or know someone who loves to sing and jam out to songs in the shower? Now, you can do just this easily with a waterproof Bluetooth speaker! The speaker can connect to your phone or laptop so that you can queue any song or playlist while in the shower! This makes it so easy to listen to your favorite music and not worry about your speaker getting damaged in the process!
4. Galaxy Projector
Last year, LED-illuminating lights were a popular gift for many during the pandemic. Want to take it up a notch? These galaxy projectors cast numerous colors of light around a room in a night sky formation. They help create a soothing atmosphere for when you are trying to fall asleep or when you're just chilling in your room. 
5. Silk Pillowcase
For someone who has curly or challenging hair, a silk pillowcase is a perfect gift option. The silk helps to keep curls and frizzy hair intact overnight, to avoid bedhead or bad hair days. It also helps keep moisture and natural oils in place. Even better, it helps to prevent tangles and breakage. Bedhead problem solved!
6. Power Pod
Don't you hate being on the go and constantly worrying about your phone losing its battery? The Power Pod is the perfect gift just for this. The Power Pod is a rechargeable portable charger that provides hours of lasting battery. Its compact design fits perfectly on a keychain so that no matter where you are, you always have a backup battery on hand. It is compatible with both Apple and Android devices, and has a durable rubber covering. Eliminate the fear of losing battery this holiday season!
7. Cirkul Water Bottle
For someone who has a hard time drinking an adequate amount of water each day, the Cirkul Water Bottle is the perfect gift. The bottle allows you to flavor your water simply with the turn of a dial. With over 40 flavor options, you can drink water while also "drinking" your favorite beverage. All with zero calories, this is a healthier alternative to drinking your favorite beverages and getting the benefits of water at the same time. 
8. Aromatherapy Diffuser 
Recently, the idea of aromatherapy and its benefits have become very popular. The use of different essential oils has been proven to relieve stress, improve quality of sleep, and even manage pain. Diffusers circulate the scents of these oils across an area. For the holidays, you can even find festive scents like gingerbread, peppermint, and cinnamon to rein in the holiday spirit.
9. Spinner Rings
Throughout the pandemic and as life has started returning back to normal, many people have experienced or are experiencing different forms of anxiety. Spinner rings serve as temporary solutions for this increase in anxiety. These rings are composed of various parts that can be twisted and manipulated to relieve stress and they come in numerous attractive designs!
10. Adult Coloring Books
Sometimes, people think of coloring books and assume that they can only be enjoyed by little children. However, many adults find coloring books to help alleviate stress. Coloring generates a quiet and calm mind, allowing one to become relaxed. It rids your mind of unnecessary stress by focusing and concentrating on one thing at a time. It is also an outlet for creativity and fun, making it a great and affordable gift this season!
After reading this article, hopefully you have a better idea of what to give your loved ones or what to put on your wishlist! The holidays might look a little different this year, but hopefully everyone will be able to spend the season with friends and family! Happy holidays, everyone!