French Dispatch Review: Wes Anderson Gold
Look, I have to come clean: I am a sucker for Wes Anderson movies. Seriously, I love every single film made by him. From his overly quirky humor to his literally artistic cinematography, I pretty much find every one of his films to be thoroughly enjoyable. So you can imagine my complete dismay when his next film, The French Dispatch, was delayed at the beginning of the pandemic. Luckily, it finally got its well earned release in late October. So I was first in line to see this meticulously crafted arthouse picture. 
The French Dispatch follows the American newspaper company of the same name that is located in a French City. The film is set to the backdrop of the newspaper's final publication after the death of their chief editor, Arthur Howitzer Jr. (Bill Murray). The headline stories are written from their prized writers: Sazerac (Owen Wilson), Berensen (Tilda Swinton), Krementz (Frances McDormand), and Roebuck Wright (Jeffry Wright). We enter each section of the magazine and see a report on the American French city of Ennui-sur-Blasé, a historical description of an incarcerated artistic pioneer Moses Rosenthaler (Benicio Del Toro), a report of a college kid-led revolution, and a story about the kidnapping of the police chief's son.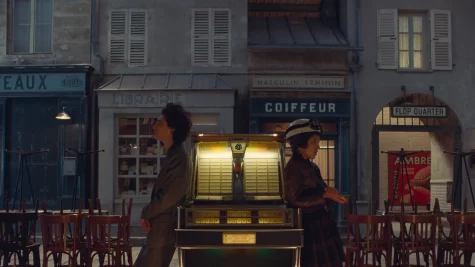 While this is probably not my favorite Wes Anderson movie, it is by far his most stylish. And believe me, that is saying a lot. You can remove any frame from this movie, put it on your wall, and it'll work as a painting. The color and look of the film is absolutely gorgeous. It has pretty much spoiled the way I look at color in film because now, that's something I observe painfully while watching movies. And Wes Anderson's normal quirk comes back with a fiery rage. Like the color, I will never not enjoy the humor of a Wes Anderson movie. Even if I'm the only one laughing loudly in a full theater (which happened many times when I went to see this), I will always find pleasure in watching Wes Anderson's quirk and style. 
The cast for this film is also incredible. The actors I listed in the plot description were probably only a quarter of the big names in this movie. Saoirse Ronan is in this movie and she only has four lines of dialogue. And she's not even the only A-list actor to act in less than three scenes. The massive ensemble in the movie is absolutely amazing as well. If I had to pick a couple of actors that really stood out to me, I'd pick Léa Seydoux, Benicio Del Toro, Owen Wilson, Lyna Khoudri, and Jeffery Wright. In this long game of celebrity I-Spy, this set of actors really impressed me a lot. Léa Seydoux managed to be extremely effective as an intimidating but sympathetic prison guard; Benicio Del Toro also surprised me because he did amazing as a character that felt different from the characters he usually plays; While Owen Wilson did not have enough screen time, he was funny and nothing can compare to my joy of seeing him back; Lyna Khoudri's character's story ended up being a lot more emotional than I expected and she did wonderfully with the material; And Jeffery Wright brought a deep empathetic layer to his performance in his limited screen time.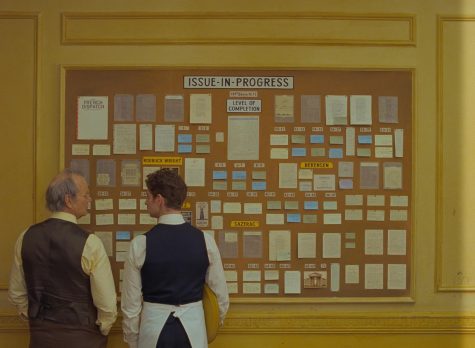 It was also interesting to see how this film was structured. The film is essentially like watching a newspaper told visually. The film is an anthology but it's done well enough that it feels original. The French Dispatch deeply commits to its structure but it does sadly sacrifice having an emotional connection with the main characters. You are able to get to know them a bit, but you sadly don't know them enough to stay attached to them. At some points, the film drags on a little bit, but I still loved it nevertheless. I felt that, despite missing this connection, it was probably better for it to commit to the story structure because it felt more like Wes Anderson confessing his love for the spirit of journalism. Also, I don't think that you would be able to cut any scene from this movie, and adding more would make it much longer, which would really make the story feel monotonous. So in the end, this film works for what it is. And let's face it, I'm probably going to rewatch this movie a lot.