Tenafly's Sofia Bell Bumps up the Team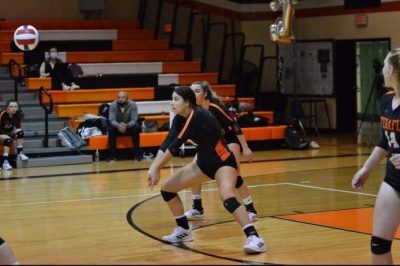 The 2021 State Sectional Champions. BCSL American Champs. Fourteenth in the county. These are a few titles for which Tenafly's Varsity Volleyball team has been recognized and for which junior star player Sofia Bell has served as a middle blocker and outside hitter. With the group consisting of primarily juniors, Bell has had substantial influence and has assisted in bringing out the greatest potential that Tenafly's volleyball program has to offer. 
Bell, a starting player, officially joined the varsity team in 2020 as a sophomore but has been playing the sport since seventh grade after switching from dance to volleyball.  "I thought it was silly at first, since I had never seen or played volleyball, but ended up giving it a shot since I was always very tall for my age," she said. "It was definitely a struggle, especially a physical one, since dance is very different than VB, but I'm so glad I made that change." Since her middle school days, she has been recognized as one of the best hitters in Bergen County and has placed first with her club team out of hundreds in the northeast area.
Last year, high school sports were stymied due to COVID-19, particularly volleyball because it is played indoors. But during the most recent 2021-2022 season, Bell has bounced back and attained a striking 106 kills, 70 digs, and two assists. With her swift court movement and effective attacks, she has become no match for her fellow opponents in the Big North. As her junior season has come to an end, she plans on elevating her talent for a final time at Tenafly. "My parents are very supportive and are open for me to go after what I want, so I am looking at colleges in the US and universities in Europe as well," she said. "I am in the process of trying to get recruited to play in college, or for a team at a university. It definitely is my goal to play later on, so I am currently busy with the long process that comes with it."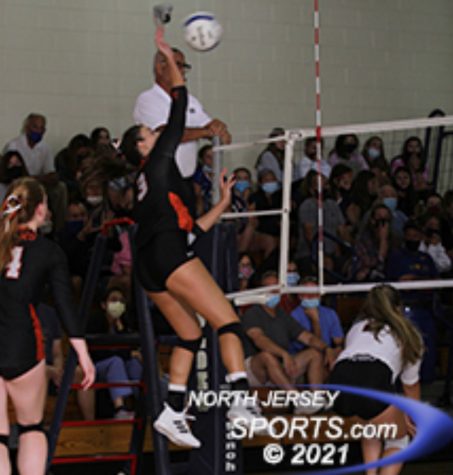 In addition to her typical training schedule on the THS Varsity Volleyball team, Bell plays on Pinnacle's club team, an elite developmental academy that competes at high exposure tournaments in the region, to keep her well seasoned. "I am currently in my club season," she said. "I have two-hour team practices two days a week, strength and conditioning training once a week, and positional training on the weekends. We have four overnight tournaments this season—in Boston, D.C., PA, and Massachusetts." With her rigid practice schedule, Bell tries to remind herself of one of the most difficult aspects of volleyball: mental health. "Playing for Tenafly has greatly helped my mental strength as an athlete," she said. "The whole game [of volleyball] is about who can make the least mistakes…  It definitely takes a lot to keep your head up when you lose a point for your team or when your team is not doing well."
Along with her athletic commitments, Bell has many other duties as a student as well. The Tenafly school district values high academic rankings and overall competitiveness, and junior year is notorious for being the most stressful year of high school. This has been true for Bell, too, but with the support of her family, she is committed to fulfilling both her athletic and academic aspirations. "It definitely is a lot of stress to know when to prioritize what, especially when you plan on taking athletics to the college level, since you're relying on both your academic and athletic ability," Bell said. "It's been a tough process to figure out what works for me, and that is something that is going to be different for each student-athlete." 
Bell applauds Jeffrey Koehler, a three-sport coach at Tenafly and NJ.com's 2021 Coach of the Year, for his guidance to the team. "Coach Koehler is very big on having a good attitude on the court, and has shaped me to become a better player for the past three years I've played for him," Bell said. Koehler, who began at Tenafly in 1998, sets the truths down for his athletes. "We coach in an era when everyone thinks they can do it better," Koehler said. "With club and AAU squads, players are told they can play at the next level, and that is just simply not the case. Ninety-nine percent of all high school athletes should focus on being a great high school player… Points, playing time, digs, etc.—all that stuff doesn't matter. It's all about playing at the best level you can." 
Whether Tenafly wins or loses a game, Bell declares that unity is what highlights the group of passionate girls. "This is definitely why I think we did so well these past couple of seasons; we know that someone has our back, so we give it our all without fearing failure," she said. As her high school career is forming new chances for her college life, Bell describes how she clings to one goal. "Wherever I go, I plan on playing volleyball, as it is a big part of my life and I want to continue playing after high school," she said. "I am so grateful for all the opportunities I've had that led the teams I've played on to succeed, and allowing me to enjoy doing what I love."