Top 5 Stocks This Year (2021)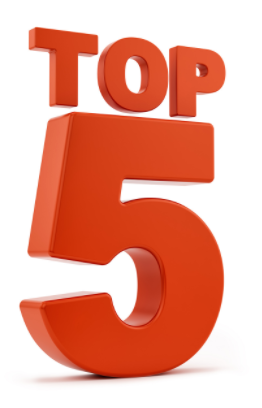 This year has been quite the year in the stock market. Markets have performed exceptionally well as each major index has outperformed the average growth expected each year. Since the 1990s, the S&P 500 index, which is an accurate measure of how the stock market as a whole is doing, has had an average increase of about 9 percent each year. With that being said,  the return for the S&P 500 sits right above 25 percent this year. This is well over the average year and signifies a great year in the market. This year, there were many stocks that have also done extraordinarily well as their returns for the year have flabbergasted investors everywhere. The S&P 1500 index is very similar to the S&P 500 index, but it contains 1500 stocks instead of 500. This means that it covers more market capitalization than the S&P 500. The S&P 1500 includes the top 1500 largest U.S. companies by market cap and accounts for over 90 percent of the whole market. Therefore, it can be used as a helpful representation of the market, especially the biggest and best companies. So, here are the top 5 most notable high-performance stocks Year-To-Date (YTD) based on their YTD returns in the S&P 1500 index.
GameStop Corp. (GME)
YTD Return: 802.26% (+138.39)

Market Cap: 11.91B

Sector: Consumer Cyclical

[1]
GameStop, the largest video game retailer worldwide, sells video games, consumer entertainment products, and technology. Early this year, GameStop became a meme stock where it gained a ridiculous following on social media and the internet for no justifiable reason. In January, GameStop trended on Reddit causing its stock price to rally up to nearly 2,000 percent in just the month of January. This was mainly caused by a community on Reddit (WallStreetBets) that sought to outdo billion-dollar hedge funds who placed big bets on shorting GameStop (betting against GameStop). The Reddit group (WallStreetBets) was able to outdo these hedge funds by having their large following purchase tons of GameStop stock to drive the price up. This made the hedge funds lose tons of money while the investors made loads of money. The massive returns for GameStop has tremendously helped GameStop escape the debt it experienced all throughout 2019 as it filed for bankruptcy on several occasions. Investors Business Daily in its article Is GME Stock A Buy Or Sell Right Now? Here's What Earnings Chart Show mentioned, "The company sold more shares and used the proceeds to cut its $216 million in long-term debt. That debt carried a costly 10% interest rate and matured in 2023." Currently, GameStop is attempting to remodel itself to fit in the future digital world, and its increased popularity in the media and Internet has helped it to do so.  
SM Energy Co (SM)
YTD Return: 325.47% (+20.70)

Market Cap: 3.29B

Sector: Energy

[1]
SM Energy is an energy company that works to explore hydrocarbons and is involved in extracting natural gas, and oil. Throughout the year, SM Energy has been steadily increasing its shares price, generating impressive returns throughout. This is primarily due to the oil shortage throughout the year that has been significantly increasing the demand for oil, as well as a rise in prices. This is shown due to the fact that the energy sector is the top performing sector of 2021. However, SM energy has out performed its sector by over 5 times. SM energy has been able to beat its competitors in the oil industry due to its impressive investments in hydrocarbons as well as a vast expansion of reserves. In an article by Yahoo Finance titled SM Energy (SM) Gains 27.1% in 3 Months: Can it Soar Further?, it was mentioned that "the company has around 155,000 net acres in South Texas, where it is running two rigs. In the Midland Basin, the company has 82,000 net acres and is running three rigs with three completion crews." In addition, all throughout the year, SM Energy has been beating both its EPS and Revenue estimates by considerable amounts which definitely lures in investors.
Avis Budget Group Inc. (CAR)
YTD Return: 511.00% (+181.10)

Market Cap: 12.22B

Sector: Industrials

[1]
Avis Budget Group is a world-wide rental car provider that contains various subsidiaries which include Avis, Budget, Zipcar, Payless, and Apex. The reason for the expansive growth of Avis Budget Group is predominantly due to two reasons. First, as people start to leave their homes more as Covid-19 was easing up during the first half of 2021, the use for rental cars required more of a demand. The second reason is due to the ongoing issues with supply chain experienced all throughout this year. As there have been supply chain issues through 2021, new cars have been very hard to get. Therefore, because people have had a hard time getting their hands on a new car, an increased desire for rental cars was encountered. In addition, when Avis Budget Group released its EPS report and revenue report in November, its exceptional earnings proved how well the company had done throughout this year. 
Veritiv Corp (VRTV)
YTD Return: 432.24% (+89.56)

Market Cap: 1.61B

Sector: Industrials

[1]
Veritiv Corp is a company that provides a wide variety of packaging products and services. It offers print and publishing products, logistics,  supply chain management solutions, and facility services. Veritiv Corp has distribution networks all over the world. Veritiv Corp's success in the market this year roots from its Covid-friendly products. This company sells a variety of cleaning products as well as packaging products, which were both necessities during the pandemic. On top of that, Veritiv Corp does a lot of supply chain management solutions, which has been in high demand this year as the supply chains have been having issues all throughout 2021. Moreover, investors have been digging the outstanding earning reports Veritiv Corp has released all throughout 2021. Its net income, net profit margin, and EPS reports for all three quarters of 2021 have had significant results as the numbers have quantified immensely from a year ago. Lastly, Veritiv Corp was also positively impacted by the Infrastructure bill that was passed in early November. This bill significantly helped out Veritiv Corp, who is highly involved in transportation and supply chain management as its stock jumped roughly 30% after the bill was passed. 
Moderna Inc (MRNA)
YTD Return: 163.85% (+183.07)

Market Cap: 119.53B

Sector: Healthcare

[1]
Moderna Inc is a biotechnology company that heeds its focus on mRNA research as well as the treatment and production of numerous vaccines for diseases. Recently, Moderna Inc has channeled its emphasis on its first product, the Covid-19 vaccine. The most obvious reason for Moderna's success this year lies in its Covid-19 vaccine. Since the commencement of vaccines for Covid has been approved, Moderna's sales have taken off like a rocket. On top of that, the approval and distribution of boosters throughout 2021 has definitely propelled its sales even further. This excitement generated from such a successful first product entices the eyes of investors everywhere for a bright future for the company. Beyond the Covid vaccine, Moderna is also in the works of developing several other vaccines. This includes a vaccine for cytomegalovirus (CMV) (an infectious disease that causes birth defects). Moderna is already in stage 3 of the testing process, and Moderna believes that this vaccine can project sales billions of dollars more. Overall, Moderna's success with its Covid-19 vaccine proves that its mRNA technology works, leaving people optimistic about its future growth.
This year has been an astounding year in the market and numerous companies have had great success throughout 2021. The companies mentioned are definitely ones to keep an eye on to see if they can continue their ongoing rally in the market. This year has been a great year in the market and we just have to wait to see what next year is going to bring!
***Disclaimer: All information mentioned in this article is as of Saturday December 18, 2021.
***All Stock Market Data is sourced from Google Finance.
[1] As per Yahoo Finance