Girls Soccer Is Back, and the Teams Want Turf Time
Growing up, every kid, it seems, has been a part of a recreational soccer team. Soccer is Tenafly's sport. But yet, in the school, it's all "Rah rah, boys varsity soccer!" What about the girls? 
The school's girls soccer program is now stronger than ever with its new freshman team addition. The girl's program has now officially expanded, and everyone is thrilled, especially the head coach, Sean Kelly. "My goal as a program is to keep the numbers going, get girls involved earlier, get them here, get more bodies. 'Cause right now we have three teams, which is awesome," he said.
The soccer program as a whole is one family and one team, Coach Kelly said. "For not having a third team in so long—it's been 12 years since we've had a pure freshman team only—so that's been great," Kelly said. "Pascack Valley is the only other team that has a true freshman team." Going from not having enough players for just varsity and junior varsity, the girls' soccer program has fortunately grown enough to have a full freshman team with enough subs, too.
As hard as they train, this team is determined. And with only a two-hour turf time, the girls make the most of their time, even if it means a two-mile warm up. "The training is intense, but on the plus side, it helps us so much because you can see—at the beginning of preseason when everyone comes in—they're not really prepared at all. We are so slow, we can't even keep up for ten minutes," said co-captain Zoe Touma. "Going through Coach Kelly's training is really good because now we can actually play a full game of soccer." According to Touma, all the girls are determined to play hard games against, and maybe even win against, some of the best teams in the league, such as Northern Valley Old Tappan or Northern Valley Demarest.
"
I wish we got more time on the turf. That's something girls soccer always has to fight for"
— Tamar Vidra
Some players, when asked about their team goals for the future of the soccer program, made it clear that the girls' soccer program needs more recognition and regard, because it's all about boys varsity soccer and no one else. But, hey, the girls are here too and stronger than ever. "I wish we got more time on the turf. That's something girls soccer always has to fight for," said c0-captain Tamar Vidra. "In the future, I hope we're respected as a team at the same level as boys soccer. And I think one of the lasting impacts I want to make is to give Tenafly girls soccer the name and have us be respected as a team who deserves more turf time."
If the school's varsity girls team hopes to beat the stronger teams and hopes to get stronger itself, it most definitely should get more turf time.
About the Writer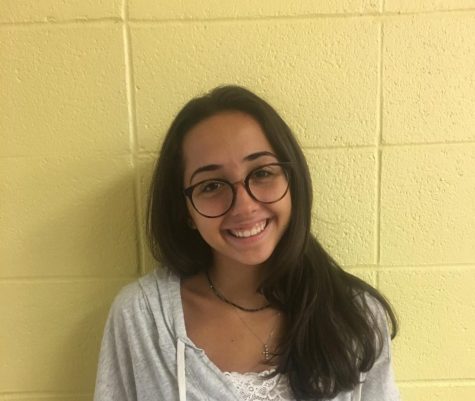 Sophia Dongaris, Staff Writer
Sophia Dongaris ('20), a Staff Writer for The Echo, enjoys running track and spending time with her teammates. In her spare time, she also enjoys free-writing...