Last Night in Soho Review: Edgar Wright Outdoes Himself
Before I start this review, I should probably clarify that I am a massive Edgar Wright fan. He's done movies like Shaun of the Dead, Baby Driver, Hot Fuzz, and (one of my all-time favorite movies) Scott Pilgrim vs. The World. Every one of his movies has meticulously crafted details, really fluid and snappy editing, and excellent visual comedy. When I heard he was stepping out of his alley and trying out horror, I was surprised yet intrigued. When Last Night in Soho finally got its release date this year, I tried really hard to see it. But, because it was rated R, I wasn't going to be able to see it in theaters (which is where I wanted to see it) alone. And my parents avoid horror movies, so I wasn't going to be able to convince them to take me either. After I waited and waited, the movie finally came on Demand for $20. It was a bit pricey, but I knew I at least had to check it out, and I am so glad I did.
For the sake of not spoiling too much, I'll be pretty vague in going over plot details. Last Night in Soho follows a young girl named Eloise (Thomasin McKenzie), an aspiring fashion designer obsessed with everything about the 60s. As she's accepted into the London College of Fashion, she enters London with her spirits higher than ever. However, when she struggles to get adjusted to the big city, she begins to mysteriously enter the 1960s through her dreams. In these dreams, she encounters her idol, Sandie (Anya Taylor-Joy), who strives for success in the music industry. As Eloise enjoys living out her dreams, reality begins to morph and her dreams take a dark turn.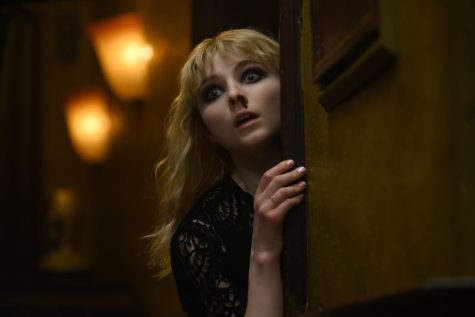 Right after I finished the movie, I knew it wasn't going to be for everyone, but it really worked for me. I absolutely loved the cool premise of the film and I loved its mysterious story. After seeing mediocre reviews for this movie, I was worried that I would not like it but I really did. The horror elements may not have deeply terrified me as Hereditary had (I don't think any movie can top that), but they were creepy enough for me. I also thought that it was interesting how most of the horror just came from creepy and misogynistic men. Somehow, with all the other horror elements, the pervy taxi driver was a little scarier. I can totally see this becoming a cult classic in a few years (because this film flopped at the box office) and I hope it does because this film deserves recognition. It's well done and watching it was an incredibly unique and poignant experience. 
Because I'm a massive Edgar Wright fan, I have to talk about what he does for this movie. It might have been his first horror film but he did an amazing job. Despite being a whole new genre, his visual comedy and fluid editing go nowhere (there's a little less of the visual comedy though). Also, the cinematography in this film is downright brilliant. Edgar Wright and the cinematographer Chung-hoon Chung create such amazing and visually striking shots that are so gorgeous to look at. This film alone made me obsessed with color in film. I also almost forgot to mention how he created the dream sequences for the film. In the dreams, Eloise is following Sandie around, but she is basically walking around as if she were her. To do this, we see Sandie walk through a nightclub but we see her reflection as Eloise. The two then switch in and out at times. It sounds less cool when I say it, but please believe me when I say that it's one of the coolest things I've ever seen put to film. It looks so realistic and dream-like at the same time (which is perfect). Edgar Wright just brings such a unique and amazing style to the movie that I absolutely adore.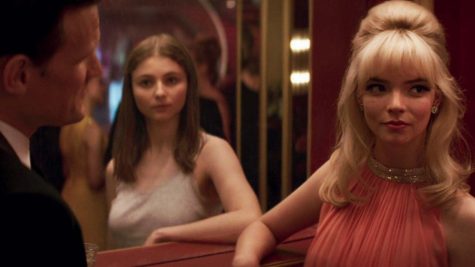 The performances in this film are also pretty phenomenal. Thomasin McKenzie really brings a lot of depth to her character and does a great job making the audience feel scared with her performance (which, for horror movies, is an aspect I deeply appreciate). Anya Taylor-Joy is also pretty incredible in this movie. I don't know how or why it took so long for people to recognize her as a movie star, but she gives a pretty terrific performance. Both Taylor-Joy and McKenzie do a great job in making it seem like they're reflections of each other. It probably would've been easier to just edit one of them in a mirror later on, but the two actresses actually mimicked each other's movements live on set. I also liked seeing Matt Smith in a very dark and villainous role and I believe that Diana Rigg did an amazing job in this film. I was so impressed with Rigg's performance and I was very sad to see that this was her final performance ever (she passed away in 2020). 

So I beg of you, please go see this movie. It is out on Demand now and it is totally worth your time. I've been seeing so many bad movies that my brain might implode on itself, but this film helped me feel like it might have a little longer. I adore Last Night in Soho while knowing it might not be for everyone, but please give this film a chance. It's really incredible and I'd highly recommend it. 

Focus Features