Remembering Kobe Bryant
January 26th, 2020 was a day filled with tragedy. Retired NBA star Kobe Bryant—along with his daughter Gianna Bryant; Payton Chester, a teammate of Gianna; her mother, Sarah Chester; another teammate, Alyssa Altobelli; her parents John and Keri Altobelli; their coach Christina Mauser; and pilot Ara Zobayan—all perished in a fatal helicopter crash.
It began at 9 A.M. when they took off to go to a basketball tournament at Mamba Sports Academy in California. At around 9:42 A.M., the helicopter was a few hundred feet from the hills and was traveling at about 160 miles per hour. There was a sudden ascent when the pilot steered the helicopter 875 feet upwards in less than a minute to avoid clouds. It was said that the pilot was having a difficult time getting above some clouds that were hanging low in the sky. At around 9:45 A.M., the helicopter turned left, away from its original path, and started going downwards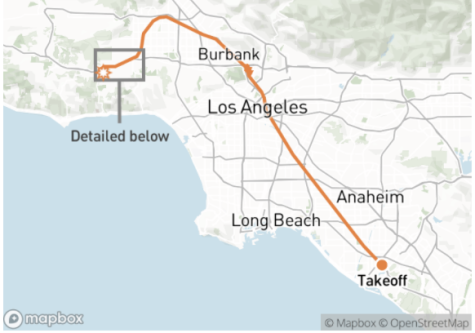 over Las Virgenes Road. At this point, the pilot was no longer in contact with air traffic control. A few seconds later, the helicopter, traveling at about 175 miles per hour, crashed. After much investigation, it was concluded that the cause for the crash was the pilot's poor decision to fly into an area of low visibility at such a high speed. Around 11:30 A.M. the family's assistant had told Kobe's wife, Vanessa, that there was an accident but that there were five survivors, although their identities were yet to be known. Vanessa immediately called Bryant, who did not answer the phone and then left to go to Los Angeles. However, she was told that she could not fly due to the weather conditions. Around the same time, her phone was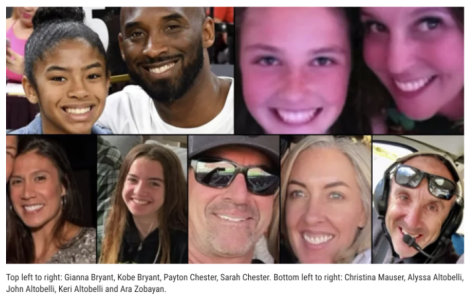 blowing up with "R.I.P. Kobe" posts. Alternatively, Rob Pelinka, the Los Angeles Lakers general manager who is also Bryant's best friend, drove them to the L.A. County Sheriff's Malibu-Lost Hills station. At around 1:30 P.M., an hour and a half later, they arrived. The sheriff told Vanessa that there had been no survivors, confirming that her husband and daughter were killed. During this conversation, Vanessa told the sheriff that they needed to secure the site of the crash to ensure that no photos would be taken, however, that would not be the case.
This past Wednesday was the second anniversary of this tragic day. Bryant was a very memorable athlete who won many awards. He was a five-time NBA Champion, two-time NBA Finals MVP, 2008 NBA MVP, twelve-time NBA All-Star, three-time NBA All-Star Game MVP, two-time scoring champion, twelve-time All-NBA selection, ten-time defense selection, and one of the top ten players of all time. To many, Kobe Bryant was not just a basketball player, but an inspiration. He was known for his devotion to his family, his advocacy for women's sports, and his coaching. Bryant was known to persevere through every challenge or adversary. He was very driven and motivated and was a team player. His love for basketball shined through both on and off the court. Even as a retired basketball player, he established a sports academy and coached many games.
Since Bryant's death two years ago, he has been remembered in many ways. On February 24th, 2020, there was a public memorial service held at the Staples Center, where he played for the Los Angeles Lakers. At this memorial service, Vanessa Bryant, Shaquille O'Neal, and Michael Jordan spoke about Bryant. Several other celebrities spoke out about his death, like Lebron James, who passed Bryant's scoring record. Bryant was also put on two covers for the NBA 2K21 Mamba Forever edition. At the 20th annual BET Awards, Lil Wayne honored Kobe Bryant, and Las Vegas Raiders' quarterback, Derek Carr, wore an arm sleeve to honor him also. The Lakers wore Black Mamba jerseys in a game. There were some WNBA players that paid a tribute to Bryant through social media on his supposed 42nd birthday. Bryant's childhood home in Italy honored him with a plaza dedication. An NBA All-Star Game MVP award was named in honor of Bryant. Overall, Bryant was an incredible person and his legacy should be remembered, not only for his athletic abilities but his character as well.