Single's Inferno Review and Scandals
Single's Inferno, after its initial premiere on December 18, 2021, quickly rose to the top of South Korea's Netflix charts in two days. At first glance, it may have similar elements to other popular Netflix shows like Love Island or Too Hot To Handle. In fact, many Netflix shows like Single's Inferno do take place on a beach where candidates attempt to find potential lovers. Interestingly, viewers quickly came to realize that Single's Inferno was more humdrum. 
Single's Inferno follows a group of nine individuals who are looking to find their potential soulmate within eight days. The individuals begin in "Hell," a sweltering, almost unbearable beach environment where food must be made from scratch and water must be drawn from a well located a mile away from the campsite. If two of the individuals choose each other during a daily choosing process, those two individuals are allowed to go to "Paradise," a hotel suite that has various food options along with countless amenities. Throughout the days, there are games and twists that affect the relationships that begin to form amongst the contestants and keep the audience guessing. 
What makes the show interesting, overall, was not only its natural setting, but also how the participants selected their partners. Participants would change their minds about who they wanted to go to "Paradise" with, making viewers realize that there are different elements that make a person interesting and attractive. For example, there were many instances where one contestant could believe that they'd really connected well with another person through a conversation, but the other person could still decide to go to "Paradise" with someone else. The show often took unexpected twists and turns, which was what made it so interesting.
Controversy and Scandals:
FreeZia, one of the cast members in the show, is now receiving backlash from the public due to her counterfeit designer products scandal. FreeZia, also known as Ji-ah Song, was known as a YouTuber even before her appearance in Single's Inferno. As she quickly rose to stardom, netizens realized that the many of her accessories and designer clothing were counterfeit.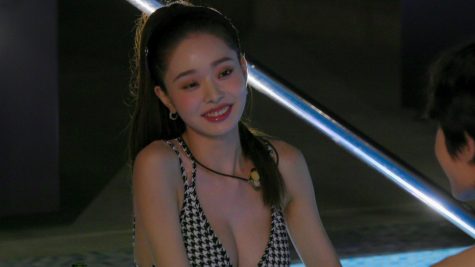 The controversy started in January 2022, when one of her fans asked her about her necklace. She claimed that the necklace was from Van Cleef & Arpels. However, shortly after, many comments claimed that what she wore appeared to be fake. As her necklace was one of the most famous models, netizens soon uncovered details that suggested that the jewelry was fake. Differences in the color and the location of the chain on FreeZia's necklace were different from the original necklace. 
After the first accusation, viewers were soon able to find that the Dior shirt that she wore in Single's Inferno was actually never sold by Dior. In addition, the majority of the clothing pieces that she wore while on the show, like her Chanel knit top and her Versace swimsuit, were revealed to be counterfeit as well.
On January 17, 2022, FreeZia deleted all of her posts on Instagram and posted a picture of a handwritten letter. In the letter, FreeZia admitted to accusation and declared that she would take responsibility for damages caused to the brands. 
Personally, when I first saw her on the show wearing a diverse array of luxury clothing, I thought that she was extremely affluent. Not only that, but I also thought that she was building an idea of elitism and suggesting that successful individuals needed to own those types of clothing items. Because FreeZia said on her YouTube channel that she was aiming to create a fashion brand, it came as a surprise to me when she admitted to all her accusations. 
Review:
Edward: For me, despite the fact I am not the biggest fan of dating shows, I ended up thinking that the show itself was intriguing. I also thought that the fact that everyone was kind of hidden at the start, but slowly revealed more of themselves as the show went on, was another aspect of the show that was intriguing. Interestingly, I knew certain participants prior to the show because some were already exposed to the media. For instance, I knew who Cha Hyunseung was a couple of years ago, because I watched his fancam with Sunmi, a Korean pop star. Overall, I thought that the new interactions and relationships being created and twisted was what contributed to the show's success. 
Ryan: Personally, I really enjoyed Single's Inferno because of its cast. From the get-go, the different members of the cast each had a distinct personality that helped me to stay engaged with the storylines. The conversations also seemed genuine and unscripted, which helped make the show feel more intimate and immersive. It was also full of plot twists, which I loved. Although I was upset with parts of the ending, it was still an ending full of closure and finality. It channeled my inner romantic and was the true embodiment of "love at first sight."