Russian Figure Skater Kamila Valieva on Thin Ice after Doping Scandal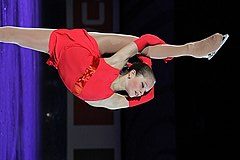 In the chilly Beijing air, she readies herself for a major turning point in her athletic career. With over 11 million people watching globally, she relishes this moment of glory. Stepping onto the ice in her embellished red-toned dress, she effortlessly skates with a distinct level of gracefulness, twisting and turning as if the ice beneath her were nonexistent. But what's stopping Kamila Valieva from winning her first Olympic gold medal despite being the greatest figure skater of all time? A doping scandal. 
The Olympics has long been known for its fight against doping, which began as early as the 1960s. According to the Olympics Games, "The IOC has established a zero-tolerance policy to combat cheating and hold accountable anyone responsible for using or providing doping products." At the 2022 Beijing Games, the Olympics were faced with yet another scandal involving 15-year-old Russian figure skater Kamila Valieva.
Landing in Beijing as a frontrunner in her sport and going on to win Russia the team skating event, it took only one positive drug test for Valieva to be suspended from competing for her first Olympic medal. According to a statement released by the International Testing Agency, Valieva was tested by the Russian Anti-Doping Agency (RUSADA) on December 25 and later, on February 8, she tested positive for prohibited substance trimetazidine, a performance-enhancing heart medication. Immediately following the statement, she was provisionally suspended by the RUSADA, which automatically banned her from further participating in all sports including the Olympics. A day later, though, Valieva challenged the provisional suspension, in which the RUSADA Disciplinary Anti-Doping Committee ruled to lift her suspension. As per the New York Times, her coach, Eteri Tutberidze, told Russia's state-run TV network Channel One that "there are many questions and very few answers." Given the complexity of her predicament, Tutberidze further added that this was an "ill-fated confluence of circumstances" and she is "absolutely confident that Kamila is innocent and clean." 
In the hearing before the Court of Arbitration of Sport (CAS) last month, the panel officially authorized her participation in the Olympic Winter Games under the condition that no podium celebration take place should she finish in the top-three, although the Court received countless complaints from the International Olympic Committee (IOC), World Anti-Doping Agency (WADA) and International Skating Union (ISU), according to CBS Sports. 
 But did the CAS's decision to let Valieva compete entirely abide by the IOC's "zero-tolerance" policy? When the Court of Arbitration for Sport made the decision to clear Valieva, it decided that since she is a minor—aka a "protected person" in the Olympics—she is goverened by a different set of rules than those of an adult athlete. As stated by AP News, the CAS panel argued that full suspesnion would cause Valieva "irreperable harm." The Court's argument for Valieva's case now sets a new precedent for athletes in the Olympics that may cause even more doping scandals to ensue from those "under-age" athletes. 
After her clearance, Valieva won the best score in the individual women's short program on February 15 to qualify for the free skating competition on February 17. But in her second opportunity to prove her talent (without the use of a preforming-enhancing drug), Valieva fell more than four times during her performance to finish fourth in the women's free skate competition. Even through her tumultuous Olympic experience, she returned to Russia with a rousing ovation from Russian fans who supported her efforts both as an athlete and individual. In a series of Instagram posts, Valieva expressed her gratitude, saying "I want to thank everyone who has been with me during this tough period: who was by my side and did not let me lose heart, who sent me supportive messages, who was just thinking of me, who prayed, who believed me and in me." 
Valieva's supposed use of trimetazidine wasn't the only issue revolving around her scandal. American track and field sprinter Sha'Carri Richardson spoke up about the double standard that exists in Olympic Sports. At the Summer Games in Tokyo, Richardson, who was also favorited to win a gold medal, was banned from competition after she tested positive for marijuana. During the Summer Games, Richardson took accountability for her actions and didn't fight her suspension. Now, however, she called the Valieva case out in a tweet and demanded a "solid answer on the difference of [Valieva's] situation, and hers." Richardson further argued that at the time, she was grieving her mother's death, and that cannabis doesn't enhance performance. IOC spokesman Mark Adams differentiated between the two cases, telling Yahoo Sports that "you can't talk about double standards in relation to Russian and American athletes, each case is individual." But Richardson sees only one difference: her race. To refute, the IOC claimed that as a "protected person" in the Olympics, it's only fair to approve Valieva's participation to avoid "irreparable harm." 
While Valieva's case solely involved Russia and the IOC, it showcased the "win or go home" mentality that is ingrained in young athletes globally. These athletes endure the blood, sweat, and tears in order to fit into the socially constructed "perfect princess." Many begin to ask if the price of Olympic gold is too high.