"A Normal Life:" Ukrainian Refugees and Their Stories
Imagine waking up to bombshells crushing your home, your city, everything you have come to love. Imagine getting up and rushing to the nearest shelter in search of someplace safer than your own house. Imagine leaving your loved ones to fight for your family's freedom. Imagine grabbing your kids, a few necessities, and attempting to flee your country. Imagine….
For the people of Ukraine, this is nowhere near a figment of their imagination; this is their reality. On Sunday, March 6, the United Nations High Commissioner for Refugees, Filippo Grandi, projected that 1.5 million Ukrainian people had already fled the nation as a result of Russia's invasion. He described this evacuation as the fastest mass migration of people since World War II. The majority of those leaving are women, children, the elderly, and the disabled. Meanwhile, males between the ages of 18 and 60 must remain in their country to protect Ukraine against Russian advances. Below are some of their heartbreaking stories.
A backpack and a dog:
Near the border of Poland, in Przemysl, Kate, a refugee from Ukraine, was interviewed by Alex Hogan. She had been rushed to a bomb shelter near her home, but she quickly realized that there was no end in sight. So, Kate grabbed a backpack with food for herself and her dog, and fled. Her family, too afraid to leave their hometown, stayed in Ukraine. Kate, however, "want[s] to have a really normal life." She is alone, searching for a safe place to stay and someone to turn to for support and help.
Stuffed animals are all you need: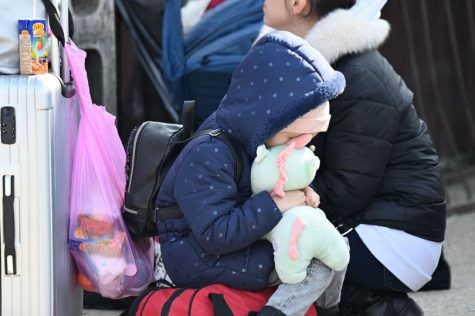 Many young Ukrainian families with children have escaped Ukraine in search of a safer place and ABC News' David Muir spoke with some of them. Two sisters, who are also young mothers, described their journey as fate, saying, "What else can we do?" They spent 22 hours on the floor of a train just to get to Poland. One of their children, Alexei, carried his favorite stuffed animal with him. Another family, a teenage girl along with her mother and younger brother, traveled from Kharkiv and described how they had no choice but to leave their father behind when they heard the bombs and missiles destroying their city. The little boy, Misha, carried his favorite stuffed animal, his bear, to comfort him in the absence of his father. Another little girl in a bright green winter coat, who traveled on foot with her mother, holds a unicorn toy. A five-year-old boy named Zahar carried a superhero backpack and spoke about how his father sent him, his older sister, and mother off as he went to fight in the war. Nearly every child encountered fled from Ukraine carried little besides their favorite toy—a symbol that these kids crave a piece of home and comfort during these awful times.
Cherishing clear skies:
A 24-year-old refugee from Kharkiv, Katerina Belash shared her story with NBC News' Cal Perry. She was sheltered with some friends in her home city when a Russian bomb exploded, killing everyone but her. She was forced to flee as things continued to get worse and she described that "in that particular moment," surviving the bomb was a fate much worse than dying. When asked how she survived, Belash responded, "I don't think I did." Suffering from extreme PTSD, she said her life has been left in shambles as she now wonders what is next. She told the world, "Please do cherish the clear skies… cherish every moment of your life."
Meaning of peace:  
Olia, who spoke with an ABC News reporter and shared that a Ukrainian refugee and mother of two, now tries to remain strong for her children, as she's already fled to Poland and departed with her beloved husband who stayed to fight. Olia can speak in Russian, Ukrainian, and Polish, and it is clear that her voice is filled with the same panic and grief in each language. She stands with other Ukrainian women and children in Lublin, Poland as they plead for help. She stated with tears in her eyes that her kids, Olexander and Ariana, "know everything." They are ages seven and three. When asked what she wanted the world to know, she stated that we need to care for Ukraine, and whilst speaking, she switched between Russian and Polish. This switch proves an extremely important lesson: no matter what language you speak, peace, hope, and safety all mean the same thing, and it is time to return them to Ukraine. 
These refugees' stories are just a few of the millions out there; each and every one of them searching for safety. Many organizations are opening their doors to donations and other ways for people from all over the world to help. If you would like to help out, some of these donation sites are listed below.