The New York Knicks: An Empire-State-Sized Struggle
Following the shortened 2020-2021 season, in which the 4th-seeded New York Knicks exceeded the expectations of any rational NBA fan, Knicks fans, such as myself, expected much of the same this 2021-2022 season. After all, by maintaining coach of the year Tom Thibodeau, signing all-star Julius Randle to a contract extension, making great veteran additions such as Kemba Walker and Evan Fournier, and cultivating a promising young core, there's no reason that the Knicks shouldn't have blossomed into one of the Eastern Conference's perennial playoff teams this season. However, with the Knicks currently sitting in 12th place in the East and their playoff chances looking grim, let's take a look at what's gone wrong this year. 
Decline in Defensive Rating
In the 2020-2021 season, playing under a new coaching staff headed by defense-oriented head coach Tom Thibodeau, the Knicks' defense was consistently ranked as one of the best in the league. In fact, the primary reason why the Knicks won 41 out of their 72 games played was most definitely because of their elite defense, which often rescued their lackluster and mediocre offensive play. Moreover, having been pushed by Coach Thibodeau to their defensive potentials, players such as RJ Barrett, Julius Randle, Nerlens Noel, and Reggie Bullock were the heart of the Knicks' defense among other key contributors. Having retained everyone but Bullock and acquiring more defensive talent in Deuce McBride and Quentin Grimes in the 2021 NBA Draft, the expectation remained that the Knicks would continue to be a defensive juggernaut in the 2021-2022 NBA season.
So what happened? The answer is unclear. The first reason may be the lack of effort from last year's key contributors. Most notably, Julius Randle, who signed a five-year maximum extension with the Knicks last offseason, seems to have lost his spark on the court following his payday. However, while there's no denying that Randle has displayed some questionable effort at times this season, it's clear that based on Randle's recent stellar performances against the Kings and Suns that he still has a strong desire to win. Therefore, when we take a deeper look at what has changed from last year, it becomes clear what the Knicks are missing. Tom Thibodeau's coaching staff, which was key in building lockdown defensive lineups last season, simply has not been able to repeat its success. Missing key defenders Reggie Bullock and Nerlens Noel (due to injury), Thibodeau just has not been able to build any consistently-used, effective defensive lineups. Thus, a lack of chemistry and stability on the defensive end has hampered the Knicks' ability to "gel" on defense. Furthermore, while I do think that questionable effort by certain players is partially to blame for the Knicks' defensive struggles thus far, a deeper comparison between the volatility of the Knicks' lineups this season and their stability last season reveals the more likely cause for the team's lackluster defense. 
Underperformance of Key Players
Following last year's stellar performance, the Knicks should have been focused on consistency and repeating their success in order to win. However, despite attempting to do so by maintaining the majority of last season's key contributors and adding a few new faces, certain players who were instrumental in the Knicks' 2021 playoff push seem to be unable to replicate last year's successes. 
First and foremost, I'm sure that the first player any Knicks fan would point to when it comes to underperforming is Julius Randle. Randle, who made second team all-NBA last season and was named to his first all-star game, was unquestionably the Knicks' leader and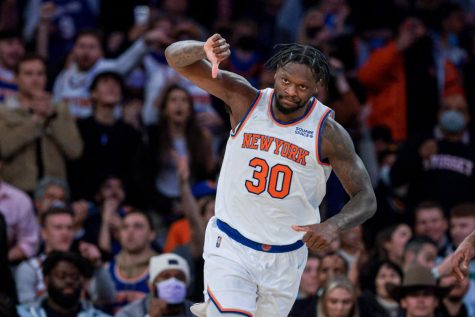 best player with averages of 24.1 PPG, 6.0 APG, and 10.2 RPG. However, this year, on top of his core stats dropping down to 20.0 PPG, 5.2 APG, and 10.0 RPG, Randle's three-point shooting percentage fell off a cliff from about 41% last season to 31% currently. As a result, Randle's sudden decrease in versatility as a scorer has made it far easier for teams to contain him on offense. However, despite Randle's disappointing performance this season, he is not the only underperforming player on the Knicks' roster.
Kemba Walker, who the Knicks acquired this past offseason to fill the starting point guard role, has also been incredibly underwhelming. With starting point guard Elfrid Payton playing mediocre at best last season, Walker was seen as a massive upgrade to his predecessor. Moreover, despite an injury-riddled year last season, Walker was selected to the all-star game a year prior, in the 2019-2020 season. Thus, expecting another fully healthy season, the Knicks hoped that Kemba would rise back to his all-star level play this season. However, compared to averages of 20.4 PPG and 4.8 APG from his all-star season, Kemba has only managed to put up about 11.6 PPG and 3.5 APG for the Knicks this year, while shooting only 40% from the field. Furthermore, it became clear rather quickly that Walker was no longer his past self and, after a confusing saga of benchings and starting roles, the Knicks and Walker have mutually decided that Walker cease playing for the year. 
While Walker and Randle have been the main catalysts for the Knicks' struggles this year, players such as Evan Fournier, Nerlens Noel, and Derrick Rose have disappointed this year as well. Fournier, shooting an inefficient 40% from the field this season, simply has not been the scoring threat the Knicks hoped he would become. As for Rose and Noel, however, neither can bear too much of the blame for their lack of contribution as both have battled injury all year. 
What to Look Forward to
While the play of certain veterans on the Knicks team has been disappointing, Knicks fans should at least celebrate the stellar play of many of their younger players. RJ Barrett, for one, has recently emerged as the Knicks' clear number one option on the offensive end, averaging 22.2 PPG since January 31st. In addition, Knicks center Mitchell Robinson has put together an extremely efficient scoring and rebounding season, and rookies Quentin Grimes and Deuce McBride have both shown great promise.
While there's no denying to Knicks fans that this year has certainly been a great disappointment, with some promising young stars and a big-time market such as New York, we can hope that the front office figures out a way to move the team back into a position to win the next season.