West Side Story Review: Spielberg Is a Genius
So it's probably not a surprise that Steven Spielberg is at least one of the greatest filmmakers who ever lived. Even with this, I was a little bit surprised when it was announced that he'd be remaking the classic musical West Side Story. I was not worried but I was curious because Spielberg has never directed a musical before. So when trailers started coming out, I kind of kicked myself at how I could be so stupid to not realize that he is Steven Spielberg; he knows what he's doing. I finally saw this film, admittedly late, because I made the horrible mistake of watching After We Fell instead of going out to see this film. I'd now like to apologize for that because, my goodness, this film is kind of glorious (gee, who would've guessed?). 
West Side Story (2021) follows the story of the original musical and the original 1961 movie. It starts off with a gang called the Jets fighting in the streets with a rival gang called the Sharks. The Jets' acting leader Riff (Mike Faist) is fed up with the Sharks taking over the city and wants to start a rumble between the two gangs. He intends to challenge them at a dance in a gym where all the Jets and Sharks will be. He is also hellbent on bringing the original gang leader Tony (Ansel Elgort), who just got out of prison. As we look into the life of the Sharks's leader Bernando (David Alvarez), we meet his young sister Maria (Rachel Zegler) and his girlfriend Anita (Ariana DeBose), who also seems to parent Maria. At the dance, Maria and Tony meet and their connection begins to test the already temperamental relationship between the Jets and the Sharks. 
I'm a sucker for amazing cinematography and direction, so I was no doubt going to love this film. I didn't know if Steven Spielberg could direct a musical like this, but he did it so effortlessly. Each scene is so vivid and full of energy. I love the amount of camera movement in this film (of course) and there are some shots that are absolutely breathtaking. There's one shot specifically that kind of caught me off guard when I saw the film because it just looks so nice. Also, the cinematography is crafted to look old-fashioned, which perfectly replicates how this film would've looked in the 60s. It's one of the reasons I've opted to not watch the original adaptation because I want to accept this film as the definitive version of this story.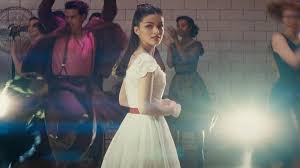 The cast of this film is also amazing. They all have amazing voices and they are all perfectly cast. Rachel Zegler is so phenomenal in this film and she is definitely a star in the making. Out of a sea of musical talents, she somehow had the best voice (not to put anyone else in the cast down, her voice was just that great). She had to serve as the heart of the film as she showed up to perfectly fill that. To complement her, Ariana DeBose fills the massive shoes of Anita to completion. She took on the iconic role and absolutely nailed it while making it her own. DeBose brings so much energy and musical prowess to the role as well as emotional depth for the harder scenes of the movie. And the cast is far too big to go through but here are the highlights for me: It was an absolute treat to see Rita Moreno on screen to add more impact to the story, Iris Menas had a very small amount of screentime but made so much of what they had, David Alvarez was solid as Bernando, and Mike Faist did really well in his role. 
The film really just feels like so much fun while being very heartbreaking. It has such a vibrant style that properly mimics the original film's classic style. I'd talk more about the amazing music of the film, but this is just using the legendary soundtrack that's been used for the original play and the original movie. However, this film incorporates other versions of the songs that use Spanish lyrics, which makes them so much more realistic. Actually, the film itself is made more realistic by not having subtitles for Spanish dialogue. It helped to show that Anita was basically forcing Maria to practice her English while she was still trying to speak Spanish and it works really well.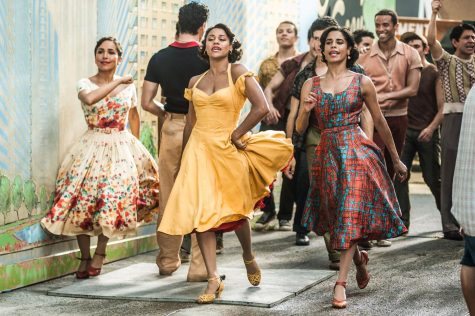 So please go see this movie, it really is incredible. If you missed its theatrical run, it's on Disney plus right now where it can hopefully make back the budget, since this film sort of bombed in theaters (I blame myself).