Disney's Upcoming Movie Lightyear and Its Controversies
In 2020, Disney and Pixar announced their newest project by releasing a trailer for a film centered around Toy Story's favorite space ranger, Buzz Lightyear, and his origin story. In the film, Buzz journeys to space and lands on a mysterious planet filled with aliens and robots. We are expected to learn about how he got there and became a space ranger, and more about the "Toy Story" universe. The film is set to be released in theaters this June and has all Disney fans on their toes. To further the anticipation, Pixar has lined up a talented cast for the film, including Chris Evans as Buzz, Uzo Aduba as a female character named Hawthorne, and Keke Palmer as Izzy.
Although fans are anticipating the movie's premiere, many are upset and disappointed with Disney's decisions regarding the plot and storyline of Uzo Aduba's character. Hawthorne is reportedly in a relationship with another woman in the film, which has stirred much controversy. According to Variety, a kiss scene between Hawthorne and her partner was cut from the film only to be put back into the script later.
The sudden and surprising change to the movie's plot was related to Florida's new "Don't Say Gay" bill, which does not allow instruction in schools on topics regarding gender identity and sexual orientation from kindergarten to third grade. Many are upset with Disney and disappointed in the company's initial response. The fact that Disney has a significant presence in Florida with Walt Disney World makes it startling.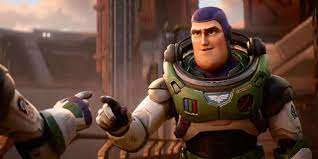 Disney CEO Bob Chapek said in an interview that "we all share the same goal of a more tolerant, respectful world." He also stated, "Because this struggle is much bigger than any one bill in any one state, I believe the best way for our company to bring about lasting change is through the inspiring content we produce, the welcoming culture we create, and the diverse community organizations we support." Disney fans criticized Chapek's statement, and he went on to deliver an apology. "It is clear that this is not just an issue about a bill in Florida, but instead yet another challenge to basic human rights. You needed me to be a stronger ally in the fight for equal rights and I let you down. I am sorry."
Before Chapek's apology to the Disney community and millions of Disney fans, many Pixar employees released a letter claiming that there were numerous times prior to this event that Disney executives had knowingly censored "overtly gay affection" in their films. The letter explained: "We at Pixar have personally witnessed beautiful stories, full of diverse characters, come back from Disney corporate reviews shaved down to crumbs of what they once were. Even if creating LGBTQIA+ content was the answer to fixing the discriminatory legislation in the world, we are being barred from creating it."
Overall, fans realize that the corporation has a lot to do in order to make their films and culture as a whole more inclusive. Even though people are not in favor of Disney's claims, they are still excited to see the film and what Pixar has in store.