Do Nut Miss Out on Tenafly's Newest Mochinut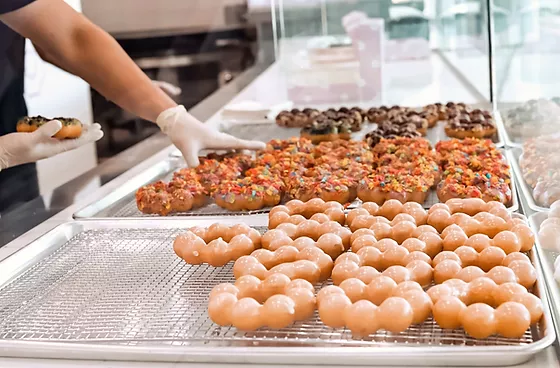 You walk in and smell the aroma of fresh-baked pastries infused through the room. You notice an assortment of foreign-looking donuts right before your eyes, but wonder what the twist is. They mimic your classic fried dough confectionery with a hole in the middle, but they aren't like anything you've seen before. But if they aren't just typical donuts, then what makes them so different? Tenafly presents to you the long-awaited arrival of the Mochinut: a happy union between a Japanese rice cake and an American-style donut.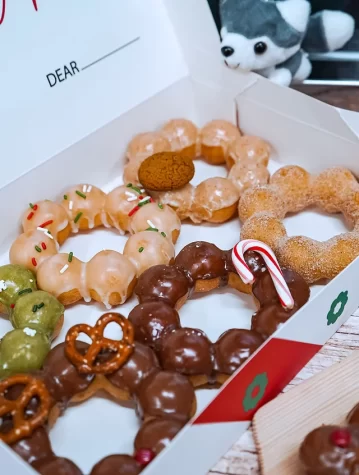 Mochinut, which first opened in Tenafly on Saturday, March 12th, greets customers with an array of treats, its signature dishes being Mochi Donuts, Korean Rice Flour Hotdogs, and Bubble Tea beverages. While the outer layer of the ring-shaped Mochi Donut resembles a donut enough to fool any avid donut enthusiast, under that layer lies a surprisingly chewy core with air-filled dough balls to give it even more of that doughy feel. Even better, the Mochinut menu presents a multitude of 25 differently-flavored Mochi Donuts—exquisitely crisp donuts made of eight small, delicate dough balls that connect in the shape of a circle. As per Mochinut's site, the main ingredient, sticky sweet rice flour, gives the donut a "sticky addictiveness to each bite, a textural element that is completely different from yeast cake or donuts."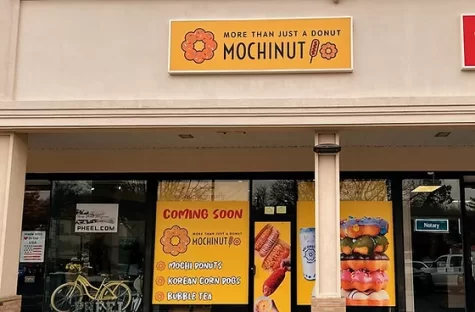 To be paired with its staple donut-style pastry, Mochinut also offers 12 combinations of customizable Korean rice hotdogs topped with a variety of toppings such as breadcrumbs, potatoes, Hot Cheetos, or crispy ramen. On the inside, this deep-fried snack can come as a full hot dog, half hot dog and half mozzarella, or full mozzarella. Lastly, to wash it all down, the distinguished menu also has an assortment of bubble teas, including Thai, Ube, Coffee Latte, Brown Sugar, Matcha, and traditional Milk Tea, which employees fill and seal themselves. This drink tops off the menu and makes Mochinut all the more unique. "What sets Mochinut apart from a regular doughnut shop is the amount of variety on the menu and the atmosphere we try to create," Rebecca Wong ('22), a Mochinut employee said.
This isn't Mochinut's first location, though. This premium brand of Mochi Donuts has locations worldwide, with Tenafly being its 61st. The "Mochinut" concept itself originated in Hawaii, drawing inspiration from Mochi, a common Japanese delicacy, and the traditional American donut. Founder Jaewook Ha made his chain debut in 2020, when he opened the first Mochinut inside Chung Chun—a Rice Hot Dogs store—in Southern California, according to Eater Chicago. After it quickly gained a following in Southern California, Mochinut rapidly expanded, incorporating the rice hot dogs into its menu as well. With locations across the US, South Korea, and Thailand, it now has six stores just in New Jersey, with seven more preparing for opening. 
Tenafly's location has been preparing for a couple of months, handling promotion, design preparation, legal work, and construction to perfect its opening. Opening day was a huge success, as lines extended beyond the entrance to the store. Ryan Kim ('23), a Mochinut employee, recounted the community's excitement on the first few days when he had to work countless hours to assist the overflow of customers. Although it was stressful for him as a first-time employee, "it was so awesome to see the positive reception it had gotten, considering a big fear was the customer interest," Kim said. Wong reflects on how amazing it was to "see that the community really loves this addition to Tenafly." Even a few weeks after its opening, Mochinut continues to attract a steady flow of consumers, delighting the taste buds of Tenafly foodies.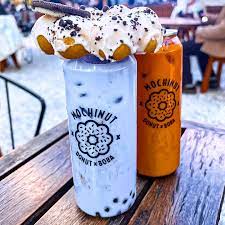 Mochinut donuts are particularly popular among customers for their unique, aesthetic donut shape and their alluring taste that complements each bite. For Kim, the meticulous process of making each donut is "truly a work of art." But for first timers who feel overwhelmed by the limitless donut, hotdog, and bubble tea options, what he recommends would depend on both the customer's dish and taste preferences. Kim recommends, if customers want to go all out and try everything, a three-piece donut box, a bubble tea, and a Korean hot dog, which should amount to around 20 dollars. When customers enter, there is a wide display of all donut flavors, and it's all up to them to choose what they want to order. The current fan-favorites are the Oreo, Dark Chocolate (which comes with a Ferrero Rocher chocolate in the center), Nutella, and White Chocolate Raspberry donuts. "My personal favorite is the Guava [donut], which tastes like a strawberry glaze with sprinkles," Kim said. "Of course, Taro and Matcha are also fantastic, and so are the Yogurt and Strawberry Fruity Pebbles." He also noted, for those with a sweet tooth, the Brown Sugar donut is a hit. Wong also recommended the chocolate-based flavors, but said that "all of the flavors go at a fast rate so, there's [really] no wrong flavor [to choose from.]" 
 As for the future of Mochinut, it is definitely looking like the brand will continue to attract customers from Tenafly and beyond. With the newly-opened Tenafly location being right near both Tenafly Middle School, Tenafly High School, and a few bus stops, the temptation of the crispy, glazed Mochinut will be hard to resist. "There's always customers in the store no matter the time of day," Wong said. "Even after it closes people still try to come to buy Mochinuts. Everyone I've talked to loves Mochinut and having it in Tenafly is a miracle." Kim also hopes that Mochinut becomes a permanent mainstay in Tenafly. "I see an incredibly successful future for the entire brand and also for this specific location," Kim said. "I believe character is a huge indicator of sustained success, and everyone who works for Mochinut reflects this."
Ready to take a bite of Mochinut? Stop by Tenafly's location today!