The Final Four: A Big Blue Showdown
After a bracket-busting first four rounds of the NCAA tournament, four historic college teams have survived the carnage: the Duke Blue Devils, the UNC Tar Heels, the Kansas Jayhawks, and the Villanova Wildcats. Moreover, with the championship-contending Kentucky Wildcats having been eliminated by St. Peters in the first round, and St. Peters going on to lead arguably the greatest Cinderella run March has ever seen, the tournament has been nothing short of absurd. Not to mention, with the Gonzaga Bulldogs and Arizona Wildcats, the favorites to win the tournament, being eliminated in the Sweet 16, the tournament has essentially become anybody's game. Now, with the eyes of the nation upon them, the tournament's four remaining teams will square off in a Final Four showdown this upcoming Saturday in New Orleans' Caesars Superdome.
No. 2 Duke Blue Devils vs. No. 8 UNC Tar Heels
At 8:49 p.m., on Saturday, April 2nd, the UNC Tar Heels will face the Duke Blue Devils in Caesars Superdome. With the game to be broadcasted on TBS, countless viewers will likely tune in to watch the historical rivals face one another in the Final Four. Aside from the two schools' bitter rivalry and the massive stage on which Saturday's game will be played, one more factor heavily contributes to the anticipation preceding the competition: Duke coach Mike Krzyzewski. Coach Krzyzewski, more commonly known as Coach K, has been the head coach of Duke's historic basketball team for 42 seasons and is considered by many to be among the greatest basketball coaches of all time. Furthermore, with Coach K announcing that this season will be his last, every game that Duke plays could mark the end of Coach K's legendary career. As a result, on top of a desire to keep their national championship hopes alive, the Blue Devils seek to prevent their renowned coach's career from ending at the hands of their rivals. 
Led by their dynamic freshman duo of Paolo Banchero and AJ Griffin, both projected lottery picks for next year's NBA draft, the Blue Devils seek to keep their momentum going after impressive wins against Arkansas and Texas Tech. Considering that both of their previous opponents are notable for their swarming and formidable defenses, the resilience of Duke's offense has been impressive. Moreover, with their offense being orchestrated by sophomore point guard Jeremy Roach, Duke will need to rely heavily on ball movement and a fast-paced offense if their offense is to succeed on Saturday. Most visible at the beginning of Duke's Sweet 16 matchup with Texas Tech, a failure to move the ball initially plagued Duke as Texas Tech's rapid trapping and defensive pressure forced Duke into numerous early turnovers. An increased reliance on ball movement and, as a result, an increased role of Jeremy Roach, was instrumental in Duke's recovery against Texas Tech. Therefore, it's essential that rather than relying on Banchero, Griffin, or others running their offense in isolation, the Blue Devils focus on moving the ball rapidly to outplay the Tar Heels. UNC, led by first-year head coach Hubert Davis, features an impressive lineup of experienced veterans in Armando Bacot, Brady Manek, Caleb Love, and other players who have experience against the fierce competition of the ACC. Furthermore, after defeating No. 1 Baylor in the round of 32 and crushing No. 15 St. Peters (who defeated No. 2 Kentucky and No. 3 Purdue) in the Elite 8, UNC has proven itself capable of taking down formidable opponents throughout the tournament.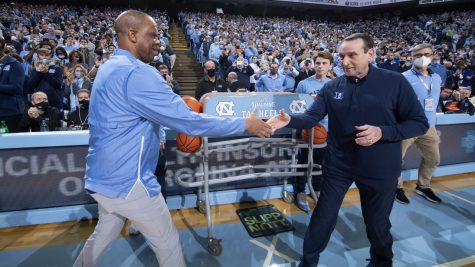 However, despite their victories, it's worth noting that after having a 25-point lead over Baylor in the 2nd half of their round of 32 victory, UNC allowed Baylor to come all the way back to force an overtime period. Therefore, considering UNC's tendency to allow offenses to lead fast-paced, dangerous runs, it's integral that they focus on slowing down Duke's offense. Specifically, by forcing Duke to play a more isolation-focused offense, UNC may be able to counter the fast-paced game Duke may seek to play.
Prediction: Despite initially struggling, Duke's offense overcomes UNC's defense through fast-paced transition scoring and ball movement; Duke wins 75-71.
No. 1 Kansas Jayhawks vs. No 2 Villanova Wildcats
This coming Saturday, preceding the showdown between Duke and UNC, the No. 1 Kansas Jayhawks will face the No. 2 Villanova Wildcats on TBS. With Villanova being 2022's Big East Tournament champion and Kansas emerging victorious in the Big 12 this season, it's unsurprising to see the two heavyweights meet for a bout in the Final Four. With Villanova having won two national championships since 2016, their ever-experienced and winning head coach Jay Wright will seek to add another championship to his resume. However, having won their last championship in 2008, Kansas and head coach Bill Self will be hungry to lead their program back to the promise-land of college basketball after multiple Final Four losses in the last decade.
Coming off Sweet 16 and Elite 8 victories against Michigan and Houston respectively, Villanova will look to continue their streak of impressive victories. Michigan, which was led by versatile, big man Hunter Dickinson and coach Juwan Howard to a substantial victory against the SEC champions, the Tennessee Volunteers, in the round of 32, was stopped by an impressive Villanova defensive performance that held Dickinson to only 15 points and allowed only one other Wolverine to score in double figures. In addition, in defeating the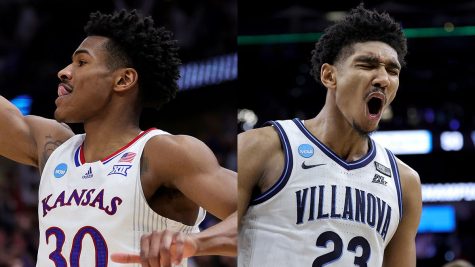 Houston Cougars in the Elite 8, a team that defeated the No. 1 Arizona Wildcats in the round prior, Villanova continued its defensive clinic as it held the Cougars to only 44 points only two days after Houston scored 72 points against Arizona. Also, with the experience of head coach Jay Wright and senior guard Collin Gillespie, the experience leading Villanova's team is one that cannot be replicated. However, despite their promising characteristics, the injury suffered by junior guard Justin Moore, one that will keep him sidelined from Saturday's game, will prove to be a significant loss on both the offensive and defensive ends of the court. 
As for Kansas, coming off a very impressive win against the Miami Hurricanes in the Elite 8, its high-scoring offense will look to put a stop to Villanova's defensive clinic. Miami, having defeated a contender in the No. 2 Auburn Tigers in the Sweet 16, was beginning to look like a covert contender to win it all. However, after sticking with Kansas well throughout the first half of their matchup last Sunday, a second-half Kansas run that saw the 26 point victory of the Jayhawks put the Canes away for good. Furthermore, considering the rapid pace often seen in Final Four matchups, Kansas will have to focus on maintaining a strong motor on offense to overcome Villanova's intimidating defense. Even so, facing the experienced Villanova Wildcats will be an equally experienced Kansas team, seeing as senior star Ochai Agbaji has been playing college basketball for four years and coach Bill Self led the team to a national championship back in 2008. 
Prediction: Loss of Justin Moore will prove too detrimental against the Jayhawks; the Wildcats' defense won't be able to hold up against Kansas; Kansas wins 71-63.