Will Smith Hits Chris Rock at the Oscars
It was 10 PM on a Sunday night and it was somehow snowing. My mom was passed out on the couch and my dad was getting sick of me ranting about how Belfast didn't deserve the best original screenplay. When Chris Rock took the stage to entertain the audience, my parents were intrigued. All of a sudden, we all heard a loud hit on the TV. It seemed like it was a big bit between the two of them, but then the audio got cut. I thought that if this slap had been a joke, the audio would not have been cut. My parents and I then began to constantly rewind the show to see if it was real. Then, after enough analysis, we realized that it was real: Will Smith had slapped Chris Rock on live television at the Oscars.
It started off with Rock telling some jokes for the audience. Rock is known for jokes about couples, so he first made a jab at the Oscar-nominated couple Javier Bardem and Penelope Cruz. Then he turned his attention to the front of the room, towards Will Smith and Jada Pinkett-Smith. To poke fun at Jada, he said, "Jada, I love you. GI-Jane 2, can't wait to see it." As the audience was both laughing and shocked at the joke, Chris Rock immediately realized he went too far. As he dealt with the outcries of the crowd, something else was happening in the audience. No footage has emerged to show what really happened, but during this period, Will Smith went from snickering at the joke to making the decision that would change the entire night. Without warning, he made his way to where Rock was standing on stage. As he walked up, Rock began laughing hysterically perhaps thinking Smith was going to have a great comeback. His comeback ended up being a massive slap to Rock's face.
As Smith smacked his hand across Rock's face, no one knew what was happening. It might've seemed light since Rock took the hit like it was nothing, but the loud boom that ignited after the hit was alarming to a few audience members. As Smith walked back to his seat, audiences worldwide lost the audio of the show. All that could be seen was Rock not knowing what was happening and a silent Smith yelling at the top of his lungs. From this point on, people began to realize that this wasn't some planned bit, but rather a real sudden outburst. As Rock tried to awkwardly carry on with presenting Best Documentary, he began to appear frazzled. As if that weren't enough, a completely uncensored version of the Australian broadcast of the show started trending. In the uncensored audio, viewers heard what Smith said. Two times after the slap, Smith yelled, "Keep my wife's name out your f-ing mouth!".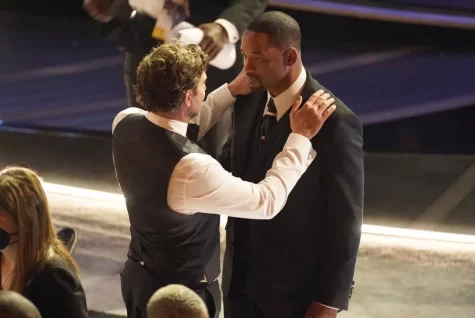 The craziest part was the fact that it was almost time to reveal the winner for Best Actor. Smith was nominated for this award, and it was predicted that he would win. Cinephiles and award betters knew for a fact that he was going to win no matter what, but he had just slapped someone onstage in front of millions of viewers. When he had to go on the same stage and accept an award, he gave a big and emotional speech, comparing the role he won to his actions that night. He apologized for what he did but didn't specifically reference Rock in his speech. Then as he sat back down, the story of what happened spiraled out of control. 
No one cared that Troy Kotsur became the first deaf male actor to win an Oscar, no one cared that Megan Thee Stallion rapped in the middle of a lengthy cover of We Don't Talk About Bruno, and Twitter didn't go on about their hatred of Amy Shumer. All the talk was about the hit. It became the biggest story in the span of an hour, and people lost their minds about it. The day after, there was a massive sea of reactions to the hit all over social media and celebrities were already getting backlash due to the reactions. One example is Zoe Kravitz, who called out Smith and is now being attacked online. Then after what felt like a long time, Smith finally issued a public apology to Chris Rock. This apology fully acknowledged Rock and cleared up what Smith missed in his speech. However, more information is still in the middle of coming out. 
As Chris Rock's 2022 comedy tour is now thriving due to the event, he has said at shows that he is still processing it and can't talk about it yet. There was some information released from a previous interview that revealed that Chris Rock has non-verbal learning disorder. It is a disorder that doesn't affect him a lot, but sometimes causes him to miss social cues. Then there was some footage released from the Oscars that appeared to show Jada Pinkett-Smith laughing at Chris Rock processing the slap. However, there were no recordings of what happened before Will Smith walked on stage. Finally, it was revealed that Rock didn't even write the joke that caused the hit. So he basically got slapped for an offensive joke that he didn't even come up with. 
Even with how much time has passed, there is still more and more coming out about this event.