New Jersey vs. New York: Battle of the Bagels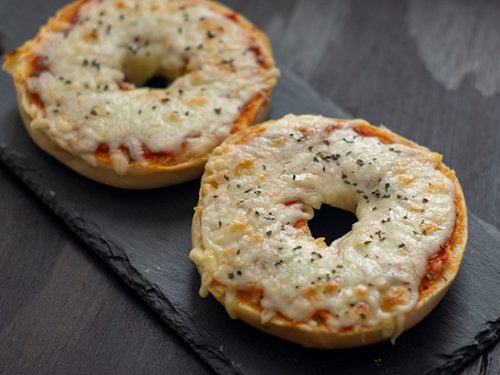 An ancient, unspoken feud has long boiled beneath the skin of native New Jerseyans whenever their Sunday morning consolation is brought to question and, specifically, compared to that of their neighboring rival, New Yorkers. As a native New Jersayan whose diet is comprised of a warm, pudgy bagel smeared with a light cream cheese coating, naturally, I have become a bagel connoisseur over the years. Therefore, I decided to take it upon myself to sample esteemed bagel shops in both New Jersey and New York in order to determine for myself which of the combating states produces the better bagel.
After consulting with New Yorkers and my fellow New Jerseyans, I have selected two acclaimed representatives to partake in what I will refer to as "The Battle of the Bagels." As for New Jersey, I have handpicked Tenafly's Celebrity Bagels, a favorite among many locals. Its adversary, Absolute Bagels. While New York is acknowledged as "the bagel capital," New Jersey bagel shops often give the state a run for its money. So, will New Jersey dethrone New York's high stature? Let's see.
First up, Tenafly's very own local bagel shop, Celebrity Bagels. Located on 30 W Railroad Avenue, the privately owned shop has served its locals for over 30 years with its mastered doughy-yet-dense interior that impressively manages to maintain its definitive outer crunch. When I journeyed to the bagel shop this past weekend with an empty stomach and a determined mind, I decided to keep my order simple. Kindly greeted by the man at the counter, I ordered a toasted, everything bagel with cream cheese along with a toasted, plain bagel with butter. After anticipatedly awaiting the food's arrival, the kind man at the counter called me forward, gifting me the warm, tinfoil-wrapped bagel, the aroma of which had instantly seeped through the foil's cracks. Immediately, I dived in, allowing my teeth to sink into the doughy interior, breaking the toasted bagel top. I was in heaven.
After the success at Celebrity Bagels, I was doubtful that I could find a fair competitor, but I maintained an open mind. Over spring break, I journeyed to New York City's Absolute Bagels at 2788 Broadway on the Upper West Side. As I entered the humble shop, I was immediately met by the long line that snaked around the cramped shop's tight layout. As I waited, eyeing the men in the back meticulously rolling out the bagels, I could sense the love and care with which each delicacy was molded. Excited, I immediately dug into my bagel. Steamy and buttery, the dough melted and exploded like a sponge in my mouth. The overall light sensation of the bagel was met with a soft, doughy interior that was just crispy enough to leave me wanting more with each bite. An absolute treasure. 
The moment I had delved into the city bagel, instantly, I knew I had found the reigning candidate. While I may have been dubious of New York's bagel reputation at first, I will admit, this experiment proved me wrong. However, still a New Jerseyan at heart, I truly believe that the feeling a New Jersey bagel evokes on a gloomy Sunday morning is unmatched by any New York bagel. New York bagels may be tastier, but Jersey bagels just hit different.