Five THS Students Earn Medals in the National Scholastic Art and Writing Awards
The Scholastic Art and Writing Awards is America's longest-running and most prestigious awards program for students in grades 7-12. Known to support "the future of creativity since 1923," the Scholastic Awards provide a medium for students to showcase their talents. Five students from Tenafly High School were selected as medalists with two gold medals and three silver medals: Katie Bae ('22), Mandy Zhang ('22), Jacqueline Kim ('23), Gaeun Park ('24), and Linda Xing ('25). 
Jacqueline Kim has always dreamed of becoming an author, thanks to her father's influence. "I have vivid memories of reviewing some of my own book drafts with my dad when I was younger, and going through revisions with the sincere intentions of having a book published one day," she said. "That's what got me into short story writing after I was introduced to the Scholastics Art and Writing Contest back in middle school. Writing helps me to effectively communicate an experience to readers in such an intimate way that can't really be replicated in any other medium."
Kim's piece is about the life of a young girl who struggles with domestic abuse. "The most difficult part of her journey is managing to navigate her trauma in the midst of a world in which it is suppressed. Not only this, but she is surrounded by an immediate community that is too naive to understand true grief, making it that much more difficult for her to express her hardships," she said. This piece is particularly meaningful to her, as this piece was the one where she found herself enjoying the process and falling back in love with writing. 
"I won a couple of Scholastics awards back in middle school when I first heard of the contest, but since then, I think I've burned myself out with creating writing and art works for the sake of racking up awards for my college resumé. I didn't have the same passion for it that I had when I was younger, and I think that really reflected in my work," she said. "By high school, I would try to submit works that I wasn't proud of for the sake of getting an award, and, not surprisingly, I didn't win any awards. For a while, that really made me question my skill in writing." But because this piece was that one that helped her foster her love for writing, "being able to see my work and passion receive recognition was really really gratifying," she explained.
On the other hand, Gaeun Park's piece is about the way people love each other. "Every single person wished for the love from their lover so they sacrificed something for their lover," she said. "For example, they lead their body to live there and give them a hand. But at the same time, they use other people's love towards themselves for energy and self-satisfaction. These repeating relationships are like a food chain, so I connected them." 
Linda Xing's winning piece was for editorial cartoon. "I wasn't expecting to win anything at all, so it came as a pleasant surprise," said Xing. "My piece is about global warming, and how it's affecting the poles. It's basically a spin-off on how Santa Claus lives on the North Pole, but he's forced to move out because the ice caps are melting." Art is something that she's enjoyed for a long time, but she started using more digital mediums in recent years instead of traditional art. "When I entered the competition, I wasn't quite looking to win; I was just searching for something fun to hand my artwork in."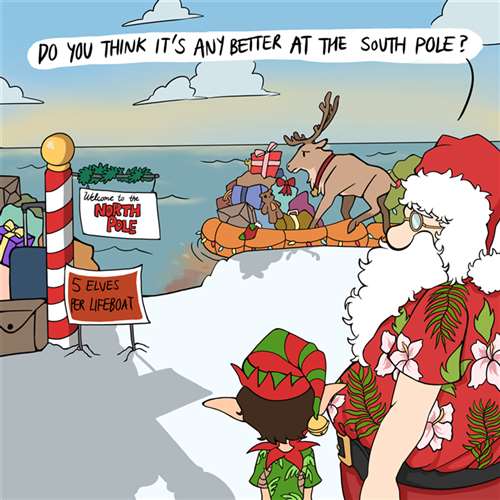 All in all, the national winners of this year's Scholastic Art and Writing Awards continue to bring pride to Tenafly's community.