New Jersey Bans Single-Use Bags
Each year, the average American uses and then discards 110 pounds of single-use plastic, while the average Chinese person only uses 1/3 that amount and the average Indian person uses less than 1/12, according to Minderoo, a nonprofit organization in Australia advocating for cleaner oceans. So, the glaring question is, where is all the plastic that Americans use coming from? 
The answer is found in our grocery stores. For years, we have been leaving grocery stores with paper or plastic bags overflowing with groceries of all kinds. These bags are later discarded, typically with no regard for the damage they do. This cycle has continued in an incessant loop, until now.
New Jersey Governor Phil Murphy recently signed a law imposing the nation's strictest ban on carryout bags and other plastic items. Beginning Wednesday, May 4th, 2022, plastic bags from all stores (not solely supermarkets and restaurants), paper bags from larger grocery stores, and most food and beverage containers made from Styrofoam are being banned in the state of New Jersey. If a business decides not to follow the law, the state's Department of Environmental Protection will issue a first offense warning, followed by a fine of up to $1,000 for a second offense and up to $5,000 for a third or any subsequent offenses.
"But why New Jersey?" you may ask. New Jersey is a peninsula, meaning it is surrounded by water on three sides. Thus, plastic remains spread very easily and quickly as tidal rivers flow inland.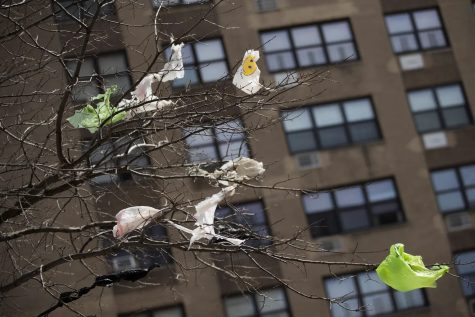 During annual beach cleanups, the Clean Ocean Action group has found that plastic accounts for more than 80% of the litter that is found. According to a 2016 report by NY/NJ Baykeeper, there are nearly 166 million microscopic plastic pieces floating in New Jersey and New York's waterways. With this knowledge, it seems simple to point fingers at the imposter (plastic) and save the victim (the state of New Jersey).
Eight other states in the US have already banned single-use plastic bags, including California, Hawaii, New York, Connecticut, Delaware, Maine, Oregon, and Vermont. Hopefully, with the action New Jersey is beginning to take, more states will follow in our path. 
As this new legislation is implemented, it is important to be prepared for your next grocery trip. So, as stores begin to stock up on reusable bags made of materials such as canvas, hemp, and others, be sure to look out for and purchase them, if you do not already have some.
It's time to change our habits in order to better our own health as well as the health of our planet.