Met Gala 2022: Glamour of the Gilded Age
We all know and love the thrill of sitting at home in our pajamas the night of the magnificent Met Gala, critiquing our favorite celebrities' glamor and outfits as if we were fashionable or trendy. And this year, viewers also got to see the glamour of the Gilded Age.
The Met Gala is an annual event that takes place at the Metropolitan Museum of Art in New York City. This year, the Met Gala took place on Monday, May 2. The ball raises money for the museum's Costume Institute, and is considered to be one of the most significant nights of the year in the fashion industry. This year's theme was the Gilded Age, and the most prestigious designers took on the role of dressing the attendees to fit. Following the COVID-19 pandemic, fans and viewers were ecstatic to watch all of the big names take on the big ball. After watching the interviews and struts down the red carpet, I have determined some of my favorite and least favorite looks of the night. No hard feelings!
First up, we have Kim Kardashian who walked the carpet with boyfriend Pete Davidson, along with her sisters (Khloe, Kourtney, Kendall, and Kylie) and mother Kris Jenner. She wore a dress that was previously worn by Marilyn Monroe when she sang "Happy Birthday" to President John F. Kennedy in 1962. While the concept and vision was iconic, it did not exactly fit the gala's theme. Currently, Kim Kardashian is facing a lot of backlash in regards to her look. Many fans are upset that Kardashian wore such a historical dress on the carpet. Fans were also puzzled to hear Kim tell La La Anthony on the carpet, "I had to lose 16 pounds to fit into it." She also explained in an interview with Vogue that she endured food restrictions, exercise, sauna suits, and other strict behaviors in order to make this look come alive. 
Jaws dropped when people saw Blake Lively appear on the carpet with husband Ryan Reynolds. Lively was dressed in Versace, and her glamor perfectly fit this year's theme. When she first walked down the carpet, her dress had an attached rose-gold-colored skirt that tore off to reveal a beautiful, light blue extension to the dress. From the tiara to the gloves and jewelry, everything fit together and made the look appear elegant. It is said that she channeled the Statue of Liberty in this look, a very fitting New York figure. While Reynolds' look was relatively plain and simple, it fit the theme. He genuinely looked happy for his wife when she walked down the carpet, making fans gush.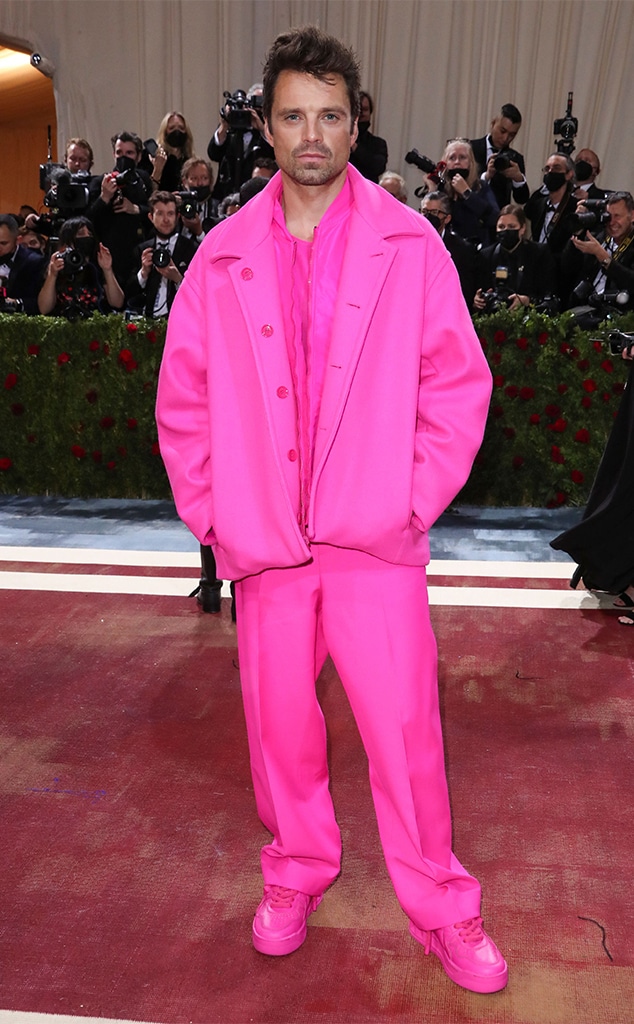 When Sebastian Stan arrived on the red carpet, eyes immediately turned to his direction. Covered head to toe in neon pink by Valentino, he was certainly hard to miss. Even his sunglasses were pink, matching the rest of the look. Everything was oversized—his jacket, his pants, and his chunky platform sneakers. Fans definitely loved the bright, dimensional, and outgoing look presented by Valentino. However, it did not necessarily coincide with the theme of the Gilded Age, which is the only thing taking away from this iconic look.
Louis Vuitton dressed Emma Chamberlain along with Cartier jewels. Chamberlain's two-piece set showcased her young, edgy, and fun personality that we've all come to know and love. Her makeup team did a great job getting ready for the Gala–her makeup simply tied the whole look together. Her necklace fell at a bit of an unflattering spot, but her dangly earrings and tiara added much more dimension. The straight neck of her beige-colored top with the white under it received a lot of positive feedback as well. Chamberlain conducted many of the interviews throughout the night, through which we were able to appreciate her look. Her white skirt made her outfit look much more elegant, but the theme could have been better followed.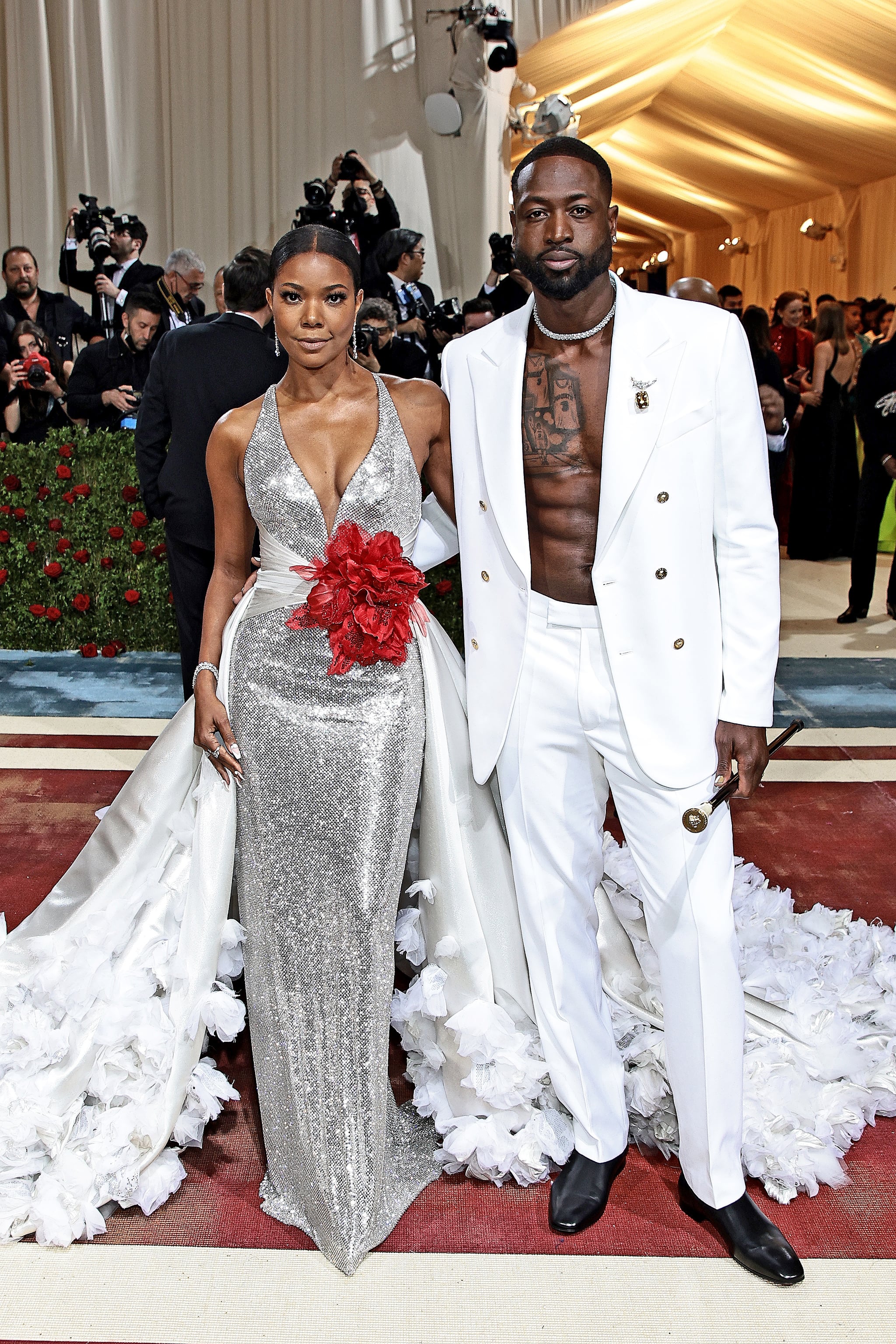 Gabrielle Union and Dwayne Wade. Wow. Fans were stunned by this flawless couple and their one-of-a-kind Versace outfits. Somewhat coordinated yet so different, these looks are on the top of the list for the night. Union's silver sequin dress was accompanied by a long, shimmery, feathered train along with a red flower positioned at her waist. With her slicked back hair and elegant draped jewelry, this look was exactly representative of the theme. Wade went with a monochrome, white suit with contrasting black leather shoes. He wore his jacket unbuttoned, showcasing the oversized trend that many other celebrities followed. 
Billie Eilish's look was a bit more controversial and did not get as much recognition as it deserved. Eilish represented Gucci, wearing a gorgeous corset top with green and gold satin, green lace sleeves, and an elegant gold skirt. People did not necessarily like her black choker necklace or her tied back hair, which was thought to showcase a sort of a goth style. However, she embodied the theme and looked great while walking the carpet. Eilish told Vogue, "I'm in a good place. I feel very excited to see some friends and I feel less nervous than I was last time. I just want to have fun and talk and socialize." Gucci also went a more eco-friendly route while designing her dress. She explained that the designers used "all existing materials so we didn't have to waste a bunch of stuff—this all already existed, and [we] just wanted to be as eco-friendly as possible." 
There were so many other incredible, unique, and different looks from talented designers and celebrities from this year's Met Gala. With all of this year's amazing glamor, who knows what will be in store for next year!