The 2022 NFL Offseason: Biggest Winners & Losers
Although all NFL offseason have their admitted shocks, high-value signings, and low-return trades, the 2022 NFL offseason has truly been unlike any other in recent memory. With stars such as Stephon Gilmore, Khalil Mack, JC Jackson, Bobby Wagner, and other juggernauts bolstering defenses across the league and superstar receivers Davante Adams and Tyreek Hill finding new homes, more NFL teams continue to be loaded with talent. However, as superstar players greatly boost those teams that they arrive at, they inevitably harm those that they leave. With that being said, after an exciting NFL draft and dramatic series of trades, let's take a look at some of the offseason's biggest winners and losers. 
NFC Winner – Philadelphia Eagles
As a passionate Giants fan, it hurts me more than you could ever imagine to admit that the Philadelphia Eagles have had a phenomenal offseason. While the Eagles didn't make too much noise during free agency, only notably signing linebacker Haason Reddick to a three year contract, the Eagles' draft has been what sets them apart from other NFC teams when it comes to success during this offseason. 
Firstly, drafting Georgia Bulldogs DT Jordan Davis with the 13th overall pick in the NFL draft was one of the league's most intriguing and anticipated superstar picks. Although Davis' massive frame makes his physical condition and stamina somewhat of a worry, the same physical frame also makes him anomaly unseen by the eyes of NFL scouts before. Running a 4.78 second 40-yard dash time while pumping out 44 reps on the bench press, and doing all this at 340 pounds, has undoubtedly made Davis the draft's most absurd athlete and could even make the case for Davis being one of the greatest athletes the NFL combine has ever seen. In addition, taking Nakobe Dean at 83 was perhaps the greatest steal of the draft and a stroke of luck for the Eagles as the Georgia linebacker was seen by the majority of scouts to be a sure-fire first/second round pick. With Davis, Dean, and Reddick joining a Philadelphia defense that looked very impressive towards the tail-end of last season, the Eagles defense could be a force to be reckoned with in the near future.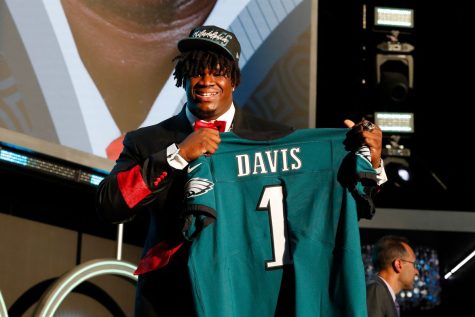 Nonetheless, undoubtedly the Eagles' most valuable acquisition this offseason has been former Titans wide receiver AJ Brown. An all-pro caliber receiver who the Eagles acquired for a first round pick and the 101st overall pick, Brown was practically handed to 
 the Eagles on a silver platter during the draft. With an offense already featuring RB Miles Sanders, WR Devota Smith, TE Dallas Goedert, and one of the league's best offensive lines, the acquisition of Brown gives the Eagles' offense the potential to become one of the league's best. With that being said, given its impressive new offensive & defensive weapons, all eyes in Philadelphia will be focused on QB Jalen Hurts who, if he performs well this season, could lead the Eagles to make some considerable noise in the postseason. However, a lack-luster performance from Hurts could lead to a new quarterback running the Eagles' offense two years from now.  
AFC Winner – Los Angeles Chargers
After coming as close as anyone to making the playoffs last season, the Los Angeles Chargers entered this offseason ready to make some of the major changes to get them into the postseason. More specifically, the key to the Chargers' improvements over the last few months was building a more well-rounded team rather than one focused solely on the efforts of just a select few. 
To begin, the Chargers greatly boosted its defense into the conversations of one of the best in the league. With its secondary last year already boasting one of the league's best safeties in Derwin James Jr., its addition of former Patriots cornerback JC Jackson has turned its secondary into one of the NFL's best. In addition, the Chargers improved on other ends of its defense as well, adding superstar linebacker Khalil Mack alongside other linebackers Sebastian Joseph-Day and Austin Johnson. Said additions, especially Mack, will make moving the ball in the air significantly more difficult against what was an already somewhat formidable Chargers defense last season.
On the offensive side of the ball, the Chargers did a fantastic job maintaining the status quo. Already one of the league's elite offenses last year, the Chargers were wise to maintain superstar QB Justin Herbert, RB Austin Ekeler, WR Keenan Allen, and WR Mike Williams, even signing Williams to a long-term extension. In addition, adding G Zion Johnson during the draft will allow Justin Herbert even more time and comfort to move the ball to his receivers. With that being said, with its newly bolstered defense and elite offense, anything short of a playoff berth and deep run will be a disappointment for the Los Angeles Chargers next season. 
NFC Loser – Chicago Bears
In a division led by Aaron Rodgers and the Green Bay Packers, the Chicago Bears have struggled over the past decade to assemble a team that could both consistently overcome its Wisconsin rival and be a perennial playoff contender. Last year, they took a risk trading up for Ohio State quarterback Justin Fields, who in his rookie year was underwhelming to say the least. In trading up for Fields, the Bears lost four picks to the New York Giants, including a 2021 1st round pick and a 2022 1st round pick. Its 2022 draftees were mainly defense-oriented, with corner Kyler Gordon  and safety Jaquan Brisker being taken with the first two picks.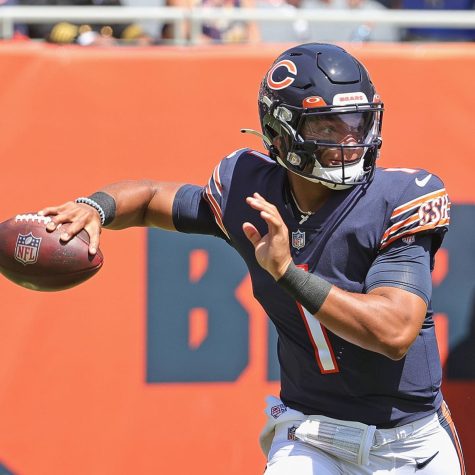 Wide receiver Velus Jones Jr. was taken in the third round, but questions about sustainability and age (he turns 25 in his rookie season) made this pick questionable. Not to mention, the Bears lost defensive anchor Khalil Mack and former Pro Bowl WR Allen Robinson II. This is not to say that the Bears did nothing well: picking Gordon and Brisker, two plug-and-play starting caliber players, will serve well for the Bears secondary. Also, firing Matt Nagy was a move that should have been done much earlier, but better late than never. Despite these bright spots, in an offseason where improving the talent around its young quarterback should have been the priority, the Bears missed the mark with many of its moves. One prediction I have is that despite Robinson's lackluster 2021 season, his departure will be sorely missed by the Bears offense this year, and Fields will once again struggle to gain a solid footing in the NFL scene.   
AFC Loser – New England Patriots
Last year's New England Patriots shocked the entire NFL world with its regular season success. With rookie quarterback Mac Jones exceeding expectations, the Patriots finished with a 10-7 record. This success was soured by a humiliating loss to the Buffalo Bills in the Wild Card game, but many were amazed by the Patriots' turnaround following the failed Cam Newton experiment. Yet, as you can tell from the heading, the Patriots had a disastrous offseason. Whether it was the ridicule that the Patriots suffered from NFL media and fans for its drafting of Chattanooga guard Cole Strange at the 29th overall pick or its partings with Kyle Van Noy, JC Jackson, and Shaq Mason, the Patriots made a lot of moves that honestly did not make much sense. Adding Ty Montgomery makes its committee backfield even more crowded and drafting Tyquan Thornton at the #50 selection does not exactly make a busy WR room with names such as Kendrick Bourne, DeVante Parker and Jakobi Meyers that much better. Draft experts reached a general consensus that the Patriots reached on a variety of its picks this year, and the most head-scratching pick might be the selection of Bailey Zappe in the fourth round. Granted, Zappe had an unbelievable year playing for Western Kentucky, but what is the need for another quarterback when such an investment has been put into Jones? Another concern is that the Patriots have relatively old players at crucial positions. Players like Devin McCourty and James White are great players in their own right, but one needs to understand that these players provide a bandage-like role for their positions, and are not in the plans for the team's future. The Patriots most likely could have drafted better talent and potential while also grabbing the players they ultimately drafted in later rounds. They will still compete this year, but similar to the Bears, the Patriots did not exactly build around its young quarterback, and the loss of Mason and Jackson will create holes that the Patriots might suffer in the long run for.