My Experience Studying Abroad in Paris
Every French learner has either been to or romanticized the idea of visiting France. Being a part of Gen Z, I was exposed to media that portrayed Paris as nothing but beautiful. So when I started learning French in my freshman year of high school, I made it a goal of mine to one day visit and study in Paris. From the architecture to the cuisine, this was an aesthetic that I wanted to imbibe. 
As I was considering things to do over my summer, I thought about studying abroad in Paris. I did my own research to find programs that seemed appropriate for me as a high school student. In the end, I was torn between two programs: CIEE and EF Schools. I spoke to Erin Hong, a THS alumna who participated in CIEE Paris a couple of years ago. She gave me lots of advice and relayed the pros and cons of her program. 
In the end, I chose to apply to CIEE, as the program offered more options catered to high school students and also because of the fact that it wasn't a "pay-to-get-in" program. This meant that I had to be selected by the program in order to go. The program involved living with a host family for a month while taking language classes in Paris. As a student who enjoys language learning and language immersion, this seemed like the most suitable option for me. The application consisted of essays and recommendation letters in order for me to participate. After completing my application, I was later informed that I was accepted into the program. However, the documents I needed to complete following my acceptance were ironically more difficult for me than the application itself. I needed to fill out everything from insurance forms to various health forms. The cost of flying was not included in the program, which meant that I also had to find a flight for myself.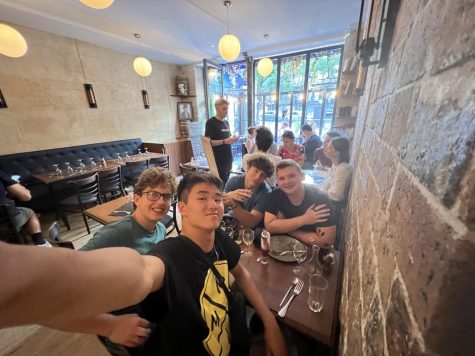 Details piled in regards to my host family assignment: my roommates, things to know about my home location, the Metro card, and more. I still vividly remember receiving my host family assignment in my car. I immediately went on Google Maps to see the neighborhood. I was then met with mixed feelings after I learned that I was in a quad, which meant that I had to share the house with four other roommates. I was happy knowing that I wouldn't be alone, but I was also scared that I might have little to no personal space. Thankfully, this fear was later allayed.
With everything ready, on July 10, 2022, I was ready to board. I checked into my flight and I boarded Air France, unaware of what was in store for me. I can't forget my awkward usage of French to the French-speaking flight attendants throughout the flight. Although my French may not have sounded great, I am still proud of myself for telling the flight attendants what I wanted in French.
After landing in Charles de Gaulle Airport, I did my best to find the right gate where the program leaders were waiting for me. They had a van for students who arrived, and we were taken to our host families. One by one, as the students in my van were being dropped off, I became increasingly nervous about my host family. Some of the students on the bus were informing me that they had been able to communicate with their host families prior, but I hadn't had that opportunity yet. When I arrived, I was greeted by my host dad who told me about the place I was going to be staying in. The nervousness later turned into relief which then turned into excitement. The best part about this was that he gave me a choice of whether I wanted a room for myself or a space with three beds. Being the first one to have arrived, I chose the single. Around an hour later, my first roommate arrived and we decided to explore the city together. We stumbled across a landmark called Centre de Pompidou and my roommate and I had a great time. 
My first day consisted mainly of reviewing housekeeping rules as my roommates and I struggled to survive through our jet-lag. Our host mom told us how to use the subway and when the curfew was. We later had an orientation through a video meeting in our host family's house and discussed details about our stay, including information about SIM-cards and currency exchange.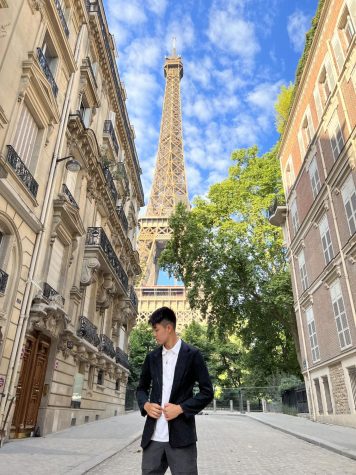 The second day was the scariest because my roommates and I had to get to the school using the subway by ourselves. We learned about the language program that we were going to be involved in and went through more orientation. Eventually, we all got used to the system.
Overall, our weeks were fairly simple. Mondays through Fridays, we commuted to school and stayed there until 2 p.m. From 9 a.m. until 12 p.m., we were in our appropriate language level classes. Lunch followed shortly and after eating, we participated in some speaking exercises in groups. Afterwards, we were rearranged into our excursion groups, and as the name suggests, we went on excursions to explore the city. The best part of the day was, without a doubt, the free time, which began at 4 p.m. and lasted until curfew. Thankfully, on weekends, we had the majority of the day as free time, which we utilized to do activities that we hadn't done before.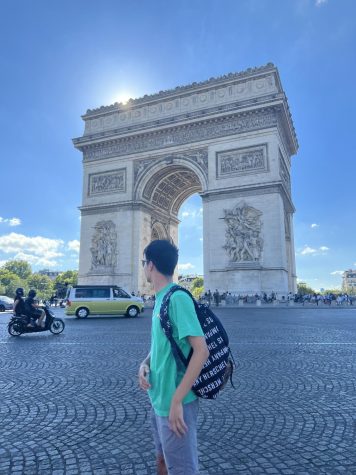 During my free time, I did a variety of activities from shopping at a department store to studying at a very luxurious Starbucks. You are probably wondering, "What about all the 'touristy' stuff?" The majority of the people in the program had already done those activities within the first or second week. So activities like going to the Louvre or taking pictures of the Eiffel Tower were already checked off our lists. A few weeks into the program, my itinerary was soon replaced with more unique activities such as visiting Disneyland Paris (which I highly recommend). Listing every detail of my free time would be a hassle (not to mention the fact that I've most likely forgotten all the precise details). But I will say one thing: in every street, there was always something to discover and try out, and my daily experience consisted mainly of just that.
But like every travel story, Paris wasn't always filled with sunshine and rainbows, mainly because I studied abroad as a high school student. I found certain excursions to be unnecessary at times. For instance, on one of the excursions, I found myself visiting the same places I'd already visited on my own. Curfew was also strictly monitored which meant that we had to be precisely at home pretty early. Being in a study abroad program as a minor meant that our safety was the program's number one priority, which I completely respect and understand. 
To those who are looking to study abroad, I believe that CIEE is a great option, except that from time to time, you may be engaged in an activity that you might not find interesting. Also, taking language classes is a requirement, and partaking in weekly presentations for a grade means that you will be involved in high-level academic work. Overall, I created memories with diverse high school students from all around the US and I will cherish these moments forever. Moving forward, the conversational French skills that I have acquired will also stick with me, and I am proud to say that studying abroad was one of the best ways I have spent my summer.