Queen Elizabeth II, Symbol of Stability and Steadfastness, Dies at 96
After a seven-decade reign, Britain's sovereign, Queen Elizabeth II, died at 96 at the Balmoral Castle, her estate in the Scottish Highlands, on September 8th.
Her death, disclosed solemnly by the royal family, was of undetermined causes. The announcement prompted immediate, profound mourning across the British realm amidst a time of acute upheaval and uncertainty. The funeral was held on Monday, September 19th at Westminster Abbey, the place of Elizabeth's accession to the throne.
In the wavering world of post-imperial politics, Queen Elizabeth II presided as a great beacon of stability and as a steadying anchor for her subjects. With a distinctive penchant for vibrancy and vivacious prints paired with pearl- and- feather-adorned hats, she also set the tone for fashion. Though bold in her wardrobe choices, the Queen was very often viewed as an enigma and an inscrutable, private woman. Her sophistication and unwavering devotion to her duties often caused this effect. She once said, "In this existence, the job and the life go together–you can't really divide it up."
According to The Guardian, Elizabeth Alexandra Mary was born third in line to the throne on April 21, 1926, and on December 10, 1936, she became heir-apparent to the throne following her uncle's abdication and her father's accession. Thus, ten-year-old Elizabeth faced great public scrutiny throughout her gradual development from a callow, curly-haired girl, to a virtuous, noble leader.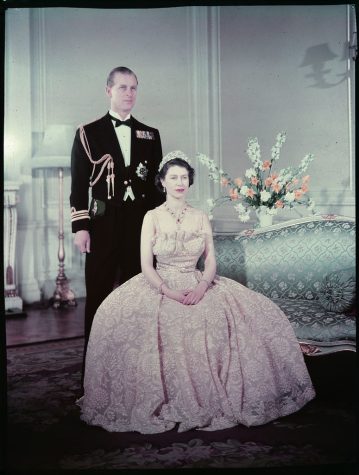 At 21, Elizabeth married Prince Philip, the Duke of Edinburgh, at Westminster Abbey. Prince Philip, though irritated by pressures to sublimate his affairs, remained supportive of his wife, who adopted a sort of regal reserve as queen. In 1948, the couple had their first and eldest child, Prince Charles, next in the line of succession. Their other children, Princess Anne, Prince Andrew, and Prince Edward, were welcomed into the royal family soon after.
In 1939, the advent of World War II, Princess Elizabeth reconciled the evacuated children of Britain in her first famous radio broadcast. In this broadcast, fourteen-year-old Elizabeth proved to be a poignant and emphatic, consoling figure for the people. This endeavor of reconciliation was the first of many for the queen. Elizabeth was also the most traveled monarch. During her reign, the queen convened with notable leaders such as South African President Nelson Mandela, UK Prime Minister Winston Churchill, and US President John F. Kennedy. She also paid frequent visits to the Commonwealth and virtually all other countries.
Queen Elizabeth II was faced with unprecedented change in an era molded by technological development, the COVID-19 pandemic, economic decline, and most infamously in politics, the contentious royal family frictions. In 1992, the royal family's reputation faltered amidst the culmination of Prince Charles's divorce and Prince Andrew's divorce. Public skepticism flourished; meanwhile a recession further inflated pressures. Nevertheless, the Queen maintained a firm resolve in order to sustain the monarchy she cherished so profoundly.
Through the turbulent era of Queen Elizabeth II's reign, she managed to retain the respect of the public. Her death will undoubtedly bring about repercussions for the monarchy and the United Kingdom as a whole.