Columbia University Behind in the Leagues
Columbia University, the highly prestigious school once ranked No. 2 nationally for U.S. universities, has dropped down to No. 18.
On September 12th, 2022, the U.S. News and World Report put out a report of its annual "Best National University Rankings," and shocked the public when the college drastically plummeted in its ranking. After making its way up from 18th to 2nd in 1988, Columbia University was defeated for the spot by the Massachusetts Institute of Technology in 2022. Following Columbia University's drastic drop from almost the top of the list to not even the top ten within a year, students, parents, and policymakers are questioning the accuracy of this system.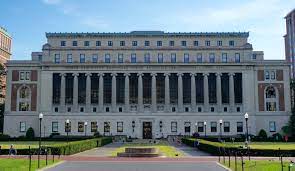 In 1989, Columbia climbed up from 18th place to 8th within a year. A 10-place jump is just as significant as a 16-place drop, but why has the reliability of this ranking system only now begun to be questioned after a highly prestigious school fell down the list?
However, this drop is not actually as significant as the numbers suggest. Columbia Math Professor Michael Thaddeus declared that the school had been submitting false statistics in order to inflate its status. Thaddeus discovered this fault while comparing the statistics of Columbia to those of other public sources, finding that reports given by school officials that were said to be true were, in reality, "inaccurate, dubious or highly misleading." When school officials heard these accusations, they worked quickly to maintain composure and assure the public that their data was backed up and not skewed. 
With suspicions creeping around its name, Columbia University removed itself from the 2022-2023 college rankings. The U.S. News and World Report had originally withdrawn Columbia out of their ranking but decided to reenter the university at last minute. 
"If any institution can decline from No. 2 to No. 18 in a single year, it just discredits the whole ranking operation," Thaddeus said. As this issue is brought up nearing the beginning of college applications season for the class of '23, the students must determine for themselves if this is an aspect they will take into consideration.
"Right now, the ranking of the school has a bigger impact on me than what I believe is actually going to make me feel happy in the long run," one Tenafly High School senior said. "I feel like it's about finding a good balance of both and ultimately trying to find one that can make you happy and help your future, and that's what I'm trying to do now." While we would like to think students are seeking the schools that best suit them, the prestige is what attracts them in the short run.
Jane Weisfelner, the THS College Counselor, made her own claims about the process. "I would say to use it [a college ranking report] gently," Weisfelner said. "It's not a fabulous resource. I think what are better resources are, for instance, the scatter grams we have on our SCOIR website, which is more quantifiable if you're looking for a particular school." 
Even with the advice of figures who know the workings of the system best, students will likely be influenced by that magic number near the university's name.