Mr. Jacobetz Marches THS Music Program Forward
You'll see him leading the band on the football field. Or maybe you'll find him filing documents in his office as students spend their lunch hour practicing. This hardworking man is Mr. Jacobetz, who has been rebuilding and refining the band program for the past few years. 
Jacobetz has been teaching at THS since 2017, but he started teaching instrumental music in 2006. Throughout this career, Jacobetz has taught a diverse range of students in band and orchestra, from elementary to high school. At the high school, he teaches five classes: CPA Band, Guitar, AP Music Theory, and Digital Music Production, and Honors/Marching Band.
Jacobetz's journey as a musician started when he played the saxophone in third grade. When he got to seventh grade, he picked up the tuba and started to grow serious about being a musician. Jacobetz got involved in as many high school band opportunities as he could, from joining his local band to participating at the regional and all-state level bands. "I really enjoyed just giving [of] myself to help make the whole thing better. So I knew I wanted to make a career out of that," he said.
Ms. Hampson, an English teacher at THS, knows Jacobetz, since they attended middle school together. She found it surreal that, after all these years, they crossed paths as colleagues. "He was just a stand out from the beginning," she said. "It was just sort of natural that he would become a music teacher, because he was so gifted in music to begin with." She recalled working hard to become a "decent flute player" while Jacobetz naturally took up various brass instruments. 
Since then, Hampson says Jacobetz has grown, and she believes he is doing "a fantastic job." The marching band recently placed first at the USBANDS NVOT competition on September 29. They also performed at the MetLife stadium on October 9. "There was no culture for the Marching Band [before] I came here and changed that," Jacobetz said. "I invested not just time and effort but also money into the program." Jacobetz has entered the Marching Band into more competitions each year as he's continued to build up the program. Last year, they entered three competitions; this year, four. And now, they also have their eyes set on the state championship, which has never been done before.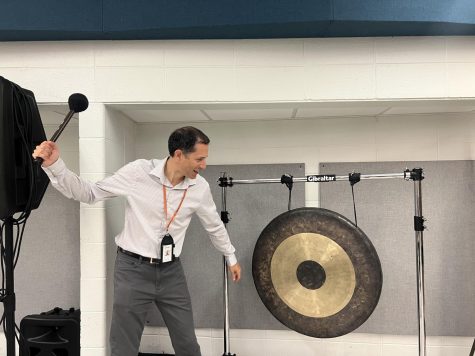 Through all this, Jacobetz constantly reminds his students to think beyond their placings in these competitions. "First place is great. [But] my focus is just excellence," he said. "Are we achieving excellence? Are we doing the best we can do?" He also described that his fulfillment in teaching comes from watching his students have great experiences with art and music. "I think it's important that we teach the whole student," he said. "Not just the academic side, but also the creative side."
Even though the current Marching Band season is not over yet, Jacobetz has already started planning for next year's show. "Mr. Jacobetz is obviously a very hardworking teacher," Jamie Liu ('23), a drum major of the Marching Band, said. "Being a teacher is one thing, but to guide 60 students in a marching band and doing it every year is not something everyone can pull off. This year's show is a project that Mr. J has been working on since the spring." His dedication to the program does not go unnoticed. "From getting the THS a huge win at a national competition, to simply giving up his lunches to help out students, he has put huge amounts of effort into the music program here," Hamspon said.