Emmy Award-Winning Reporter Jen Maxfield Visits THS
Gia Shin, Co-Editor-in-Chief
November 4, 2022
It's no secret that most Tenafly High School students thrive post-graduation. On October 18th, Jen Maxfield, an Emmy-award winning reporter, anchor for NBC New York, and now author, visited THS to talk about her recently published book: More After the Break. Maxfield showed students that we can accomplish anything as long as we have hope.
Even in high school, Maxfield was juggling various extracurriculars, from being a lifeguard and swim instructor at the JCC to writing for The Echo (Tenafly TV didn't exist then). She even held the girls' track team high jump record—5-foot-2—for 26 years. Maxfield graduated from Tenafly High School in 1995 and entered Columbia University as a pre-med student. "I loved math and science (I still do), and those were my favorite classes," she said. "I [also] did a lot of sports, so I wanted to be a sports science physician." Maxfield, however, still continued to read and write—she wrote for the student newspaper at Columbia and applied for an internship at CNN United Nations. She was accepted into the internship and paired with Gary Tuchman, a national correspondent for CNN.
There were two things that happened on this internship that she believes set the standard for a valuable internship experience. First, Tuchman allowed her to assume a lot of responsibility even as an undergraduate. "It was unbelievable," she said. "I was 20 years old and going to news conferences with international diplomats at the UN, and Gary would sometimes let me write rough drafts or some of the CNN radio stories—it was astonishing how much responsibility he let me have." Second, Maxfield was inspired by Tuchman to not only pursue journalism as a career, but also to identify the way she would handle her work. Tuchman had an address book with a list of people he has interviewed over the years, and would call them simply to check up. "He's still checking up on these families because they matter to him, and he still remembers covering their stories. He knows that they'll never forget those days, and he never will either."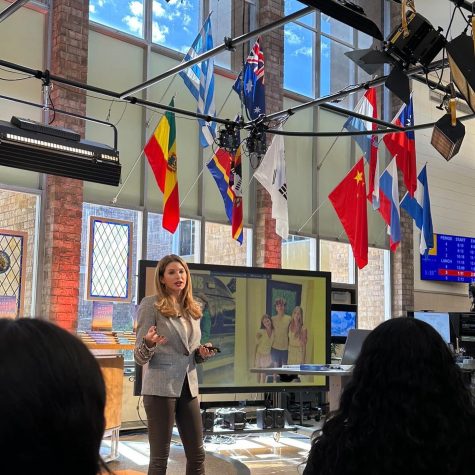 Besides being an NBC reporter, Maxfield is also an adjunct professor at Columbia Journalism School teaching broadcast journalism and on-air skills. Maxfield said that, out of all the on-air skills she has taught, crafting a script to draw readers into your story is the most important lesson. "You're telling people stories. If you can really interest somebody in someone else's story, think about the service you're doing to the community. Not only are you informing people, but you're also asking them to empathize and understand somebody else in your community, and convince them why an issue is important."
This is how Maxfield approaches her news reporting: by telling stories. Her recently published book, More After the Break, is about a series of 10 breaking news stories she previously covered, ranging from the Paramus school bus accident in 2018 to Hurricane Katrina in 2005. Inspired by Tuchman's approach to journalism, Maxfield reached out to her sources years after she last spoke to them. "A frequent (and fair) criticism of local news that I've heard since I was a student at Columbia is that we don't do enough follow up," she wrote in her book. "We descend upon a news event, collect our information, broadcast our reports, and then move on to the next story." The business model of local news often deters reporters from getting "too involved" in a story. Through her book, Maxfield gave herself permission to experience their stories beyond a 90-second sound bite. 
Maxfield also has experienced personal obstacles along the way. Upon graduating from Columbia Journalism School, she was searching for a job as a reporter. "You'd have to sit at a double-deck VHS machine, put the tapes in, and the master would play it out." She mailed out 65 of them, which was both costly and time-consuming… all to hear radio silence from the other end. Maxfield finally found her first job as a reporter after she drove up to upstate New York to find a news director directly. Ironically, Maxfield was promoted to Lead Female Anchor six weeks after she started working, and she continued to work her way up. Through all this, Maxfield maintained hope, and she hopes to spread hope in her works as well.