Seniors Celebrate 2022 Halloween Parade
The Senior Halloween Parade is an annual tradition at Tenafly High School. Seniors are privileged to participate in the parade, arriving at school in inflatable costumes, vibrant wigs, and colorful face paint. Every year, the parade is a much anticipated event, and this year's seniors did not disappoint.
The Halloween Parade is coordinated between the Student Support Leaders, Mr. Moger, Mr. Hiler, and the class officers. While the event itself lasts no longer than a class period, several hours of planning go into the event in order to make it a memorable production. Participating students have their costumes and groups approved through a Google Form, and are then organized into acts.
This year, the Senior Halloween Parade was divided into three acts: Act One consisted of individual costumes, and Acts Two and Three shared the mixture of duo and group costumes. Seniors assembled in the courtyard before being called into the library by act and group, where they walked onto the stage for their few seconds of fame beneath the spotlights and cameras.
In addition to this, the Halloween Parade incorporates an aspect of competition that fuels its surrounding excitement. The event awards both a best individual and group costume award, and winning participants each receive gift cards. This year, Sheily Estrada-Simon, dressed as a fancy mushroom, won the best individual costume, and "The Joes," a group comprised of various "Joes," won the best group costume.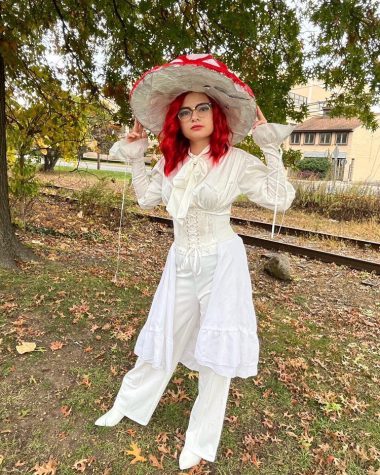 "I feel great after winning because since freshman year I have been excited to dress up in senior year and enter the costume contest," Estrada-Simon ('23) said. Estrada-Simon had been drafting potential ideas for several weeks before she decided upon her contest-winning mushroom costume, complete with a grand paper mache mushroom hat. The judges, awed by Estrada-Simon's eye-catching costume, quickly named her costume as the best individual costume. "I think the parade is a great tradition at THS," Estrada-Simon said. "And it's really fun to show off your costume especially if you're really committed to it."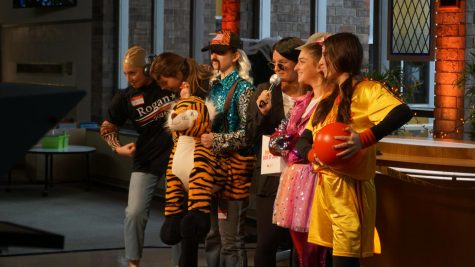 The winning group costume, "The Joes," included participants Shira Oelsner (Joe Exotic), Kasey Ginzberg (Joe Mama), Kira Fleischer (Jojo Siwa), Elle Spadaccini (Joe Jonas), Abby Kushman (Average Joe), Julia Rosenstein (Cup of Joe), and Alex Yanowitz (Joe Rogan). "We really strove for originality and humor and thought that dressing up as different 'Joes' achieved that very goal," Shira Oelsner ('23) said. "It was super exciting to win best group costume because I think my friends and I each put a lot of effort into our individual costumes, and it was hilarious to see how the costumes all came together on Halloween." "The Joes" posed on stage, embodying each of their unique personas.
The Senior Halloween Parade is a favorite tradition among seniors. Resembling the halloween festivities of elementary and middle school, it helps to generate excitement around the holiday for participating seniors and onlooking underclassmen alike. "I thought the parade was really fun," Oelsner said. "With all that goes on senior year, dressing up really made everything come full circle, and this parade was definitely a memorable experience." Seniors may now hold onto the pictures and memories while underclassmen may begin planning their own Halloween Parade costumes. "I encourage future seniors to do it since it is the only and last year you can do it which makes it more special," Estrada-Simon said. "Also it's Halloween, so if you're going to dress up, you might as well show it off."