A Celebration Turned Deadly: Halloween Crowd Surge in Itaewon
This past Saturday evening in South Korea, a night that was supposed to be fun and festive took a drastic turn. After many hours of shining lights and an array of loud music, many screams surrounded the streets in the South Korean district Itaewon. The New York Times found that the death toll reached over 150 by Sunday evening, and all of these victims succumbed to crowd crush—where the signs of death and injury are due to compressive asphyxia, as people's airways were being restricted due to tight space and pushing by mass crowds. 
Itaewon is well known for its American culture and foreign inhabitants due to its proximity to an old US military base. South Korea doesn't have a rich history of celebrating Halloween, but as the racial diversity in South Korea grew, so did the popularity of the holiday. In the heart of Korea, Itaewon is the center of Halloween parties. Due to Itaewon's reputation, many teens and young adults gathered in Itaewon to celebrate. 
On the night of the incident, Itaewon was bustling with people from all around South Korea and there were many international visitors. Officials in South Korea claim that nearly 100,000 people gathered to celebrate Halloween. As more people stepped into the narrow alleyways of Itaewon, people found it harder to walk around.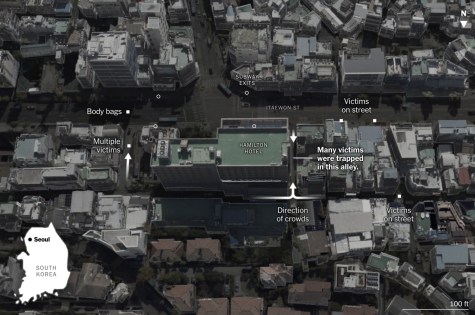 The casualties occurred on a small downhill street near a hotel that led to the main road. As people were stuck around a massive crowd, many trembled and fell down this narrow alley. There was a miscommunication regarding direction and visible confusion around citizens. Still, during this time, the people who were being pushed fell, and the weight of the entire crowd surrounded them, which led to their asphyxiation. 
Police, medical professionals, and firefighters soon arrived to assist. Streets were closed while medical professionals were finding citizens who could perform CPR. After the rescue, the streets and stores closed as signs of condolences, and the South Korean president made a national statement. Other representatives worldwide have expressed their grief as the world faced this tragic news. 
Before Medical professionals took them to a hospital, the victims were taken to a gymnasium, where constant efforts were made to allow them to breathe again. Victims were identified shortly later, and most of the victims were teens or 20s. Two US citizens were among the casualties. 
The New York Times tell an anecdote from Choi Seon-mi, a mother of a victim. 
"It felt like the sky was falling," she said. "What to do about my child? What to do about my child?"
"Ms. Choi's last conversation with her daughter, she said, was about Ms. Park's preparations to study fashion in Canada. She had been working part time to pay for it. Ms. Park was to turn 20 on Tuesday," continued The New York Times.
Officials have identified all of the victims, and the DW news writes that "South Korea police admit failures at Itaewon stampede." Many news outlets reported that there could have been more police at the scene for control; however, many believe that the number of people who showed up was surprisingly large which made it hard to predict. 
Crowd crush also proved deadly in Travis Scott's concert last November. Although death due to a crowd may seem unrealistic, it can be found at concerts and large venues. ABC News informs the public about what to do for survival in a crowd surge: "Put your arms up in front of you, similar to a boxer's pose. This will create space in front of you to give you room to breathe. Stay on your feet. If you drop something, it is critical that you do not attempt to pick it up. Move diagonally through the crowd until you are able to reach a safer, less-crowded spot. Make sure to move in the same direction as the wave, not against it." Other news outlets state that it is also important to keep kids near you and locate methods of exiting as quickly as possible. 
Psychologists also recommend avoiding watching clips from this incident as it has led to witnesses and viewers going through PTSD (post-traumatic stress disorder). Remember to be safe when we feel overwhelmed by a crowd, and help those around us who may need help due to a loss of a loved one.