Olympic Medalist Sued for Defamation
On October 5, 2022, Olympic medalist Ibtihaj Muhammad's defense of a student's right to practice her cultural and religious freedom resulted in a defamation suit, a conversation on students' rights in classrooms, and the loss of a teacher's 30-year career.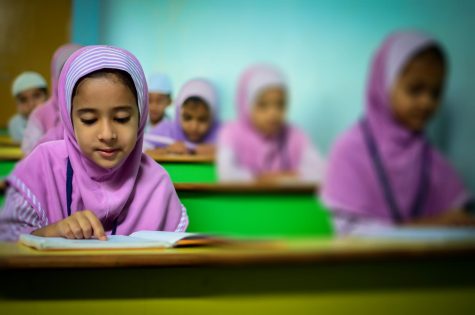 The controversy began on October 6, 2021, when Tamar Herman, a second grade teacher in New Jersey's South Orange-Maplewood school district, was accused of "forcibly" pulling down the hijab of her Muslim student. The girl was so upset that Herman was immediately placed on administrative leave. Additionally, the girl's parents claimed that Herman touched their daughter's hair and "told her that her natural hair was beautiful", making Herman's actions seem intentional. They also accused Herman of inflicting trauma upon their daughter because she has been refusing to wear her hijab ever since. Although the Essex County Prosecutor's office, citing lack of evidence, refused to charge Herman, the girl's parents filed a civil lawsuit against Herman and the school district in March of 2022.
After hearing of the incident, Muhammad posted an Instagram post criticizing Herman's actions as abuse that inflicted "humiliation and trauma" upon the girl. This post went viral and caused an uproar among the Islamic community all around the world. The Council on American-Islamic Rights (CAIF) called for the "immediate firing" of Herman for her disrespectful acts. Originally, Herman and Muhammad were on good terms. Being from the same school district, the two were well acquainted with each other. According to CNN, the two "exercised together" and even shared the same personal trainer. However, following Herman's actions, Muhammad has not been able to contain her anger. 
Muhammad has always been famous for her pride in her Muslim culture. In 2016, she was the first Olympic athlete to wear a hijab to the Olympics. Even the reason she was first attracted to fencing was tied to her identity: fencing allowed her to compete while still maintaining modesty. Muhammad was also the inspiration for the first hijab-wearing Barbie doll. Therefore, when she heard of the disrespect Herman caused, she did not hesitate to call her out. 
This October, Herman sued the Olympian Ibtihaj Muhammad and the New Jersey chapter of the Council on American-Islamic Rights and its director for defamation. In her lawsuit, she claimed that it was not her intention to disrespect the girl. She mistook the hijab as a hood and "brushed" it back because it was blocking the student's eyes. When she realized that the hood was actually a hijab, she apologized immediately and put the hijab back in its original position. She also claimed to have never commented on anything about the girl's hair, unlike what the parents had stated. Herman also claimed to have received countless antisemitic comments on social media. With the continuous hate she received, Herman had no choice but to move out of her district that had been her home for 25 years. Herman's lawsuit accused Muhammad, CAIF, and the parents for "knowingly, maliciously, and willfully" posting "false and harmful comments." Moreover, she claimed to not have been able to get a job in any school district since the administrative leave she received the day after the incident. Herman accused Muhammad of tarnishing her reputation with her viral instagram post and blamed Muhammad for her inability to get hired elsewhere. If Herman's statements are true, the parents of the girl would deserve suing for their magnified recounts of the incident.
While there are disputes as to whether the girl's parents' version or Herman's version is true, it is indisputable that Herman removed the girl's hijab. Even if she thought the hijab was a hood, she should not have "brushed" the hijab back without the girl's permission–that in itself was an act that violated the girl's rights as a student. Moreover, since the girl was her own student, Herman should have long known that this girl wears a hijab. Although she might have thought that there was a hijab underneath what she thought was a hood, she should have been more careful and cautious regarding the garment that the girl wore. Most importantly, it is not understandable how Herman did not know what hijabs look like, especially since she had a close relationship with Muhammad, who was, and still is, one of the biggest advocates for hijabs in the United States. Because of Herman's careless act, the 7-year-old girl was humiliated in front of her classmates, disrespected for her religion, and unable to defend herself. Despite the fact that it may not  have been Herman's intention to inflict such harm on the girl, it is nonetheless a fact that she brought shame upon the girl and changed how the girl views her identity. Therefore, whether the allegations against Herman are true or not, the fact that she has brought about irreparable harm to the girl will not change.
The way Herman regards the girl and Muhammad in her lawsuit also deserves criticism. Her decision to blame the girl and Muhammad for the antisemitic hate she received was misguided. It is true that the hate she received was horrible, but it was not anyone's fault but the internet's cynics. It was wrong for her to turn her blame towards the Muslim community that she herself had disrespected. 
What is even a bigger problem is that Herman doesn't seem to understand the trauma she has caused the girl. In her lawsuit, Herman called the incident "a minor interaction" that would have been ruled in her favor if it were not for Muhammad's viral post, but that is not true. To the girl, this was a traumatizing experience, but Herman fails to see it that way. To Herman, it was just a small, minor mistake that ended up with much worse and undeserved consequences. While the incident might have just been an afterthought to Herman, to the girl, it was a traumatizing experience. It is important that the girl's point of view is respected. 
This is not a simple issue. This incident is not only an isolated case within the Muslim community, but this case represents all the incidents that have occurred where people's cultures weren't respected. It gives awareness to the disrespect minorities have had to go through and how oblivious the offenders often are of their misdeeds. Sixteen countries globally have already banned hijabs, stifling centuries of Muslims' cultural expression. Muhammad spoke up for all the culturally oppressed people who have not been able to stand up for themselves. 
Even though Herman's alleged defamation by Muhammad's post caused her to lose her job, it was her own disrespectful actions that led to this. The consequence of her actions, admittedly, is huge and extremely harsh. The allegations against her may have been hyperbolic. Nonetheless, her action of "brushing back the girl's hijab," no matter how small the action, was humiliating for the girl, and it is the blunt truth that her actions hurt the girl. I hope that through the upcoming trial, Herman receives justice for the antisemitic comments and false allegations if any, but it is also necessary that she own up to her faults.