Tenafly's Board of Education Elections: Here's What You Should Know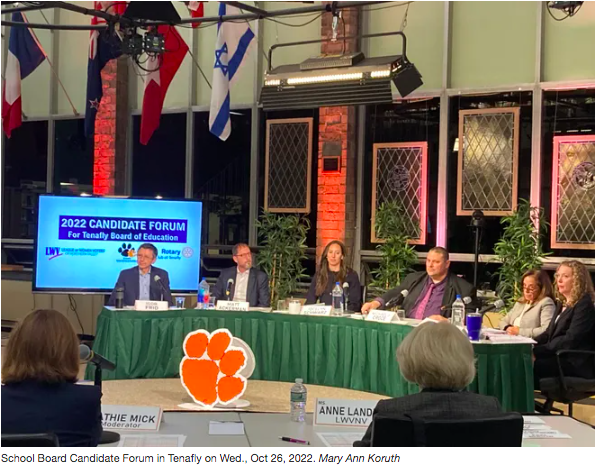 On Wednesday, October 26, the 2022 Candidate Forum for the Tenafly Board of Education took place to discuss some of Tenafly's issues that have created controversy. For the November 8 board elections, there were six candidates in the running—Igor Frid, Matt Ackerman, Jocelyn Schwarz, Michael Croce, Marissa Buonomo, and Paula Newman. Among the six candidates is a strong divide between those who were pursuing reelection and those who were running as new candidates. 
Jocelyn Schwarz, Paula Newman, and Igor Frid were all candidates running for reelection on the Board of Education. These three candidates have had previous experiences with the BOE and are familiar with the types of challenges that may arise in the future. While these candidates were running separately, as quoted in northjersey.com, Schwarz said that "they 'fully support' one another." Additionally, these three candidates are in favor of the new state-mandated family life curriculum. In opposition of these three returning candidates who also ran for election are Matt Ackerman, Marissa Buonomo, and Michael Croce, who were new to the Board of Education and ran together. The goal of these candidates is to allow parents to have the authority to choose what is taught in Tenafly schools.
Considering the opposing viewpoints of these new candidates, it is important to understand the misinformation that occurred in Tenafly in the last few months. This past summer, a flyer was posted on Tenafly Republican Club's Facebook page that announced that the club was looking for candidates for the school board. Tensions rose amongst many Tenafly residents due to the fact that the elections for the Board of Education are meant to be nonpartisan. In other words, there should be no political involvement in the board elections. Additionally, the post on Tenafly Republican Club's Facebook page stated that "Ackerman is the candidate who can fight the incumbents' alleged 'embrace' of race and gender ideology and 'sexualized education.'" As stated in northjersey.com, "the posts wrongly say district schools teach critical race theory", a belief that race is unnatural and consists of physically and socially vast subgroups of people. However, it is a fallacy that CRT is taught in Tenafly schools as it is the job of teachers to teach proper information in their history classes. In response to the belief that Tenafly schools teach critical race theory, Katherine Carlburg, an African American mother who sponsors Tenafly's Latino and Black coalition, stated in northjersey.com, "We're not saying the Black power movement is going to take over schools. That's the type of thing he [Ackerman] is driving." Teaching history does not involve the teaching of CRT in our schools' curriculum.
The idea that critical race theory is being taught in schools is an issue that is occurring not just in New Jersey but all across the United States. In Lansing, Michigan, similar issues arose during their Board of Education elections this November. As referenced in lansingstatejournal.com, three candidates in Grand Ledge have created campaign signs titled "'Conservative Candidates for Grand Ledge School Board.'" This, unfortunately, is only one example of political beliefs that have taken over Lansing and Michigan. The article explains that the involvement of partisanship in school boards traces back to the COVID-19 pandemic when parents began to pay closer attention to problems that they believed were integrated into their children's schools, along with concerns about health and safety issues. All over the nation, partisanship has become a growing idea that has been affecting Board of Education elections. 
This year's board elections in Tenafly and across the United States are crucial to ensure the well-being of students for this year and in the years ahead. The main focus of the Board of Education is that its members understand and prioritize the safety of its students throughout their educational years. With that being said, it is important to understand that no matter what someone's political beliefs may be, they should not interfere with the school board elections.