THS Girls Volleyball Clinches First State Title in 40 Years
As leaf piles overflow the grounds and the air gets cooler, fall sports are coming to a close and winter sports are gradually making headway. Tenafly Girls Varsity Volleyball, however, continued to shine through until their final hit, diving out of the season with a state title to dominate THS Athletics. 
On Sunday November 13, THS Girls Volleyball (22-2) showcased true tiger stripes, clinching its first state championship since 1982 with a 2-1 win against Colts Neck (23-6) in the NJSIAA Group 3 final. In the Franklin Township High School gym, Tenafly won two sets, destroying Colts Neck 25-9 in the second set and coming close in the last set with a 25-21 victory—one that granted this team a well-deserved trophy.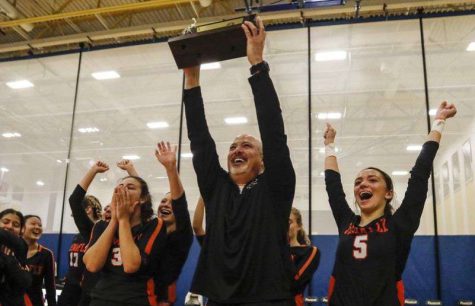 Led by starters Sofia Bell ('23), Anna Taufield ('23), Meghan Koehler ('23), Sophia Tapia ('24), Callie Milionis ('23), and Rylie Theuerkauf ('23), this team has only flourished since their sectional title in the 2020-21 season. These girls came out strong from the very start of the season, remaining undefeated for 13 consecutive games. Throughout this momentous run, they triumphed over rivalry teams Demarest (14-8)—twice—and Old Tappan (17-6) once, which was the program's first win over OT since the 1970s. For Milionis, this undefeated stance was a motivating factor. "It's important to acknowledge that when you are undefeated, you are playing the game not to win, but to not lose," she said. "All of our games we fought hard and played smart."
Behind this team's success is Tenafly-renowned Coach Koehler, who just capped off his 25th year as Tenafly's Varsity Volleyball coach. For him, securing the state title has always been a dream. "I've been so lucky with the amount of awesome parents and girls I've had throughout the 25 years," he said. "You have to be so good, you have to be clicking, and you have to be peaking at the right time of the year. But Coach Williams, Coach Weissenborn, and myself just try to keep pushing them to realize that you have one shot at this. And if you don't get it, you don't get it, but they were obviously good enough to win."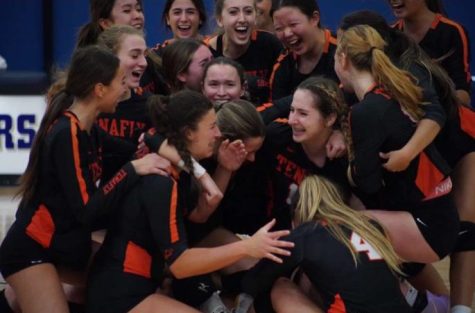 While the championship game was quite the fight, with their unmatched abilities and talent, these girls prevailed over their opponents. In a back-and-forth last set, Bell, continuing her trend of the season, got the last point, and within seconds, the court flooded with excitement. Smiles emerged. Tears streamed down faces. Arms opened wide as the girls hugged one another, glorying in victory. All the blood, sweat, and tears they put into the game of volleyball culminated in the moment they had all been waiting for. 
For these girls, winning the state championship was a surreal moment they will never forget. "Looking back on a year ago, I never thought we would be playing at that gym and I am so glad I was there with those girls," Meghan Koehler said. Bell also touched upon the thrill of this win. "Having such a successful senior season was already rewarding enough, but winning the state championship was like the cherry on top," she said. Coach Koehler reflected on these same emotions. "The excitement, and also, selfishly, to deal with my daughter—that was special," he said. "But more importantly, I've known these girls since the third grade, some since the second, first grade. So I think it's just really impressive what they've [accomplished]. In the end, when they look back, we won the state championship for the first time in 40 years, and there's not a lot of state championships in the school history. So to do that, and to be a part of that with these girls was pretty special."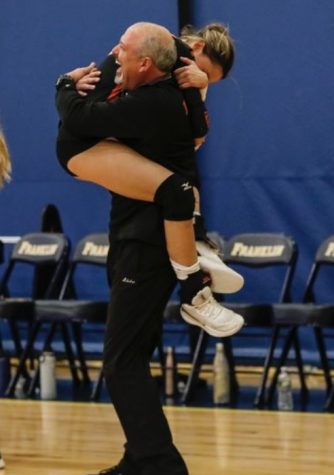 This level of athleticism and pride doesn't go unnoticed at THS, but beyond this team's success and physical skill is a level of devotion, camaraderie, and teamwork that manifests itself both on and off the court. "Team bondings have really made us so much closer over the years, and they create the good chemistry that we translate into the [game]," Bell said. From a coach's perspective, "when it came down to how close the team was, that was really the most important," Koehler said. "If they're close and want to play for each other, anything can happen, and, obviously, they are talented."
Together, the seniors guided this team, emphasizing to the younger players the values they hold dear, both the energy and passion that was so key to their successes. "I have come to realize how important it is to play not for yourself but for your team," Milionis said. "You want to be a coachable player. Whether you are the best on the team or the worst, being able to take advice and tips and apply it after is a great way to be a team player." 
All in all, with the final game of the season comes a bittersweet, almost inexplicable feeling, especially for the seniors. A trophy in one hand, and the tears of realization that they wiped off their cheeks in the other. "It doesn't really hit you until you know it's your last season," Milionis said. "We play like it's our last game. We play hard. We play smart. But most importantly, we play with our hearts."
Coach Koehler echoed this devotion to the game. "I try to explain it to all my teams, but nobody really gets it until you're a senior when you tie your shoelaces up for the last time, understanding that there's no more tomorrow."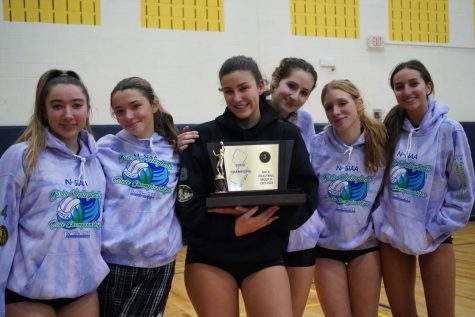 As for the future of this program, each year ushers in a new set of players with a new set of skills, paving the way for yet another great volleyball season. "I've had a lot of people tell me every year since 1999, 'this is not the year you're gonna lose,' and you find a way to win, and it's amazing how kids just step up when it's their turn," Coach Koehler said. But as he highlights to his players and audience every season, "if you really want to become good at anything, you got to work at it. And, and if you do that, good things can happen."