How Hoco Came Home
It was 5 p.m. on Friday, November 18th, and Senior Class President Jacqueline Kim ('23) was stressed. Along with the other senior and junior class officers, she had spent the last two hours since school had ended decorating the Main Gym. That night at 8 p.m., Tenafly High School would be hosting its second Homecoming in decades, so everything needed to be perfect. And obviously, she did too. Like every other student going to the event, Kim wanted to make sure she looked stunning for the dance. But that was going to be hard to accomplish as she was running short on time. Nonetheless, Kim was able to go home, get ready, and return back to THS at about 7 p.m. to welcome students to the 2022 Homecoming, an unforgettable dance that had a lot going on behind the scenes.
Homecoming is considered as a beloved tradition in many high schools across the United States. However, its history in Tenafly is not very old, as it was only revived for the first time in decades just last year, as a way to return back to normalcy after the COVID-19 pandemic. This year, with the mask mandate lifted and COVID-19 being less of a concern, there were raised expectations for the senior and junior class officers who were in charge of the planning. Another thing that makes THS Hoco different from other Homecomings: it is not an administration-coordinated event. "Not to say that we didn't get support from Mr. Morrison or from whoever," Kim explained, "but it's not like they're handing everything to us… we kind of have to figure out those things for ourselves." Therefore, the senior and junior class officers were completely responsible for the party planning and their budget was dependent on ticket sales.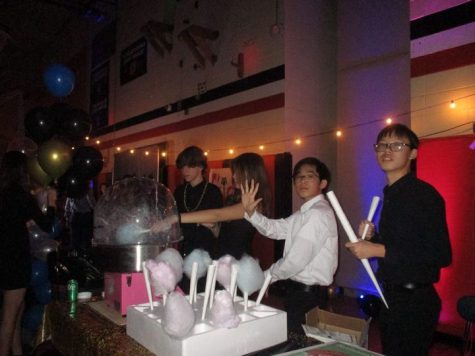 Unfortunately, some THS students do not have as much school spirit as students at other schools. While there was no lack of enthusiasm, many students bought their tickets at the last minute. This was pressuring as the class officers needed the money as soon as possible for decoration funds. Nonetheless, money or not, Kim and the other class officers got to work. Searching on Amazon for high-quality, reasonably priced options was difficult, but not as difficult as compromising on what each officer wanted. A big debate was helium balloons. Kim really wanted them and, luckily, the officers had a helium tank leftover from last year. On Homecoming Friday, the officers were filling balloons when they realized that there would not be enough helium to fill more than a few balloons. Kim and the officers desperately called other stores to see if they could get some more helium but were faced with an unexpected problem: a national helium shortage. Despite the obstacles in the way, Homecoming still had great things including a photo booth, a cotton candy machine, and a professional DJ. 
Like any Homecoming, of course, the THS dance also had a theme: "Midnight Masquerade." Junior Class President Grace Chung ('24) came up with the theme idea that inspired much of the decorations. However, as mentioned earlier, THS is not the most enthusiastic school and most people did not follow the theme. "Some people did," Kim said. "I felt a little bad about it because it was like, I don't know, I guess it was our official theme, but no one really stuck with it. And so I felt kind of bad that some people went out of their way to get a mask and then at the end of the night, they kind of didn't really use it."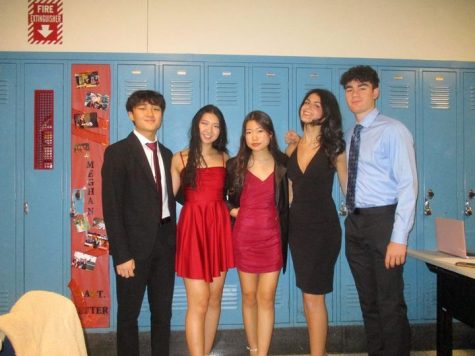 Students also had to undergo the stress of getting ready for Homecoming. Browsing through endless websites like "Lucy in the Sky" is a hard and often underestimated task, and having the same dress as a friend is also a frightening possibility. Kim was lucky, as she already had a dress that she hadn't worn from last year's Prom, but she explained that some of her friends had the same dresses as other people and had to return theirs. 
Nonetheless, the dress quest was worth it because it led to an unforgettable night of dancing, photos, and laughter. At the beginning, Kim was scared that the dance would not meet the students' expectations, as last year, "the event itself ended up being pretty underwhelming for a lot of kids," Kim said. "And so I was worried that it would have the same impression again this year." She believed that last year's Homecoming was the reason that the ticket sales were kind of slow, but this Homecoming was definitely one to remember. "It will be memorable and it wasn't a whole huge extravagant event; it's definitely nothing like Prom and probably not like the homecomings at other neighboring town schools," Kim admitted. "But I do think that, again, … a lot of people did have a good time. I had a good time and I think that that's all that really matters. I don't know, as long as there were a few people that had a remotely good time or thought that it was interesting, I think that already is a huge success."