The Ultimate Songbird: Christine McVie Dead at 79
Late last month, music lost one of its greatest stars as the band Fleetwood Mac's singer, songwriter, and keyboardist, Christine McVie, was pronounced dead at the age of 79. There has been no updated information on her survivors. 
The family announced her death on Facebook the night of November 30. McVie had died of a short term illness at a hospital, surrounded by her family. Many of McVie's bandmates, known to be the biggest faces of music of the '70's, including Stevie Nicks and Lindsey Buckingham, also honored her on their platforms, commemorating their late best friend and reminding the public of her legacy and value in the world of rock.
According to the The New York Times, McVie was born on July 12, 1943 in the Lake District of England. Her father was a classical violinist and a music professor, and her mother was a psychic. Her father encouraged her path in music, starting at the age of 11. She originally took piano lessons, but later found sheet music of Fats Domino, and at that point she decided to switch instruments to the boogie bass. She later told Rolling Stone that "It was goodbye Chopin." McVie became hooked on the blues and continued to use that period of time in her life to inspire her later works. 
In her early life, McVie considered being an art teacher. She studied at Birmingham Art College while simultaneously vitalizing her musical talent. She played briefly in a group with Spencer Davis and Steve Winwood, a band whichwould later be known more famously as the Spencer Davis Group. After getting her college degree, she moved to London, working as a window dresser for a department store. McVie ended up reconnecting with a band she helped put together in college called the Chicken Shack and joined as their keyboardist and part time singer. According to the The New York Times, three years later, she left the band after marrying John McVie, the bassist of Fleetwood Mac, and that same year McVie recorded her first solo album The Legendary Christine Perfect Album.
A year later in 1970, McVie was invited by Mick Fleetwood to join the band after their guitarist, Peter Green, suddenly quit. Her joining marked the transition of the band from the British Blues to the Carlifornia folk-rock they are most known for. McVie has admitted in several interviews that the adjustment was intimidating, but that did not stop her from writing as she composed one of many of her hits for the band, "Spare Me a Little of Your Love." It was not until the couple Stevie Nicks and Lindsey Buckingham were hired, that the band released the album Fleetwood Mac in 1975, and skyrocketed as the commercial rock band that it has been known for since.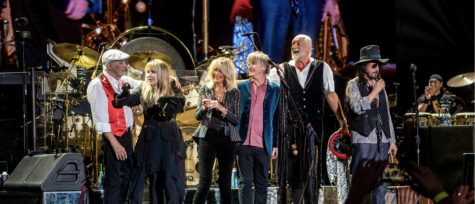 As the band was in the process of what would be one of its most successful albums, Rumors, the two couples of the band, McVie and her husband and Nicks and Buckingham both split. Many of their behind-the-scenes scandals were turned into their lyrical content; McVie's hit, "You Make Loving Fun," was remarking on an affair McVie had with the band's lighting director. Her other single, "Don't Stop," was written for Mr. McVie and intended to explain his new life without her. 
As the band transitioned to the '80's, they strived for a less commercialized image. In 1984, McVie created her second solo album, most famously known for her hit, "Got a Hold on Me."  In 1987, the band released their album Tango in the Night, which featured two songs most famously written by McVie, "Little Lies" and "Everywhere." Mr. Buckingham left the band shortly after the album was released, which shifted the band's career enormously. According to the The New York Times, the next album, Behind the Mask, barely went gold and five years later their album Time was their first unsuccessful album in decades. The band would continue to disentangle, and McVie left the band for a fifteen-year break. However, she would continue to write music but not in the same way, and eventually she and Buckingham would rejoin, producing a joint album in 2017. The full band played shows that year in addition to Buckingham and McVie's joint tour. According to the The New York Times, in 2021, McVie sold her 115-song catalog for an undisclosed amount. 
McVie did an interview with Rolling Stone in June of 2022, where she reflected on her role in the band. She attested to being the "calm and reasonable person in the eye of the hurricane that was Fleetwod Mac." She later called herself the "Mother Teresa" of the band. When asked what advice she would tell herself in her younger years she responded, "I think I followed my map pretty well in the course of my life.… To be honest with you, I don't think I gave myself any advice. I think I just kind of got on with what I was doing and thoroughly enjoyed it. Obviously, my best beautiful days were when we were the Buckingham-Nicks Fleetwood Mac version. That was the best to me." She told Rolling Stone that she planned to live at least till 80, but for the time she did live, she exclaimed that she was satisfied with her life and living happily.