School Counselor Mrs. Ihn Selected for Governor's Educator of the Year
Gia Shin, Co-Editor-in-Chief
January 19, 2023
On December 5, 2022, Mrs. Jenny Ihn was going about her regular routine: parking in the middle school lot at 7:50 a.m., then rushing into her office right before the bell. As she was shuffling through her papers and agenda for the day, Ihn was urgently called into her supervisor's office. When she entered, Ihn noticed all of the administrators standing solemnly about the room, and she grew increasingly nervous. What were they all doing here? Was she in trouble?
To her surprise, Ihn was actually called to receive a nomination for the Governor's Educator of the Year Award, which aims to recognize educators who have gone above and beyond in their service for students. "I remember turning bright red, not knowing what to do, being very awkward, and constantly saying thank you to all of the people in the room," Ihn said.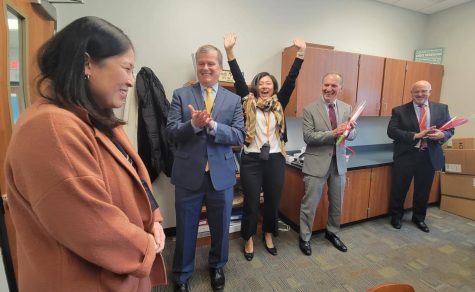 At Tenafly, the GEOY Award grants the recipients a parking spot closer to the high school; for Ihn who is currently pregnant with her third child, the parking space has been very convenient. "But in addition to that, I think it's an acknowledgment of how much I do love my job and how much I love my students," she said. "It's an acknowledgement of the things I already love doing."
Ihn has been a school counselor at Tenafly High School since 2016. She got her bachelor's degree in English and Psychology at Syracuse University, and her master's in school and professional counseling at the University of Pennsylvania. During her undergraduate years when Ihn was trying to decide whether to pursue education or psychology, she was a volunteer at the Literacy Corps. "Syracuse has very low income neighborhoods where students will not necessarily have the resources to be encouraged to read," she said. "So I just volunteered my time going into schools and reading to kids." These students, ranging from elementary to high school, inspired Ihn to ultimately pursue a career as a school counselor. "These are the moments I recall [when I think about] why I want to go back to a school setting," she said.
Ihn also started to understand the urgency and need surrounding mental health around the time she decided to pursue this degree. Despite Tenafly schools being known for having a high population of Asian students, Ihn is the only Asian-American school counselor in the district. Growing up in Ridgewood, she understands the pressures that come with living in Bergen County. "I think Bergen County is our own entity," she said. "And I say that because living in Bergen County comes with certain pressures, and I think it comes with added pressure as an Asian American." As a counselor, she feels that she can empathize with students who are growing up in the same pressure cooker environment. "I relate to a lot of parents and the things that they say because I grew up with my mom and dad saying the same things to me," she said. Ihn stated that it doesn't make her a better counselor, she just has more of a "lived experience" because she grew up in the same setting. Her job is to demystify the concerns of her students and parents, "but it's hard and it's a work in progress."
Ihn emphasized the need to address the rising youth mental health crisis. "While I feel like [prioritizing academics can be motivating], I feel like you can lose focus of what's actually important," she said. That's like you breaking a leg and someone telling you to still go run a mile." With her third child coming in April, Ihn's role as a school counselor has seeped into her role as a parent as well. "I actually find myself in my parenting style to be very hands off. Sometimes, all I say to my four-and-a-half year old—who's the oldest—is, 'Tyler, you just have to be kind.'" She added, "But that's because I see so much of what pressure could do. I think there's the right amount of everything, and I think high-stakes pressure could be debilitating for kids." Outside of work, she is an "active, caring, and supportive mom" to her three children.
"My favorite part [of my job] is being able to listen to our students and everything that they're going through," she said. "I love that I can be a safe and trusting person for THS students."