Maloney Takes on Maine: Her New Life after Retirement
The wide green-space nestles under a blanket of snow in the sharp Maine winter. The flowers and greenery hibernate underneath the layer of snow, waiting for the first signs of spring. The shoveled paths in driveways and hiking trails freeze over into icy walkways. Dana Maloney attaches her micro-spikes to the bottom of her boots, prepared to embrace the freedom she owns after starting her new life as a retired English teacher.
Maloney spent more than thirty years teaching English at Tenafly High School. After countless days of nurturing student writing and analyzing the ambiguous lines of The Odyssey or The Canterbury Tales, Maloney decided to convert to a change in environment and lifestyle after retirement.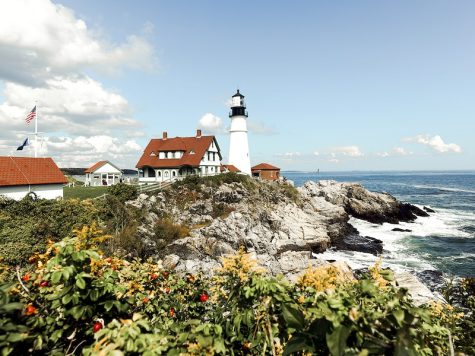 Now, Maloney faces the challenges and beauties of "acclimating to a new world." With movement and change comes leaving things behind, not to mention one of the biggest aspects of her life until recently:  teaching. She reminisces on her amazing friends she made on the THS staff. She misses her students and being able to further expand their knowledge every day as they navigate through their years of high school and transition into real life. Maloney has always had an affinity not just for teaching but for learning as well. Luckily, that aspect was not something she stopped in her daily routine.
In her new environs, she finds herself exploring hobbies and interests she didn't have time for before: "Mostly I have had more time to explore the hobbies I already had. My husband and I already loved hiking and camping, and now we have time to do more of both of those things. When it's warmer than it is now, we swim in the Casco Bay, which is not far from here. It's part of the ocean, but it's a bay. We live very close to the water, and we can just drive ten minutes and be at the beautiful Maine coast. We can also walk out our driveway onto different hiking trails—beautiful forests we have to ourselves," Maloney said. 
The acres of land spread out before her, while the images of her northern New Jersey suburban lot sit staid in her memory. This new property requires care and attention. Maloney and her husband persistently eradicate the invasive buck-thorns and the sticks and branches that fall from their trunks. Sometimes even the trunks themselves. She hadn't figured that she would end up devoting so much of her time towards the maintenance of her landscape, but she has come to love the act of "making a property more beautiful." 
Maloney nurtures her flower beds with anticipation for the sun setting late in the evening and the summer breeze wafting inland from the bay. While she waits for warmth, she adapts mentally, and fashionably as well: "People here dress differently than how people dress in New Jersey, so I've had to adjust my wardrobe," she said. "I wear lots of flannel shirts, wool hats, and low boots with my jeans cuffed. I have fun playing around with all that—looking like 'a Mainer.' People here really dress like they are in an L.L. Bean catalog, and now I often look like that too."
Maloney exemplifies to us the beauty of continuing to grow as a person throughout your whole life. The end of something old is only the beginning of something new. Maine satisfies Maloney's curiosity day by day, catering to her love of nature, exploring, and her family. 
"I retired from teaching in New Jersey, but now I have a new chapter in life," she said. "I'm lucky to be able to decide what I want to do with my time now that I have the freedom to decide. I'm playing around with that now and have done some volunteer work, including at a farm. I'm involved in a bunch of things right now and plan to keep figuring out what I might want to pursue short-term and long-term from here on in. Looking at the world from a place outside the classroom is changing my perspective."