Señora Pelaez-Martinez: Hairing to Be Different
When walking down the hallways of THS, there are always the faces that are familiar. But there are also always things that seem different. In 2020, Señora Pelaez-Martinez, a THS Spanish teacher, made the decision to no longer be a familiar face, and to end society's grip on the way she expressed herself. 
As a child of the '80s, Pelaez-Martinez, or PM as many of you may know her, always had fine hair. At the time, magazines and all sorts of media had made hair the accessory of the decade; the '80s was an age of curls, and big hair was in. With the encouragement of her mom, Pelaez-Martinez had done almost everything to match the photos she saw on TV, surrendering to all of the hair myths that would help her mimic the purity and perfection she saw in movies. She cut it in hopes that it would grow back thicker, got her first perm, used extensions and even a weave at one point in later years, but none of these attempts worked to fill the void that she needed to fill to attain her true self.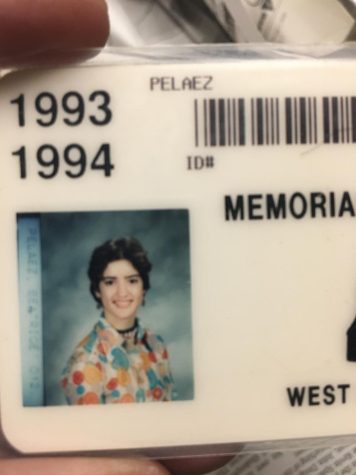 In March of 2020, just like the rest of us, Pelaez-Martinez was isolated from society and stuck in her home. No longer allowed to be with her students or able to dress up for work, she felt a loss of self-ownership. Stuck within the confines of her home, she was limited in the ways that she could express herself. She felt trapped and searched desperately for her liberation. Throughout her whole life, her hair had always been her biggest insecurity. So what better time to explore the unknown that she had always been so afraid of? The 44-year-old decided to dye her hair platinum silver. 
Her introductory experience into the realm of unnatural hair was not as welcoming as she had hoped it would be. Pelaez-Martinez's plan for
platinum silver hair resulted in what she termed nothing short of a disaster. The next day, after she set up her Zoom camera for class, her students informed her of Brad Mondo, a hair dying professional YouTuber and with that being said, Pelaez-Martinez made a trip to Sally's Beauty Supply and, with the help of her very patient child, transformed her hair into electric blue. Although the hair color was temporary, her freedom was permanent.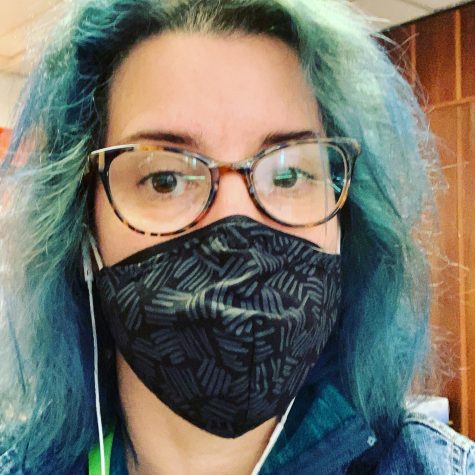 "As funny as it sounds, having blue hair was the most liberating thing I could ever have done," she said. Even though she was trapped in her house, she was no longer trapped by the societal norms of what hair should look like. "Hair is a very sensitive subject to many women. People think that the way someone looks and the way they wear their hair is what determines women on the inside," she said. As the mother of three daughters, Pelaez-Martinez strives to teach them to be true to themselves and to not care about what others think. Her hair, she said, has no deeper meaning, no rebellious act behind it. It is purely for her enjoyment, and it teaches not only her children but her students to do what makes them happy.
After almost a year and a half of blue hair, and an in-person school year ahead, Pelaez-Martinez was looking for even more of a change. So she decided to start the fall of 2021 with bright red hair. Walking into the building, she was surprised by how many people had comments on her new look. People said, "Why'd you change it?" or "I liked the blue better." 
"When you do something out of the ordinary, with your clothes or with some aspect of your body, I think people feel like that gives them permission to tell you their opinion even if you haven't solicited it," Pelaez-Martinez said. The stereotypes of hair color are super misleading; Pelaez-Martinez admits that she would never get a tattoo, something that many people view as coming hand-in-hand with a unique hair color. "I honestly change colors out of sheer boredom," she said. Pelaez-Martinez's hair is what gives her agency to make her own identity without being categorized or having to feel like she has to look or act a certain way to check off a box.  
"When I was younger I never would have had the courage to do this," she said. "Now I don't care. I genuinely don't care. Nothing I use is permanent; it's just a lot of fun." Pelaez-Martinez admits that her hair color also helps her engage with her students. In THS, there are a lot of kids with colored hair, but compared to the teachers with colored hair, not as much; the ratio difference is extremely drastic. Pelaez-Martinez gives many students a leader who resembles them when walking down the halls. And this does not just apply to the students with colored hair, but to all students who stand out next to many. It is easy for Pelaez-Martinez to connect with her students, and it continues to amaze her how her happiness gives so many students the comfortability to be themselves as well.  
Pelaez-Martinez has no plan to stop dying her hair. Since her initial red and blue, she has changed it from orange, to purple, to fuschia, to pink, and will continue to change it for however long she wants to. Pelaez-Martinez has always dyed her hair in her house. Her daughter helps to apply overtone to dye it. Even after continually being mistaken for the art teacher, Pelaez-Martinez stands by her choices and does not plan on giving in to society now. She will continue to be the face that we know speaks for students' creative, fun, and true selves.