One Acts 2023: My First Year Experience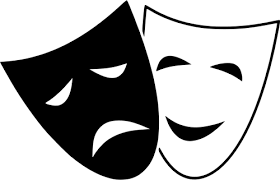 On Thursday, January 26 and Friday, January 27, THS held its annual One Acts production. If you are unfamiliar with One Acts, the production consists of several short comedic plays directed and/or written by students with Mr. Moger as the advisor. It is an excellent opportunity for those who enjoy the spotlight on stage and the humorous jokes that go with it. This year, there were seven One Acts; Dinner with the MacGuffins, 31 Wizard Street, The Feud, Controlling Interest, 6 Ways to Survive the Zombie Apocalypse, Struck by Cupid's Arrow, and Sure Thing. Out of these seven plays, three of them were written by students at THS.
In this year's One Acts, I played Christy in 6 Ways to Survive the Zombie Apocalypse. Directed by Goldie Singer ('23) and Ron Lichtman ('23), the storyline of our play involved four kids who faced the challenge of trying to survive the zombie apocalypse through absurd ways—from tricking the zombies to romancing them. In the end, it is discovered that there are no zombies and that it is all just a game. Based on the large crowd, the play was one of the many hilarious yet dramatic performances that the audience enjoyed. It was thrilling to hear the laughter while I was on stage. Throughout the many rehearsals, I had fun getting to know my fellow castmates. After participating in previous productions at THS, one of my directors, Ron Lichtman ('23), says that he "had the best experience while working with the cast and co-directing with Goldie. It was a lot of work but it was very fun and definitely worth it!"  
As someone who has never participated in any productions held at THS, I am very happy that I decided to make the decision to audition for the show. Not only is it a comical performance, but One Acts is also definitely a great experience to have fun and make new friends along the way. It is a great opportunity for people, like me, who aren't as interested in musicals but enjoy being on stage and cracking jokes. It is a fantastic way to get involved in more events at our high school without making a very long and burdensome commitment. Additionally, the production is also a great way to get out of your comfort zone and try something new that you may never have experienced or done before. Another one of my directors, Goldie Singer ('23) mentions that having asked to co-direct "was the best decision of the year" and is "overjoyed to have directed within One Acts, to really understand what it's like to be a director and work with the cast." It is a perfect opportunity to meet a bunch of new people and to have fun, which is something anyone should experience throughout their time in high school. All directors and tech crew did an amazing job preparing for the show and all of their hard work certainly paid off. Ultimately, if you have or are thinking about performing in One Acts in upcoming years here at THS, don't miss out on this great opportunity to do so!