THS Students Take Prizes in 2023 Scholastic Art & Writing Awards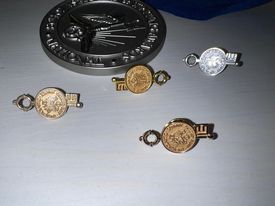 The 2023 Scholastic Art & Writing Awards were released on January 26th, and among the regional winners were eight Tenafly High School students. Recognition was awarded to participants in 29 categories and across three levels: Gold Key (best works), Silver (stand out works), and Honorable Mention (works with potential).
"I submitted the most number of pieces this year than I did in the past five years I've participated in Scholastic A&W," Gia Shin ('23) said. "I've learned over the years that the best way to approach the contest is to submit literally everything you've got, because they don't have a cap on submissions. I'm honored that six of my pieces were recognized; what surprised me the most was that my poetry did well, and I never thought of myself as a poet before. So this affirmed my identity as a creative writer, and I'm very thankful." 
Katelyn Liao ('23) shared her experience upon receiving several awards for her artwork. "It was very exciting opening the awards page and learning that I had won a few awards for my art," Liao said. "I also found it interesting that the ones they had chosen weren't necessarily the ones I expected. For my portfolio submission the theme was inspired by my trip to Taiwan this past summer and the memories I made and relived." 
The Scholastics Art & Writing Awards is a great opportunity for high school students to submit and showcase their works. The contest does a wonderful job at celebrating the highest achieving writing and art pieces from teenagers across the country. We can now look forward to the release of the national award recipients, to be chosen among the Gold Key recipients from each region.
Writing :
Ella Bareket
A Neighborhood, Not A House
Pita, Falafel, and Hummus

Personal Memoir & Essay
Gold Key

Spelling Test
Justin Byun
Collectivism of the Buffalo

Flash Fiction
Honorable Mention
Karis Cho
The Fish Tank

Nothing – A letter to my grandmother
Ryan Jang
Kayla Cheng
My First and Last Letter to You

Personal Essay & Memoir

Honorable Mention
Junhyoung (Edward) Kim
Chokbeop Youth: Problems with Juvenile Laws in South Korea

Foreigner Porcupine

How Literature about Women's Rights in the 19th and 20th Century Still Makes an Impact Today: Looking through Zora Neale Hurston's Their Eyes Were Watching God, Susan Glaspell's "Trifles," and Emily Dickinson's "She rose to His Requirement – dropt"

Critical Essay

Honorable Mention

Turkey in NATO? A Decision Worth Reconsidering

Critical Essay

Honorable Mention
Lydia Jung
Shortcomings of Bipolar Disorder Treatment: Repercussions for Patients and Their Families

Critical Essay
Honorable Mention
Elliot Lee
How Well We Can Act

Personal Essay & Memoir

Honorable Mention
Eunhyo Park
Together by a String

What I Remember for Both of Us
Gia Shin
Haraboji in the backyard

Appreciating the Color Purple

Critical Essay

Silver Key

French Cat

Personal Essay & Memoir

Silver Key

Taping my eyelids to the ceiling

Coming Attraction

Sunday Crossword
Liam Tenenbaum
Different People on the Ski Mountain

The Stinging Truth of Dwindling Bee Populations

Journalism

Honorable Mention
Art
Katelyn Liao
Once Again in Taiwan

Melting

Drawing & Illustration

Silver Key

Lullaby

Drawing & Illustration

Honorable Mention

Lone March

Mixed Media

Honorable Mention

As Life Flashed Before Her Eyes

Drawing & Illustration

Honorable Mention
Eunhyo Park
How We Identify and Unify

Photography

Honorable Mention
Euihuan Um
Musical Dreams

Nature Palette

stripes amongst grass

lonely highway

Photography

Honorable Mention

A Venice Garage

Photography

Honorable Mention

Once upon a time guards

Photography

Honorable Mention