Rylie Theuerkauf Shoots for History With 2,000 Points
Excitement overflowed the room, rushing through her teammates, coaches, and family, as every shot she took could be the one—the one to make history for herself, her program, and her school. Within the first two minutes of a home game against Old Tappan, she towered over her opponents for an offensive rebound, gripped the ball, and sank a jumper that turned senior show-stopper Rylie Theuerkauf's dream into a reality. She'd scored her 2,000th career point.  
On Tuesday, January 3, Theuerkauf ('23) became the first ever female in Tenafly Basketball to score 2,000 points and the 15th girl in Bergen County to join this club. With six minutes and nine seconds still left of the first quarter, the referees stopped the clock, and her team and family swarmed the court to celebrate her and relish in this milestone. "When I scored my 2000th point, it meant a lot because I was surrounded by my closest friends and family," Theuerkauf said. "I've been playing with most of my teammates since third grade so it's a great feeling to do it with them my last year at Tenafly."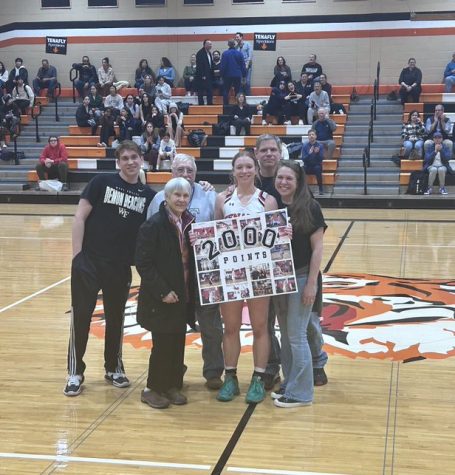 But Tenafly's basketball star did not stop there. She was already on track for the next big thing. One week after she joined the 2,000-point club, she reached yet another huge milestone. Theuerkauf broke the all-time school record set by Chris Orozco ('12) who ended his career with 2,062 points. In a 46-30 victory over Pascack Valley, she scored her 2,085th point, securing the top spot in Tenafly's all-time leading scorers and becoming the best basketball player in Tenafly history. Afterwards, Orozco texted one of Theuerkauf's coaches, "congratulations, someone needed to break the record," and the two hope to meet in person in one of her upcoming games.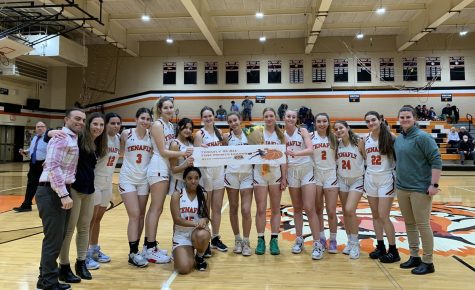 That week, the tri-athlete, who is also recognized for her performances in Tenafly's State-champion volleyball team as well as track and field events, finally won Bergen Record Athlete of the Week. After surpassing two records, Theuerkauf continued to shine through, hitting 39 points to help her team clinch its first victory over rival Demarest in six seasons. "I feel honored to finally be able to have my name up with all of the other elite athletes that have been awarded Athlete of the Week," she said.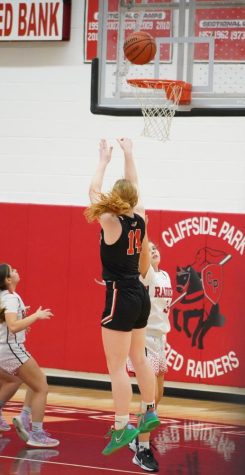 With 495 points as of February 2, Theuerkauf carries on her legacy to help Tenafly Girls Basketball stay on top in its first winning season in 11 years. "I have big goals for our team this year," she said. "We already won the first and second round of Counties and I feel we can go all the way. We have the talent to do it, we just need to believe we can." With a 14-5 record, she remains a major factor in the team's triumphs over typically competitive teams and will continue to be for the remainder of her final season at Tenafly. 
Next up on her agenda, though, Theuerkauf will be playing Division I basketball at Wake Forest. From making the second-grade team at Our Lady of Mount Carmel, to reaching milestone after milestone throughout her four years at Tenafly High School, number 14 has come a long way since picking up a basketball for the first time, and her fans are eager to watch what's to come.