School Shooting at Michigan State University Takes Three Lives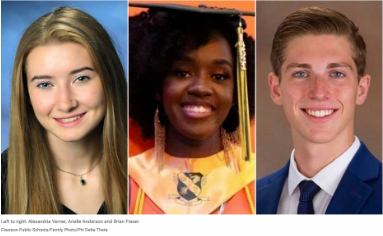 On Monday evening, February 13th, a gunman at Michigan State University opened fire in two buildings on campus. Three students were killed and five students were critically injured. The shooter was a 43-year-old man known as Anthony McRae, who was found to have no affiliation with the school. After the shooting, the gunman shot himself off campus. 
At around 8:30 p.m., McRae entered Berkey Hall, which was unlocked so anyone was able to enter the building. There, two innocent lives were taken away from those sitting in class. Shortly after, the gunman headed to the Michigan State student union and killed another student in this building that was also unlocked. Across the university, an email was sent alerting students to go into lockdown or evacuate wherever they were until the shooter was found and identified. It wasn't until about 11:30 pm that the gunman was found, allowing students who were off campus to return and for the shelter in place to end. The three victims who were killed at the scene were identified: Alexandria Verner, Brian Fraser, and Arielle Anderson.
Alexandria Verner
Alexandria Verner, a 20-year-old student at Michigan State University, was studying biology in her junior year. According to CNN, a family friend of hers mentioned that she was "everything you'd want your daughter or friend to be." Verner was a bright and kind person whose presence was enjoyed by many. She was an excellent athlete, playing basketball, softball and volleyball in her hometown of Clawson, Michigan. Verner was an active member in helping her school and community, impacting many lives of those around her. As a sister, daughter, student, athlete, and leader, she is forever remembered today and every day. 
Brian Fraser
Brian Fraser, a 20-year-old student at Michigan State University, served as the president of his fraternity Phi Delta Theta and was studying business. As a joyful, caring, and comical man, he was liked by many and enjoyed spending time with his friends and families. Growing up in Grosse Pointe, Michigan, he was a very competitive and athletic person growing up. Fraser's Pastor, Jim Bilot, stated in The Detroit News that "he certainly loved being a part of the team and he always contributed to making it a good sporting event." His friends at MSU continue to honor Brian by creating a fundraiser for his family: Brian Fraser Presidential Memorial Scholarship – Campaign 
Arielle Anderson
Arielle Anderson, a 19-year-old student at Michigan State University, was studying to become a doctor in the future. She was a hard worker with a bright personality and was always smiling. Growing up, she lived in Grosse Pointe, Michigan as the youngest of her three siblings. Her aunt, Chandra Davis, wrote in an Instagram post that "No parent should have to bury their children. It truly hurts y'all." Davis shares that she and her family are devastated with the loss of Arielle, always remembering the joy she brought to many in her lifetime. 
Last week, USA Today mentioned that only six weeks into 2023, there have been 71 mass shootings around the world. More and more innocent lives are being taken away in locations where we should be feeling safe. Nobody should ever have to say goodbye to their friends, parents, roommate, sibling, teacher, etc. and think that this might be the last time they would ever see that person again. Verner, Fraser, and Anderson all woke up that morning on February 13th, without any idea what would happen to them later that evening. As we honor the lives of the three victims lost and the five that are injured, we ask ourselves: when will this end?