Selena Gomez and Hailey Bieber Drama: Explained
If you've been on social media lately, chances are that you've heard about the drama between Selena Gomez and Hailey Bieber. Over the last few weeks, old and new issues between the two have resurfaced, revolving around both of their relationships with Justin Bieber, Hailey Bieber's current husband and Selena Gomez's ex-boyfriend. Many little jabs on Instagram and TikTok have been made between the two, making it hard to keep up with the current state of the drama. To catch up on the latest scoop, read this article for a breakdown of the Selena Gomez and Hailey Bieber drama.
The drama between Selena Gomez and Hailey Bieber was first ignited when Hailey and Kylie Jenner posted Instagram stories that seemed to be mocking Selena's eyebrow lamination. Selena had posted a TikTok showing her new eyebrow lamination, talking about how she didn't like the way that they looked. Only a few hours later, Kylie Jenner posted a screenshot on her Instagram story of her and Hailey Bieber on FaceTime with their screens zoomed up to their eyebrows, very obviously mocking Selena's eyebrows.
This was only the beginning of the drama. After this public insult to Selena, old posts and videos began resurfacing on the Internet as Selena's fans defended her and worked to expose Hailey. Unfortunately for Hailey, her alleged racist tweets from years ago were reposted. Some examples of these tweets include: "To those foreigners who don't celebrate Thanksgiving, so sorry your country didn't have Pilgrims and Indians to start such a sick holiday," "With @CodySimpson and that awkward moment when ur at a Chinese restaurant and your waiter isn't Chinese…," and "leaving to Florida white but coming back to NY a different Race" (accompanied with an emoji of a white man and a darker-skinned man in a turban). Videos and photos of Hailey also being seemingly obsessed with Selena and Justin's previous relationship years ago were reposted as well. Hailey can be seen lurking in the background of pictures of Selena and Justin before Hailey even met Justin, and she even has a photo of her holding a magazine with the two on the cover. She adored the couple and even tweeted that they were "the definition of a teenage dream." Hailey has also been seen trying to copy things that Selena has said and done in past interviews, proving her obsession with her even more. Ever since the drama began, Hailey has lost over one million followers while Selena has gained over ten million followers who have been supporting her through the recent hate. People on TikTok have even been posting videos of themselves buying products from Selena's beauty line, Rare Beauty, and throwing away all of Hailey's beauty products, from her brand named Rhode, as a way to show their support for Selena.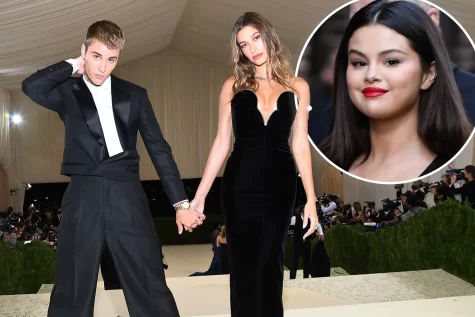 The Internet feud has also sparked old flames regarding Selena and Justin's past relationship, and the large contrast between that relationship and Hailey and Justin's current relationship. Many on the Internet believe that Selena and Justin's relationship was much more authentic and that the two were actually in love, whereas Justin and Hailey's relationship has felt forced and ingenuine. In an interview on The Ellen Show, Justin talked about his and Hailey's marriage, saying that "Looking back now, it was definitely an arranged marriage, like, they set this whole thing up," and although the comment seemed to be a joke, people on the Internet have believed it to be true. Justin also stated in another interview about mental health that "I thought marriage was gonna fix all my problems and it didn't." In several videos online from when Justin was just a teen, he talked about how much he loved Selena and how he will never truly get over his love for her, whereas in an Instagram live video with Hailey, Justin said that he didn't even remember when and where he and Hailey had their first kiss. Another video parallel between the two relationships includes a clip from paparazzi of Hailey and Justin getting out of a car. Justin is seen getting out of the car first and then proceeds to close the door on Hailey's face. A similar video of him and Selena getting out of a car––while they were dating––shows Justin opening the door for Selena, and helping her out of the car. The strain on Hailey and Justin's relationship only intensified with the emergence of the new drama between Selena and Hailey.
If you've made it through this article, you are officially up to date with the drama between Hailey Bieber and Selena Gomez. After reading all the latest drama, do you think you are #TeamSelena or #TeamHailey? Keep an eye out on social media to stay up to speed with the latest news on the hot drama.