Nashville Shooting Takes the Lives of Six Innocent People–Will This Ever End?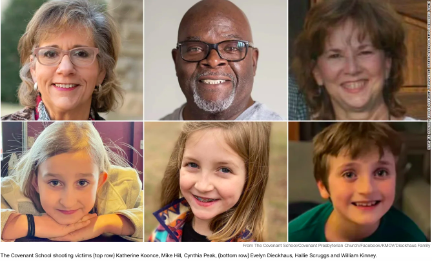 On March 27, 2023, an armed woman killed six individuals at the Covenant School in Nashville, Tennessee—the same place where the assailant attended school. Located in the Green Hills neighborhood of the city, the Covenant School is a private Christian school for students in preschool through sixth grade. According to the police, the assailant—Audrey E. Hale—had been planning this shooting at the school for months. Yet, the motives behind the attack remain uncertain. 
At 10:13 a.m., the shots were heard from the second floor of the school building, and the police department immediately arrived at the scene. After killing six victims, the shooter was killed at 10:27 a.m. In just 14 minutes, six innocent children and adults had their lives taken away. In just 14 minutes, the lives of thousands of children, parents, teachers, etc. were changed forever. As reported in The New York Times, the Nashville police chief, John Drake, said that "we've [Nashville Police Department] trained for incidents like this for years with the thoughts that if it ever happened, we would not hesitate, we would go in, and we would do whatever, was needed for the safety of those involved." While there is still information about the scene that has not yet been released, it is important to honor the lives that were lost in such a tragic time. 
The victims of the shooting are Cynthia Peak, Katherine Koonce, Hallie Scruggs, William Kinney, Evelyn Dieckhaus, and Mike Hill. Cynthia Peak, 61, was a substitute teacher at the Covenant School. She had a close relationship with the wife of Governor Bill Lee of Tennessee, Maria Lee. In a recent article on cnn.com, Bill Lee mentioned that "Maria woke up this morning without one of her best friends." Katherine Koonce, 60, was the head of the Covenant School since 2016. Attending Trevecca Nazarene University and Vanderbilt University in Nashville, she additionally received her master's dress at Georgia State University. Steven Curtis Chapman, a Christian music singer, reported to CNN that Koonce "had this ability, that God gave her [Chapman believed], to see into the heart and the soul and the story of the student, the person she was with." Hallie Scruggs was only 9 years old when she died. She was the daughter of Covenant Presbyterian Church leader, Pastor Chad Scruggs. William Kinney, 9, was described to have an "unflappable spirit" by friends of the Kinney family on a GoFundMe page. As a young student, he was known to be a sweet, kind kid who was a friend to many. Evelyn Dieckhaus, also 9, was also known to be a ray of sunshine by her friends and family. Her family mentioned in a recent article on CNN.com that she "would often greet people with 'wide open arms' and an 'infectious laugh.'" Lastly, Mike Hill, 61, was a custodian at the school who fathered seven children. His students referred to him as "Big Mike," and he loved to cook at the facilities/kitchen staff. His daughter, Brittany Hill, mentioned in a Facebook post that Mike "absolutely loved" his job. 
We are only four months into 2023. That's just one third of the year completed and the United States has "faced at least 146 mass shootings" [ABC News]. These numbers continue to rise which, as a student, is horrifying to watch. It is extremely crucial that we obtain stricter gun laws in our country. Evidently, these numbers will just continue to increase if affirmative action isn't taken promptly. To see more and more innocent children and adults lose their lives is appalling. Hopefully, this shooting will be a wake up call to government officials to change the laws on owning a gun in America.