He Popped The Question: Millie Bobby Brown's Engagement
Jake Bongiovi finally put a ring on it! Best known as Eleven from Netflix show Stranger Things, Millie Bobby Brown got engaged to her boyfriend Jake after two years of dating, making the young couple now soon-to-be husband and wife. Some may be shocked, since Bobby Brown is only 19 years old and Bongiovi is 20 years old, but the young couple has been in love for the past two years, displaying their romance online. Here is a rundown of the couple and how they came to be the fiancé and fiancée they are now.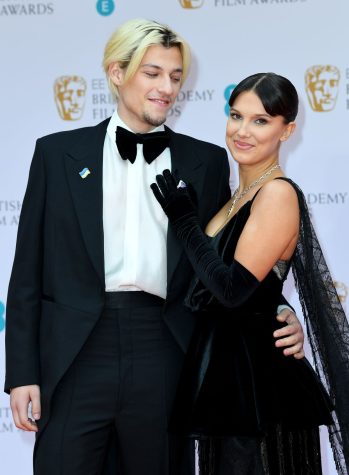 In addition to starring in Stranger Things, young actress Millie Bobby Brown has also been featured in other hits such as Enola Holmes and Godzilla. She also owns the beauty brand Florence by Mills, which offers clean beauty products from skincare to makeup. The young star met Jake Bongiovi, son of rockstar Jon Bon Jovi, on Instagram, and the relationship bloomed from there. At first, they were just friends, until they were seen in June of 2021 holding hands as they walked down the streets of New York City. The couple began sharing more and more of their relationship online, posting videos and pictures of them hanging out on Instagram. On November 1, 2021, the couple officially started dating and shared a photo of them kissing at the London Eye Ferris wheel.
Fast forward to March 13 of 2022 when Millie and Jake attended the BAFTA Film Awards together in London. This was the first time they appeared together at a red carpet event. This was not their only appearance at a red carpet event, however, as they also attended the Stranger Things Season 4 premiere and the Enola Holmes 2 premiere.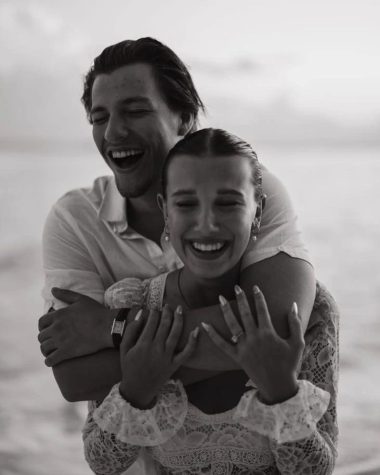 The first hint at their engagement was on August 26, 2022 when paparazzi caught Bobby Brown and Bongiovi in the streets of New York City with an engagement ring on her finger! This was around a year after they officially started dating, and while rumors were spread from these photos, no official information about an engagement was made public at the time. Finally, on April 11, 2023, the couple publicly announced the engagement online. Bobby Brown captioned her Instagram post about the engagement "I've loved you three summers now, honey, I want 'em all 🤍," which references line from a Taylor Swift love song. The post features photos of them on the beach, smiling with their new matching engagement rings.