Jason Anderson: The Abstract Impressionist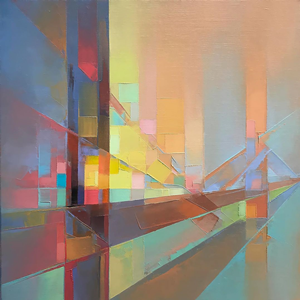 Stained glass on canvas. That was the phrase that immediately came to mind when I first came across Jason Anderson's artwork. Anderson, a contemporary British artist famous for his abstract paintings, uses colors to emphasize the dynamics of light and vibrancy. The meticulously placed daubs of paint come together to form a bright canopy of colors that mesmerizes the viewers. 
Many may be familiar with Anderson's work by his cover art for Billie Eilish's single, "Everything I Wanted." Titled "Golden," the painting is a vibrant depiction of the Golden Gate Bridge, and exudes an ominous and dreamy feeling that completely fits with the dark yet hopeful message of the song. 
The secret to the mosaic texture of his paintings is his use of painting utensils. Unlike traditional methods of using a paint brush, Anderson uses a knife to carefully place his paint onto the canvas. This prevents the thick oil paint from blending, and as more and more paint gets applied, ultimately leads to a clean, pixelated image coming to life. 
Anderson's "jigsaw" style, as described by Photographize.co, also comes from his former career as a stained glass artist. Having worked with light and colors for years, he is skilled with using the contrast of saturated and unsaturated colors to create an illusion of light coming out of his artworks.
Anderson was not always an abstract artist. If you check out his past Instagram posts from 2019, you can see impressionist paintings that are rather realistic. Anderson acknowledged this in an interview with Populist. He commented that once his style evolved to become more abstract, "there was no going back" to a realist painter. While Anderson now only creates paintings that fall into the genre of abstractionism, it is clear that impressionism still lingers in his work. His skillful depiction of light through thick daubs of paint creates a colorful haze similar to that of the first-glance depictions that are the core of impressionist art.
So, what does Anderson try to communicate through his meticulous use of light and colors? When asked this question by Populist, Anderson replied with a single word—"beauty." This simple statement comes as a slap in the face to the traditional audiences within the art community who believe that there needs to be a deep meaning behind valuable artworks. Anderson doesn't want the viewers to struggle to analyze his paintings; he simply wants them to enjoy and appreciate the aesthetic beauty before their eyes. So, if you want to be mesmerized in the beauties of abstract impressionism, check out Jason Anderson's work. 
Instagram: @jasonandersonart
Website: https://jasonandersonartist.com