Four THS Students Honored in NCTE Achievement Awards in Writing
Each year, the NCTE (National Council of Teachers of English) recognizes students who are exceptionally well-versed in applying language to teach impactful lessons and those adept in their abilities to move an audience. The highly esteemed organization targets sophomores and juniors from the US, Canada, the Virgin Islands, and American schools abroad who have been nominated by their English department to partake in the competition. This year, four Tenafly High School students were honored in the Achievement Awards in Writing Contest for their pieces: Yuanning (Helen) Hui, Arpineh Halajian, and Heeseo Yoon received the First Class prize, and Jackie Yan achieved the Superior prize.
The prompt for this year's competition was "Education First," inspired by activist Malala Yousafzai and her outspoken literary works centered on the dangers of ignorance and illiteracy and the significance of educating a generation. Participants responded to a set of provided quotes or statements, each of which required those eligible to weaponize their creative voices to debate topics based on the future of educational institutions and the overall structure of learning for adolescence at present. 
"I was both wonderfully surprised and incredibly thankful that my writing could be recognized at this level," Jackie Yan, recipient of the Superior prize, reflected. "I've always desired to make some sort of impact with my writing." In considering the competitive nature of the competition, Yan feels an overwhelming sense of gratitude that her piece, of the many submissions, was selected for a prize. "It's really quite the honor," she said. Yan also found this year's topic to resonate with her own experiences as a high school student. "I aimed to touch on subjects such as the intellectual veracity of students, the importance of furthering one's edification, and issues of mental health," she said. Furthermore, pertinent topics such as school shootings were incorporated in her poems in hopes to bring awareness to topics she felt strongly about.
Heeseo Yoon, winner of the First Class title, the highest award category, also felt "pleasantly surprised to hear that [her] piece had gotten recognition from the NCTE." Yoon too felt contented to receive commendation for her work. "This piece meant a lot for me because it was of my personal struggles," she said. "I'm really happy that it won."
Yuanning (Helen) Hui, another First Class award winner, described her unanticipated award as "a blessing" and a moment of affirmation as a creative writer. "I was shocked, because as someone who exited ELL only in sixth grade, I didn't think my writing could deserve such a prize when up against hundreds of other talented writers," she modestly remarked. Her piece, "Story of a Silkworm," which was based on her experiences as an elementary school student in China, emphasized her journey in exploring the genre of creative novels. The story had much personal meaning, thus the award was particularly gratifying for her. "It was a liberating process," she said "after a year of standard essay writings in school." Hui further expressed her appreciation for her language arts teacher, Mr. Whitehead. "I am so grateful that he gave me this opportunity, that he helped me edit my seven long drafts and bore with my grammar mistakes, and encouraged me as I experimented with how to write in the voice of my own," she said.
Arpineh Halajian, who also received First Class recognition for her pieces, spoke appreciatively about earning the award. "It felt really nice to get recognition for the work I put into those pieces, because although I was writing as much for myself as for the award, it's always gratifying to have someone else see value in what you do and what you love," she said. "I got very personal in some of my submissions, and the whole experience really helped me grow as a writer."  Upon reflection she voiced, "I'm thankful for both the opportunity and the success."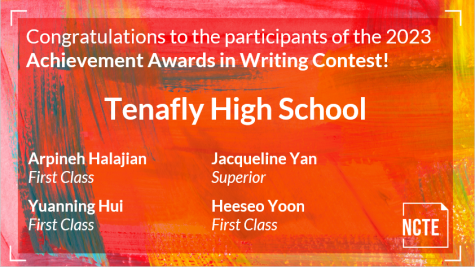 To those recognized by the NCTE, congratulations!