Tenafly Holds 5th Annual Student vs. Staff Basketball Game
On Monday, May 22, 2023, Tenafly High School students bested their teachers on the court in Tenafly's 5th Annual Student vs. Staff Basketball Game.
The event was initially planned by the S.O. (Student Organization) of THS, with the hope of bringing excitement to the court. The players on the students' team were selected through an interest sign-up form that was sent out by Mr. Hubbard, the S.O. Advisor, a few weeks prior to the date of the event. 
All students were welcomed to participate in the game, with the only rule being that no more than two varsity basketball players can be playing on the court simultaneously. Overall, many students embraced a memorable experience with their teachers, as students momentarily set aside their assignments and tests, they were able to enjoy one last meaningful experience with their teachers before the end of the school year. 
The game turned out to be dynamic, as the students and teachers both fought competitively in order to earn the sweetness of victory. However, at the end of the fierce battle the ultimate winner was the Student Team. Despite facing a loss, the teachers displayed their determination and perseverance as they continued to strive for a hopeful victory.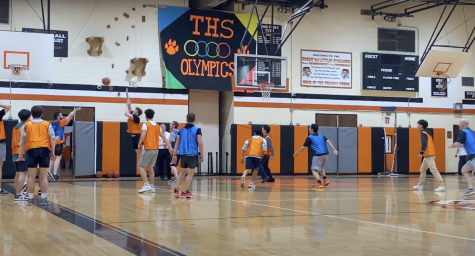 "Well, I had a lot of fun because we got to be involved with the teachers," Jiho Cha (.'23) stated in a brief interview. Cha is a former basketball player of the THS JV basketball team for which he played during his sophomore and junior years. "Usually, teachers are only seen in the classroom," he added. "For me, it was interesting to see my own teachers on the court and actually getting the opportunity to play basketball with them."
Sean Kim (.'23), another participant in the event with previous basketball experience, is widely known for his role as the S.O. President for this school year. Kim claimed that he also had tons of fun and even felt honored for "participating in a yearly tradition." However, he added that a few improvements could have been made to enhance the event. "The game was a little bit disorganized due to the time constraint." Kim is hoping that in the upcoming years, the "Student vs. Staff basketball tradition will continue as something big, where all the students could get excited and look forward to it."
All in all, the match was very enjoyable and created an unforgettable experience between THS's teachers and students. As the week of final exams approaches, many students appreciated the chance to experience a brief moment in which they could simply "ball" their worries away.