As students walk into class and sit down after the first bell, they now also hear a gong that signals the start of class. Tenafly High School's new late bell, starting in September, has caused mixed feelings among the students and staff.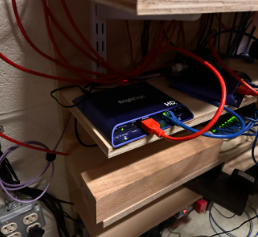 Both bells' sounds were chosen by David DiGregorio, the school's Supervisor of Curriculum and Instruction: Arts, Technology, Library Media and Broadcast. "It's been great for the students because they know, in a very confusing schedule, what's coming up next and all they have to do is look up at the TV," DiGregorio said. He also explained how the first bell, which ends a class, is a D Major arpeggio, giving a sound of calmness and serenity, something "light and optimistic with students' new-found knowledge," but how the second bell is a C note, which "carries some seriousness and gains attention to begin class." All of the bells and the school's televisions have been run off the Bright Sign Generator for about six years. The school also has a program that helps the bells run smoothly, which is operated by Dan Rispoli, the high school's Media Technician. 
Tenafly High School has always had a five-minute warning bell to alert students to get to class, but, up until this fall, the school has not had a bell to signal the start of class. This new sound effectivity tells the students that class has started and that it is time to focus on their teachers. The bell also informs teachers when to mark students late for class, making it easier to keep attendance. The sound of the late bell, however, has caused controversy with regard to whether it sounds pleasant or unpleasant. Some find the bell helpful, but others find it to be disruptive. 
"I think it's good to have [the late bell] because we can know when the class is starting, but if you have a strict teacher, you will have a difficult year because they know right away that you are late," said Seihyun (Shawn) Lee ('25). This could cause more students to be marked tardy as of this bell. However, it also gives teachers a better cue for when to start class. It also helps students have time to adjust to their class before getting right into the period, giving both teachers and students a bit of time.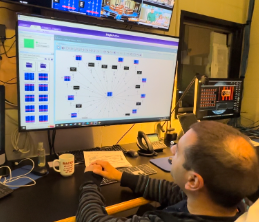 But the sound of the bell seems to induce some unease rather than calmness before class starts. "For the most part, when in class, it is not that stressful when you hear the bell," Lee said, "but, if I have a test coming up, the sound can be a bit daunting." It seems that the late bell feels negative to some students. 
The staff, though, sees it more positively. "I think they can be useful for allowing us as a school to maybe be mindful of a routine or time," Amanda Oppedisano, Humanities and Advanced Placement Language and Composition teacher, said. "Personally, I have always tried to use music to set that passing time and so personally it hasn't really changed the way I get the class started, but I think it can help us all actually abide by any kind of late policy." Oppedisano said that this late bell helps students and teachers have a good schedule to follow rather than being constantly late. "I think the late bell is important because it is good practice for college where you can not be late," she said. In college, teachers are always mindful of the stragglers that come to class late and the students could be missing something important that the teachers said. The practice of being on time is important because it can set up a habit that will help students succeed outside of school, too. "In life, five minutes can be the difference between getting a job or being passed over," Oppedisano said. "So punctuality is a challenge that should be practiced." She finds the late bell to be very helpful for students to create a good habit of not being late.
Because the bell is considered unpleasant by some in the school, the question of an alternative approach has been discussed. "Maybe we can use the student's voices to signal the time to start class," Lee said. The sentiment behind this approach is that hearing familiar voices could calm students down before a class starts. This is suggested to be a better sound than the metallic BWONG!! sound that currently begins the class.
"I would love to use the sound of my cat throwing up because my cat makes a funny three-chime rhythm that could project the feeling of being humorous but give the urgency to not be late," Oppedisano jokingly said. Although this is an amusing idea, it raises the notion of the less sacred noise that is sounded by the bell. Adding some humor and urgency is found to be a better idea than the current bell. 
The late bell is here to stay in Tenafly because of its usefulness in helping both students and teachers regulate their schedules. It is useful because it gives students an incentive to get to class on time and not be late. On the other hand, the sound of the bell is the larger issue. Both teachers and students wish to make it a better sound than just one large gong. Unlike the warning bell, which has three strikes, the late bell is just one. Whatever the school decides, with any luck, it'll be a pleasing experience for whom the bell tolls.